We include products we think are useful for our readers. If you buy through links on this page, we may earn a small commission. Here's our process.
Healthline only shows you brands and products that we stand behind.
Our team thoroughly researches and evaluates the recommendations we make on our site. To establish that the product manufacturers addressed safety and efficacy standards, we:
Evaluate ingredients and composition: Do they have the potential to cause harm?
Fact-check all health claims: Do they align with the current body of scientific evidence?
Assess the brand: Does it operate with integrity and adhere to industry best practices?
We do the research so you can find trusted products for your health and wellness.
Is HelloFresh worth it? Here's our candid HelloFresh review after three testers and two dietitians evaluated the taste, price, and ingredient quality of the meals.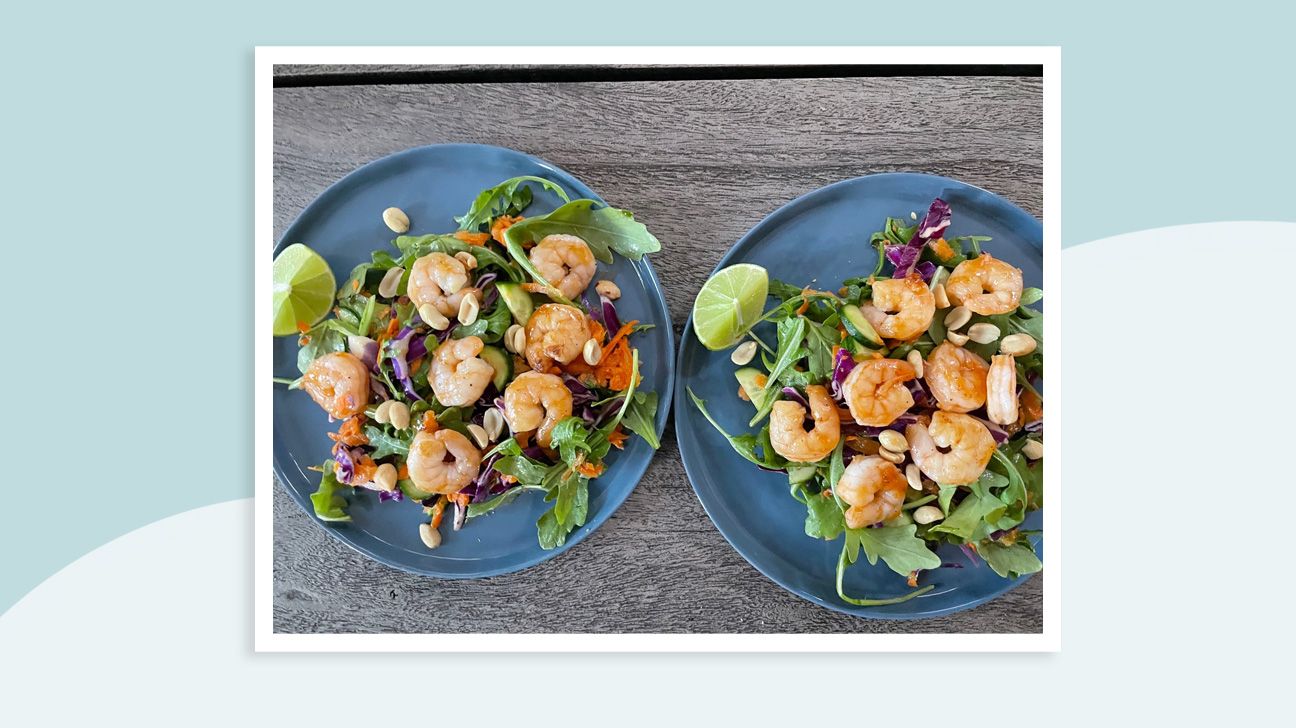 We scored HelloFresh high for meal variety, overall nutrition, and sustainability, but not quite as high for ingredient quality and freshness. Our testers share more about this below.
Overall, the service is a good way to reduce the burden of meal planning and grocery shopping. It's also a good option if you enjoy cooking but simply don't have enough time for extensive meal prep.
The service is reasonably priced compared with other meal delivery services and offers family-friendly recipes. However, it may not be a good option for those with special dietary needs, including vegan, dairy-free, and keto diets.
Meal Delivery Service Review Scorecard

Three Healthline testers scored HelloFresh across 10 categories and allotted points from 0–5. The scores below reflect the average rating for each category.

Overall: 4.2
Sign-up, delivery, and cancellation processes: 5
Meal variety: 4.2
Nutrition: 4.3
Sustainability: 4
Ingredient quality and freshness: 3.7
Ease of preparation: 3.8
Taste: 4.5
Affordability: 4

Learn more about how we test meal kits.
Pros
more convenient than meal planning or grocery shopping
easy to start, cancel, and modify your subscription
option to mix and match meals from each menu
offers a good variety of flavorful, easy-to-prepare meals
offers vegetarian, pescatarian, and reduced-calorie meal plans
ingredients typically arrive fresh and in good condition
suitable for families with young kids, as well as for couples and singles
offers specialty menus each month
option to swap out sides or proteins on certain meals
priced similarly to, or lower than, many competitors
Cons
may not be as convenient as meal delivery services that eliminate the need to cook
no exclusively gluten- or allergen-free meal options
not ideal for some diets, including keto, paleo, and vegan
some meals could use more vegetables or offer a greater variety of flavors or textures
may not be ideal for more adventurous eaters
meal options can get repetitive or feel too similar after several months of subscribing
reports of occasional issues with missing, damaged, or spoiled ingredients
$9.99 shipping fee per box
Tester #1: SaVanna Shoemaker, MS, RDN, LD
Tester #2: Kelli McGrane, MS, RD, Nutrition Editor II
Tester #3: Candice Abellon, Senior Editor
Sign-up and meal selection process
Getting started with HelloFresh is simple. In fact, all of our testers rated it a 5 out of 5 for ease of sign-up, delivery, and cancellation.
First, you'll select your desired meal plan and size. Regardless of the plan you select, you can always pick and choose recipes from other plans.
Next, you'll enter your payment details and select your first week of meals.
Once you have entered all of your information, you'll be assigned a weekly delivery day. Then you can choose your meals.
HelloFresh offers six meal plans to choose from:
Meat & Veggies: a variety of meals that include meat and vegetables
Veggie: plant-based meals that are vegetarian but not necessarily vegan
Family Friendly: quick, easy-to-prepare, kid-approved options
Fit & Wholesome: meals that have around 650 calories or less per serving
Quick and Easy: meals that can be cooked in 30 minutes or less
Pescatarian: meals featuring seafood but not red meat or poultry
Within each of these categories, there's also a bit of room for customization, such as choosing to avoid beef, pork, or seafood. You can also swap white and brown rice in the side dishes. These swaps add $0.99–$1.99 per serving.
Sustainability
For sustainability, HelloFresh received a 4 out of 5 during scoring because of its packaging and environmental initiatives.
HelloFresh deliveries contain mostly recyclable, compostable, or reusable materials. For example, the paper bags that ingredients arrive in can be added to your compost, the ice packs are reusable, and the cardboard is recyclable.
The company says it's also dedicated to reducing its carbon footprint through responsible sourcing, streamlined supply chain management, and offsetting its carbon emissions.
Diet friendliness
HelloFresh caters to vegetarian, pescatarian, and reduced-calorie diets.
However, it's not a great fit if you're strictly following a vegan, paleo, or keto diet. Factor is one of our favorite keto meal delivery services, and Purple Carrot is our top pick for vegan diets.
Likewise, if you follow a gluten-free or allergen-free diet, you may prefer a meal delivery service that caters specifically to these dietary needs. We've found Green Chef offers a good variety of gluten-free meals.
HelloFresh meals cost about $9–$12.50 per person, per meal. You can get the lowest price per serving by ordering the largest plan size: 6 recipes per week for 4 people.
HelloFresh's most popular plan size is 3 recipes per week for 2 people. This works out to $9.99 per serving, or about $60 per week, plus the cost of shipping.
Speaking of which, shipping is $9.99 per box.
However, HelloFresh regularly offers new users free shipping and discounts on their first or several shipments.
Meal selection and delivery
Tester #1: 5 out of 5
"I found it very easy to sign up, order meals, change my subscription, and cancel HelloFresh.
"Additionally, I was really happy with how organized the delivery was. The ingredients were neatly organized by recipe in labeled paper bags."
— Savanna Shoemaker, MS, RDN, LD
Tester #2: 5 out of 5
"HelloFresh's sign-up process is straightforward. I used the service for a little over 4 months and came to appreciate how easy it was to adjust my subscription from both the app and my desktop computer. Canceling my subscription was also a breeze."
— Kelli McGrane, MS, RD, Nutrition Editor II
Tester #3: 5 out of 5
"I've used HelloFresh off and on for a few years, ever since a friend shared a code with me to try a box (three meals) for free. I manage all my choices and account preferences by logging in online. HelloFresh has an app, but I don't use it, and I appreciate that I don't have to. The website is easy to use, and pausing, canceling, and returning to a subscription is all really easy.
"My experience has been that meals on the menu each week are packed securely in bags based on the recipe, with meats and fish individually packaged in leak-proof plastic at the bottom of the box surrounded by ice packs.
"Any add-ons from the HelloFresh market, like a side of asparagus or what they call 'quick meals,' like sliders or hot chicken sandwiches, come packed loose in their respective packaging."
— Candice Abellon, Senior Editor
Meal variety
Tester #1: 4.5 out of 4
"HelloFresh offers a huge variety of meals each week, including lots of really delicious sounding options. However, they don't really cater to specialty diets outside of vegetarian or pescatarian."
— Savanna Shoemaker, MS, RDN, LD
Tester #2: 4 out of 5
"I appreciated that HelloFresh's menu rotates weekly, and I enjoyed the occasional specialty menus, like the Better Than Takeout and the Asian American and Pacific Islander Heritage Month recipes. The menu also features labels, like Spicy or Protein Smart, to make it easier to find recipes that suit your needs and preferences.
"However, while I felt like there was a good variety of ingredients and flavor combinations for the first 1–2 months, I ultimately decided to end my subscription after 4 months because the options started to feel too similar and repetitive."
— Kelli McGrane, MS, RD, Nutrition Editor II
Tester #3: 4 out of 5
"I found it easy to filter and review the different meals available from week to week. However, I wish HelloFresh had more options that didn't include cheese and dairy ingredients.
"Sour cream, crema, and shredded cheeses are a large part of their staple ingredients. While they're fine for many people — and delicious — in my household, because I often have to omit dairy from my cooking, I either end up wasting those ingredients or using them later to make a really intense mac-n-cheese for those in my household who can tolerate dairy.
"I appreciate that HelloFresh's recipes are flexible enough that they're good even without cheese or with a little tweaking, but it's a waste when I'm getting regular deliveries. Those packets pile up."
— Candice Abellon, Senior Editor
Nutritional quality
Tester #1: 5 out of 5
"Most of the meals are very well-balanced, including a protein, starch, and veggie. HelloFresh also clearly labels food allergens for each meal."
— Savanna Shoemaker, MS, RDN, LD
Tester #2: 4 out of 5
"HelloFresh offers a Fit & Wholesome menu, which makes it easier to select meals that are lower in calories and more nutritionally balanced than the service's other offerings. However, even within the specialty menu, I still found some of the recipes to be low in vegetables."
— Kelli McGrane, MS, RD, Nutrition Editor II
Tester #3: 4 out of 5
"HelloFresh makes it easy to find and select nutritionally balanced meals. Many, but not all, meals contain a source of lean protein, healthy fat, and vegetables. Just keep in mind that HelloFresh is not necessarily the best option if you're vegan or avoid dairy products"
— Candice Abellon, Senior Editor
Ingredient quality and freshness
Tester #1: 3.5 out of 5
"When I first received my HelloFresh box, I took a look at all the produce. The green onions were a little wilted but still very much usable, and some of the baby potatoes were slightly bruised but also still usable. The meat all looked fresh.
"However, HelloFresh doesn't offer upgraded meat or vegetable options, like grass-fed beef or organic produce."
— Savanna Shoemaker, MS, RDN, LD
Tester #2: 3.5 out of 5
"During my 4-month subscription, my ingredients almost always arrived fresh and in good condition. With that said, I did find some of the produce to be less flavorful than what you'd find at the grocery store, especially the tomatoes.
"As Savanna noted, the company doesn't offer options for higher quality items, such as grass-fed beef."
— Kelli McGrane, MS, RD, Nutrition Editor II
Tester #3: 4 out of 5
"With my most recent delivery, the fresh produce arrived in good condition with the exception of the bag of pre-cut kale. The edges of some of the kale stalks were looking old and starting to get discolored.
"I've been using HelloFresh every month for the last year and have used them off and on for a few years at this point. The vegetables we've gotten this year have been fresh and good quality for the most part, only one or two sad carrots."
— Candice Abellon, Senior Editor
Ease of preparation
Tester #1: 4 out of 5
"I consider myself a pretty advanced home cook, and I found that I was able to prepare the recipes in the time stated on the recipe card.
"However, some HelloFresh recipes require a bit of multitasking — veggies in the oven while both rice and meat are cooking on the stovetop — which may be difficult or overwhelming if you're new to cooking.
"Plus, because you're using multiple pots and pans, some recipes require a good amount of cleanup time.
"Luckily, HelloFresh has a solution for both of these concerns with its 'Easy Cleanup' meals."
— Savanna Shoemaker, MS, RDN, LD
Tester #2: 4.5 out of 5
"Compared to many other meal kit services I've tried, I found HelloFresh to be among the easiest for beginners. While some recipes required more multi-tasking than others, none of them required specialty kitchen tools or advanced cooking techniques. In fact, my toddler was able to help me prepare many of the recipes.
"However, there was usually a decent pile of pots, pans, cutting boards, and knives to clean afterward."
— Kelli McGrane, MS, RD, Nutrition Editor II
Tester #3: 3 out of 5
"My most recent meals were straightforward to prepare. They required some basic slicing and chopping for the vegetables, but I don't think you'd need special cooking skills. With that said, I feel like it always takes me or my partner a little longer to prepare meals than the estimated total time.
"The loose-packed quick meals were a little confusing to me the first time I ordered them as add-ons to my usual meals. Because the ingredients aren't packaged by meal and didn't include recipe cards, I had to look at my account to remind myself what each dish was and any instructions involved in preparing it."
— Candice Abellon, Senior Editor
Taste
Tester #1: 5 out of 5
"My family really enjoyed each of the HelloFresh meals we tried.
"I've even taken a few of the sauces and meal combinations I was introduced to through HelloFresh and added them to my regular rotation of meals, including the cheesy mushroom sauce from the Cheesy Smothered Mushroom Chicken.
"I also appreciate the huge assortment of meals HelloFresh offers each week, which includes lots of kid-friendly options."
— Savanna Shoemaker, MS, RDN, LD
Tester #2: 4 out of 5
"Overall, I found HelloFresh's meals to be well-seasoned, family-friendly, and filling. I also appreciated that most recipes contained a good variety of textures and ingredients.
"With that said, after subscribing for 4 months, many of the recipes started to taste the same, and I found myself wishing for a greater variety of flavor combinations. I also would have liked the service to introduce me to ingredients that I otherwise wouldn't have tried myself."
— Kelli McGrane, MS, RD, Nutrition Editor II
Tester #3: 4.5 out of 5
"Most recently I tried the Creamy Vegan Mushroom Stew and the Jammy Onion & Brussels Sprout Cavatappi. For dietary reasons, I cut out the sour cream from the Cavatappi dish, which left the dish without any sauce to speak of.
"Still, the overall meal offered a nice mix of al dente pasta with Brussels sprouts for added freshness and crunch.
"The stew had lots of soft textures, with a little variety from the wilted kale. While the instructions suggested removing large stems from the kale, I think leaving them in would have provided a little more crunch."
— Candice Abellon, Senior Editor
Tester #1: 4.3 out of 5
"All of the meals we tried were a hit with the whole family, and I was impressed by how much thought HelloFresh puts into packaging meals to make the preparation process as easy and streamlined as possible. I can see us using HelloFresh again during busy seasons, like when my kids are in sports."
— Savanna Shoemaker, MS, RDN, LD
Tester #2: 4.1 out of 5
"There's a reason I subscribed to HelloFresh for several months — and might do so again in the future. There's a large number of recipes to choose from each month, changing your weekly menu is a breeze, and the meals are both family-friendly and flavorful.
"With that said, I would have liked to see more creative flavor combinations, ingredients that I wouldn't typically think to buy, and more veggies (both types and quantities) in each dish."
— Kelli McGrane, MS, RD, Nutrition Editor II
Tester #3: 4.1 out of 5
"I would recommend HelloFresh. It was recommended to me by a single parent who works full-time, and I think it's a great option for both families and singles. It's definitely cheaper than eating out, and, in many ways, it's more convenient than making a trip to a grocery store and having to think of new recipes.
"Plus, HelloFresh's cooking instructions are clear and easy to follow, making it easier to trade off cooking responsibilities regardless of the kitchen abilities of everyone in your household."
— Candice Abellon, Senior Editor
HelloFresh may be great for you if:
you're in a household with no specific dietary needs
your family contains children or picky eaters
you want to learn how to cook
However, it may not be right for you if:
you're following a specific diet, like keto or paleo
you have strict dietary needs, like vegan or gluten-free
you prefer organic ingredients
Customers are generally happy with HelloFresh. In cases where there has been an issue with an order or with its ingredients, reviewers say customer service at HelloFresh is extremely helpful and responsive.
According to HelloFresh reviews on Yelp and Reddit, the meals taste good, but the ingredients can be fairly basic, the recipes may be excessively complicated, or the ingredients may arrive damaged.
What are the negatives of HelloFresh?
The most common HelloFresh complaints are:
produce arriving in poor condition
missing ingredients
difficulty canceling the service
This table compares HelloFresh with four other popular meal kit delivery services.
Note that this table includes only meal kit delivery services, not services that deliver fully-prepared meals.
Several potential competitors will ship completely cooked and assembled meals to your door, including Factor and Trifecta Nutrition.
Some services — including a few below — also offer both meal kits and prepared meals, such as Blue Apron, Sunbasket, and Purple Carrot.
Here's a quick look at how some of the most popular meal kit options compare:
Price per serving
Shipping
Options
per week
Serving sizes
Menus
HelloFresh
$8.99–$12.49
$9.99
40+
2 or 4
• Meat & Veggies
• Veggie
• Family-Friendly
• Fit & Wholesome
• Quick & Easy
• Pescatarian
Home Chef
$9.99–$11.99
$10.99–$13.99
20+
2, 4, or 6
• Home Chef Plan
• Fresh & Easy Plan
• Family Plan
Blue Apron
$7.99–$11.99
$9.99
15+
2 or 4
• Chef Favorites
• Wellness
• Family-Friendly
• Fast & Easy
• Veggies
Sunbasket
$9.99–$21.49
$9.99
~20
2 or 4
• Paleo
• Keto-Friendly
• Vegetarian
• Mediterranean
• Pescatarian
• Gluten-Free
• Carb-Conscious
• Diabetes-Friendly
• Fresh & Ready
Green Chef
$11.99–$13.49
$9.99
20+
2, 4, or 6
• Protein Packed
• Keto
• Vegetarian
• Vegan
• Mediterranean
• Fast & Fit
• Gluten Free
Is HelloFresh worth it for a family?
If your family doesn't have any specific dietary needs, and you can afford to pay more than grocery store prices for the convenience of HelloFresh, then it may be worth it for your family.
HelloFresh offers plans for up to four people each week, and it also provides more than 40 meal options to choose from every week. This includes several kid-friendly options that may appeal to picky eaters and younger children, too.
Can you cancel HelloFresh after 1 box?
Yes, you can cancel your HelloFresh subscription at any time.
Does HelloFresh charge when you skip a week?
No, you will not be charged for weeks that you skip. However, you must skip before that week's deadline to edit your order or you will be charged and your box will be shipped.
HelloFresh is a moderately priced meal kit service that delivers appealing recipes with a focus on fresh ingredients, simple cooking methods, and bold flavors.
It's a solid option if you enjoy cooking but also value the convenience of a meal kit.
While HelloFresh is more affordable than many of its competitors, including Sunbasket and Green Chef, it's not a great fit if you have strict dietary needs or preferences.
Overall, we recommend HelloFresh if you're looking for easy and flavorful meals delivered to your doorstep.