We include products we think are useful for our readers. If you buy through links on this page, we may earn a small commission Here's our process.
Healthline only shows you brands and products that we stand behind.
Our team thoroughly researches and evaluates the recommendations we make on our site. To establish that the product manufacturers addressed safety and efficacy standards, we:
Evaluate ingredients and composition: Do they have the potential to cause harm?
Fact-check all health claims: Do they align with the current body of scientific evidence?
Assess the brand: Does it operate with integrity and adhere to industry best practices?
We do the research so you can find trusted products for your health and wellness.
Using a colostomy bag may mean you have some differences in your life, but when it comes to swimming and water sports, this health device won't slow you down.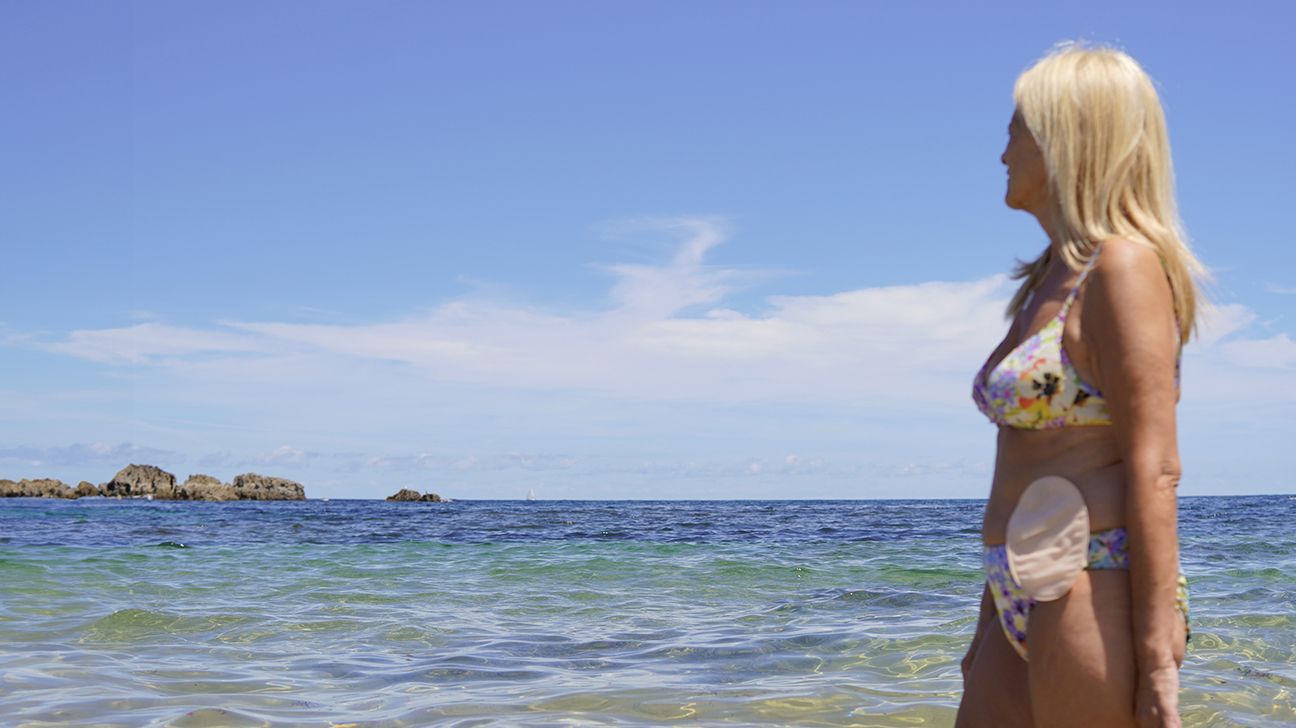 Colostomy bags are pouches attached to an opening on the abdominal wall. This opening, called a stoma, allows waste to filter out the body.
The colostomy bag may be needed if a portion of the intestine or rectum is unable to handle waste, whether that's permanent or temporary. This may be the result of health conditions like irritable bowel syndrome, Crohn's disease, or cancer.
But the colostomy bag, which is worn on the outside of the body, may pose some questions for wearers. Will this pouch impact your life and activities? If so, how?
People with a colostomy bag may be able to swim, scuba dive, and do all the water sports they enjoyed before. But before putting on your flippers and goggles, there are a few things to know about swimming with a colostomy bag.
Yes, you can swim with a colostomy bag. Having a colostomy should not prevent you from swimming, relaxing in a hot tub, or enjoying most water sports.
Colostomy bags are designed to be water resistant. If attached to the stoma (which is the opening on the abdominal wall) properly, they should also be leak-proof and airtight. Water should not harm or get into the bag or stoma.
However, before you head into the water, there are a few helpful suggestions to keep in mind:
Check the seal: Double-check the seal between the colostomy bag and stoma. If you're worried, you can use waterproof tape to secure the bag.
Empty the bag: Before you head into the water, empty the colostomy bag.
Delay eating: If you are concerned about output while you're swimming, eat at least 4 hours before you get into the water.
Plan to swim: If you can remember, give yourself some time for the wafer to be in place securely before getting it wet. Apply a new wafer at least 12 hours before getting it wet. You can apply a new wafer within a shorter window but no less than 1 hour.
Cover filters: If your bag has a deodorizing filter, you should place a filter sticker over it while swimming. Once you're out of the water, you can remove the sticker.
Wearing a swimsuit with a colostomy bag should be no different than wearing a swimsuit without one. The only thing you may want to keep in mind is securing the bag before you get into the water. However, that's easy to do with most swimsuits.
One-piece bathing suits are a great option. They hold the bag in place securely. A two-piece bathing suit can be great, too. Some people prefer high-waisted bottoms or a suit that has a longer tankini-style top. This helps to hold the bag securely and covers it up if that is a concern.
High-waisted swim trunks and shorts with pouches designed for colostomy bags are also available. Rash guards, which are water shirts often worn while snorkeling or scuba diving, may also be a good option. They help secure the bag to the body and obscure it.
Ultimately, the right swimsuit for you is whatever makes you feel comfortable. If the colostomy bag is secure and does not easily move while you're swimming, your swimwear is appropriate.
There aren't many things you should not do with a colostomy bag. You can, in fact, pursue many of your favorite activities and passions.
But physical contact sports may not be a great idea for people with a colostomy bag. The risk is too high for a possible injury. A blow to the stoma could be dangerous.
However, special equipment may be available for some sports. If you do want to continue with things like martial arts or kickboxing, talk with your doctor first.
Weightlifting may also be restricted for some people with a colostomy bag. The strain may be too great on the stoma. It could cause a hernia, especially soon after it's created. Sit-ups and crunches may be problematic for the same reason. Talk with your doctor before performing these activities.
Yes, you can enjoy a hot tub while wearing a colostomy bag. The same tips apply to sitting in a hot tub as swimming: You want to give the wafer time to seal well before getting in the water, and it's important to wear a filter cover if your device has one.
Use waterproof tape around the bag and near the stoma if it makes you feel more secure while you're in the water. Supportive swimwear is also a good idea, though you're unlikely to be moving as much as you might while swimming.
Yes, you can scuba dive while wearing a colostomy bag. Most scuba suits will help secure the bag to your body while you're underwater because they fit snuggly. This is a great benefit of this activity.
But before you get in the water, make sure you follow the same advice as you would for swimming. Empty the bag before you go into the water. Use waterproof tape if it makes you feel more comfortable and check the seals before you zip your suit.
Colostomy bags are designed to be water resistant, but if you want to go one step further, several companies offer waterproof colostomy bag covers that may make you more comfortable while swimming or enjoying other water sports. Consider covers from these companies:
Having a colostomy bag shouldn't slow you down or prevent you from swimming and enjoying the water.
Some things change when you get a colostomy bag, but this isn't one of them. It's safe to swim with a colostomy bag and engage in other water sports, such as scuba diving, snorkeling, and more.
However, before you suit up and jump in, it's important that you make sure your colostomy bag is ready for the water. That requires double-checking that your seal is secure. If you want a little more reassurance, use waterproof tape around the bag.