We include products we think are useful for our readers. If you buy through links on this page, we may earn a small commission. Here's our process.
Healthline only shows you brands and products that we stand behind.
Our team thoroughly researches and evaluates the recommendations we make on our site. To establish that the product manufacturers addressed safety and efficacy standards, we:
Evaluate ingredients and composition: Do they have the potential to cause harm?
Fact-check all health claims: Do they align with the current body of scientific evidence?
Assess the brand: Does it operate with integrity and adhere to industry best practices?
We do the research so you can find trusted products for your health and wellness.
This nutrition-first meal delivery service features high-quality ingredients, menus created by regional chefs, and a large list of meal options. Who's hungry?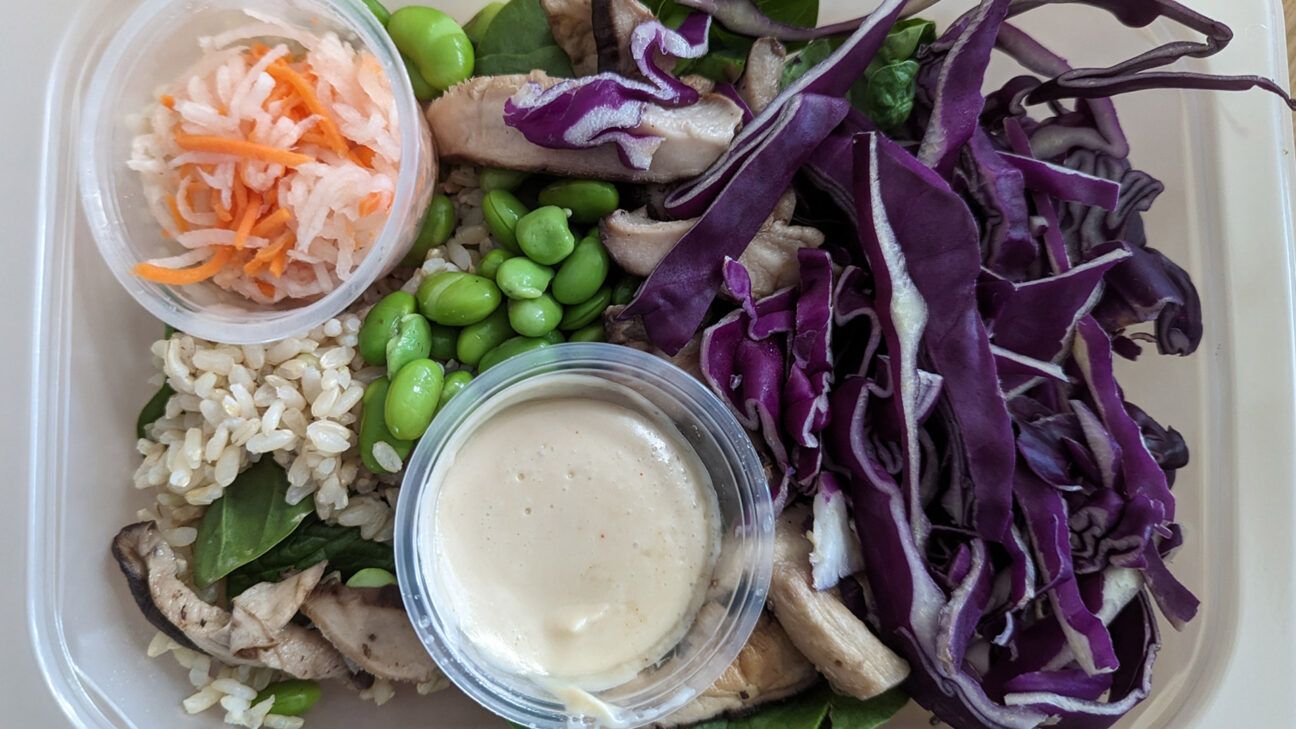 Meal Delivery Service Review Scorecard

Our tester scored Territory across 8 categories, allotting points from 0–5. The scores reflect the average rating for each category.

Overall: 4.1
Sign-up, delivery, and cancellation: 4
Meal variety: 4.5
Nutrition: 5
Sustainability: 4.5
Ingredient quality and freshness: 4
Ease of preparation: 5
Taste: 5
Affordability: 1

Learn more about how we test meal kits.
Territory, sometimes called Territory Foods, is a subscription meal service that delivers prepared dishes featuring high quality, sustainably sourced ingredients.
Focused on "nutrient-dense" eating, Territory's nutritionists work with local chefs and restaurants to create healthy menus using:
local or organic produce
minimally processed oils
whole grains
animal proteins that are free of antibiotics or added hormones
seafood that's wild-caught or sustainably raised
Additionally, all Territory meals are made without gluten, refined sugar, or dairy.
It also supports a variety of popular dietary preferences, including vegetarian, vegan, paleo, keto, and more.
One thing that makes Territory unique is its relationships with local chefs and restauranteurs, who, working with nutritionists, create seasonal menus and meals for their areas. This reinforces Territory's focus on sustainability, but also means that menu selections and pricing can vary by location.
Territory currently offers local delivery or shipping to 27 states. Consumers can find out if their location is serviced, and see local meal selections, by entering their ZIP code on the Territory website.
Pros
features a large, rotating menu with more than 30 fresh, fully prepared options
uses high quality, sustainably sourced ingredients in all meals
suits a variety of dietary patterns
flavorful food
offers several serving sizes and plans
no subscription required
Cons
meals aren't manufactured in an allergen-free facility
delivery is only available in select areas
most meals are individually portioned, which might not be ideal for families
Territory uses a weekly subscription model, where you receive up to 12 meals per delivery. (There's a minimum of 4 or 6 meals per delivery, depending on your location.)
For customers in certain areas that qualify for local delivery, you can also choose to receive your meals once or twice per week.
You have the option of customizing your order each week based on your dietary preferences and tastes. You can also skip a week, or cancel your subscription, without charge.
Territory meals can also be purchased without a subscription for a slightly higher rate.
Meals are meant for one person, but Territory also offers several family-style proteins and sides, which contain 3–4 servings each.
Territory offers a rotating weekly menu with more than 30 meals to choose from, most of which feature plenty of seasonal produce, along with a good mix of lean proteins and heart-healthy fats.
The company also allows you to filter meals to suit your diet. It supports numerous eating plans, including:
paleo
low carb
plant-based, including vegan
low calorie
keto-friendly
Whole30
Additionally, Territory offers Performance Meals, which have 25 grams of lean protein and at least 40 grams of complex carbs.
Those with specific food preferences or allergies can find detailed information on each menu item's nutritional content and ingredients. You can also filter the menu to remove meals that contain ingredients you'd like to avoid.
However, meals aren't manufactured in an allergen-free facility, so cross contamination is possible.
Ingredients
All Territory meals are free of refined sugars, gluten, and dairy.
When possible, the company also uses local, sustainably sourced ingredients, along with some organic produce, depending on availability.
In addition to adhering to strict animal welfare standards, its animal proteins are free of antibiotics and added hormones.
Detailed information on Territory's quality standards and ingredient sourcing is available on its website.
Freshness and taste
Territory emphasizes freshness and boasts that its meals are never frozen. This is supported by working with local chefs and distribution centers, so meal preparation-to-delivery time is reduced.
Meals are delivered fresh with insulated liners and ice packs. Items on their local menu should be consumed within 5 days, while those shipped nationally should be consumed within 8 days. If needed, you can also freeze meals to extend their shelf life.

Territory gets strong reviews for the flavors of its meals. Dishes are made using a variety of spices, seasonings, and sauces to maximize flavor. Plus, you can rate and review the meals you receive, which allows Territory to recommend specific dishes based on your taste preferences.
"I didn't expect to like this as much as I did."

— Candice Abellon, tester and Healthline senior editor
Prices for Territory can vary depending on the specific meals that you select.
Items are priced individually and range from $11.95 to $22.99 per serving with a subscription. Individual proteins and sides are also available and cost between $8.99 and $22.99, with three or four servings each.
Shipping fees are determined upon checkout and depend on your location and meal plan. For local customers, delivery fees range from $9.99 to $10.99 per delivery, while national shipping fees range from $11.99 to $17.99 per week.
Healthline senior editor Candice Abellon tried Territory and found the variety of meals and the flavors of the food appealing, and the service overall easy to use. "I didn't expect to like this as much as I did," she says.
Selecting from the plant-based and low carb menus, Candice received one delivery of four Territory meals:
Chicken "Parm" with Broccoli and Herb Roasted Squash Medley: "This had a nice mix of soft textures from the squash to the firmer chicken and broccoli. The broccoli was nicely roasted and still had a crunch or snap to it. The chicken was well cooked, firm but not too dry and it came pre-sliced."
Chicken Chorizo con Papas with Scrambled Eggs and Salsa Rojo: "Loved the flavors of this one, even without the salsa that was included on the side."
Miso Mushroom Bowl with Pickled Daikon: "Lots of crunch in this one from the large shredded pieces of purple cabbage and from the pickled daikon and carrot. Then there was a mix of soft and firm textures from the edamame, mushrooms, and brown rice."
Macro Grain Bowl with Crispy Cornflake Crusted Tempeh: "The tempeh loaf had a nice lightly crunchy batter on it."
"If you can afford it, this can be a good way to have variety in meals, stick to dietary preferences or needs, and not add additional work or food prep."

— Candice Abellon, Healthline senior editor
Here's what else Candice has to say about her experience with Territory:
Process: The sign-up was "easy and pretty straight-forward." Once signed up, she found it simple to choose her meals and to edit her shopping cart.
When the test period was done, cancellation was a breeze. "I could do this online from the user dashboard when I was logged in. Territory sent a confirmation email for the cancellation, and it's clearly labeled when I log in to my account."
Taste: "The flavors were really good. I liked the combination and balance of ingredients. And it was a good level of salt for me — I didn't feel the need to add anything to these meals."
Ease of use: "These meals are the easiest; you warm them up in the microwave. For me, this reduced prep, clean-up, and the time until I could eat my meal."
Packaging: The meals came in a lined cardboard box with two ice packs. Each meal was packaged in its own plastic tray with a clear lid. If there was an accompanying sauce or condiment, it was in a separate plastic ramekin in the tray. Territory also provided instruction on how to best dispose of its packaging.
"While I don't know if this produces less waste overall, these resulted in much less packaging on my doorstep than meal kits that I cook myself."
The verdict: "I would recommend Territory Foods. I think it's especially helpful for individuals or couples, both those living on their own or who might have different needs for their diet than the rest of their household. For example, if someone is trying to eat low carb but they are also catering to the wants and needs of small children, teenagers, and others who eat differently than they do.
"If you can afford it, this can be a good way to have variety in meals, stick to dietary preferences or needs, and not add additional work or food prep. It was really nice to not have to think about what I'd be eating for one meal out of the day."
How does it compare to Factor?
Factor provides nutritious, fully prepared dishes for several eating patterns, including vegan, vegetarian, keto, and high protein diets. Though its menu is smaller than Territory's, its subscriptions are also slightly more affordable, with plans ranging from $10.99 to $13.49 per serving.
Factor also offers a free 20-minute nutrition coaching session with a registered dietitian and offers a variety of optional add-ons, including breakfast dishes, juices, and desserts.
Are Territory Meals frozen?
Territory Foods are delivered fresh and never frozen. Meals should be refrigerated upon delivery and consumed within 5 to 8 days, depending on whether you order from their local or shipping menu.
What is the best meal delivery for one person?
Territory Foods is a great option for individuals interested in enjoying more fresh and flavorful high quality meals at home. Factor, Trifecta Nutrition, and Daily Harvest are also good choices that offer single-serve meals designed to please a wide range of palates and preferences.
Territory is a meal delivery service that provides healthy dishes designed by dietitians and prepared by chefs in your area.
It offers a variety of nutrient-dense meals tailored to several dietary patterns, all of which are delivered fresh and ready to heat and enjoy.
With more than 30 flavorful, single-serve meals to choose from each week, it's a great choice for individuals interested in adding more variety to their diet while also streamlining their weekly routine.
However, it's currently only available in 27 states and might not be ideal for everyone, including those with severe food allergies and large families or households.