We include products we think are useful for our readers. If you buy through links on this page, we may earn a small commission Here's our process.
Healthline only shows you brands and products that we stand behind.
Our team thoroughly researches and evaluates the recommendations we make on our site. To establish that the product manufacturers addressed safety and efficacy standards, we:
Evaluate ingredients and composition: Do they have the potential to cause harm?
Fact-check all health claims: Do they align with the current body of scientific evidence?
Assess the brand: Does it operate with integrity and adhere to industry best practices?
We do the research so you can find trusted products for your health and wellness.
Lift you up. Hold you down. Keep you close. Safe and sound. Yes, Rihanna, ditto. Our list of compression pants that do just that includes ODODOS, Nike, Lululemon, and more.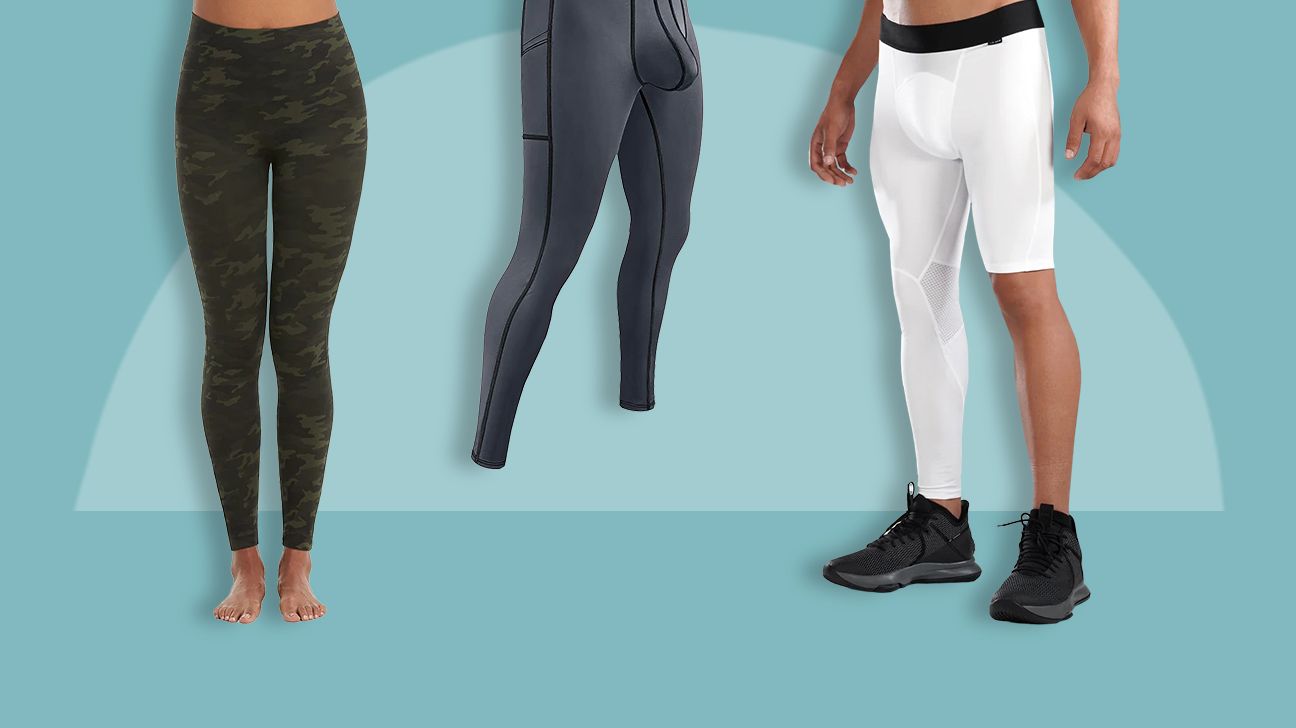 Like other compression garments, such as shorts, socks, and sleeves, compression leggings are a type of sportswear used to increase blood flow during exercise.
In fact, research from 2016 suggests that compression leggings may help increase endurance, enhance performance, and speed recovery after exercise.
However, with so many options available, finding a pair of comfortable, high quality compression leggings can be challenging.
The products included in this article were selected based on the following criteria:
Quality: We looked for leggings made from high quality materials that are lightweight, breathable, and sweat-wicking.
Style: Prefer a certain color or fit? The options below are available in a range of styles, colors, and patterns.
Price: We know budget is an important consideration, so we included compression leggings at a variety of price points.
Customer reviews: All the compression leggings on this list have great customer reviews, so you can feel confident with your purchase.
Here are 16 of the best compression leggings.
A note on price
General price ranges with dollar signs ($–$$$) are indicated below. One dollar sign means the product is rather affordable, whereas three dollar signs indicate a higher cost.
Generally, prices range from $23–$118, though this may vary depending on where you shop.
Pricing guide
$ = under $50
$$ = $50–$100
$$$ = above $100
Editor's note: The latest update on BPA in activewear
Testing done by the Center for Environmental Health (CEH) found that 19 different activewear brands had high BPA levels in the fabric of their:
leggings
sports bras
socks
activewear shirts
Three of the brands that were sent legal notices regarding their products are featured in this article. They include:
Alo Yoga
Beyond Yoga
Under Armour
Note that the testing did not mention specific products, and none of these products are under recall as of this update.
Any products made of polyester with spandex could contain as much as 40 times the safe limit under California law.
The synthetic chemical bisphenol A (BPA) is added to fabrics to improve the life span of the fabric and to act as an antistatic agent. Exposure to BPA through clothing happens by absorption through the skin.
BPA mimics the hormone estrogen and can change the way cells function and reproduce.
Some negative health effects associated with BPA exposure include:
anxiety
delayed onset of puberty
depression
hyperactivity
prostate cancer
Best overall
Price: $$
Sizes: XS–XXL
Colors: black/white
Sustainability: Nike's Move to Zero initiative is focused on lowering greenhouse gas emissions, decreasing waste, and reducing water usage by 2025. Nike also offers a recycling and donation program for used shoes and apparel.
Pockets: none
These leggings from Nike strike a great balance between comfort and compression, making them a good option for high intensity workouts.
They feature mesh panels for extra breathability, plus a sweat-wicking fabric and form-fitting shape.
They also feature an extra-wide elastic waistband for added support.
Best high end
Price: $$–$$$
Sizes: 0–20
Colors: Pipe Dream Blue, Espresso, Dark Forest, Pale Raspberry, True Navy, Black, Red Merlot, Java, Heathered Graphite Grey, Heritage 365 Camo Deep Coal Multi, Dark Olive, Pink Blossom, Diamond Dye Pitch Grey Graphite Grey
Sustainability: Lululemon aims to reduce water usage and use at least 75% sustainable materials for products by 2025. They also plan to launch a program that allows customers to resell, recycle, or repair products to extend their life span.
Pockets: hidden waistband pockets
Lululemon is a popular brand for compression leggings — and for good reason.
These Lululemon compression leggings are made with high quality, sweat-wicking materials that have plenty of stretch and are lightweight, soft, and breathable.
As a bonus, the waistband sports hidden pockets, which you can use to store your essentials while working out.
What our tester says
"I live in these leggings! They are the most comfortable athletic pants I've found (and I've tried a lot!). I love that they're versatile enough to wear working from home and to yoga or Pilates classes.
"They are buttery soft and create a smooth appearance. They're also incredibly flattering and 100% squat-proof.
"The only flaw is that they're not designed for higher impact exercise, so they will start to pill if you wear them for activities like running or cycling."
— Charlie Danford, RVO Health Senior Clinical Quality Analyst
Read more about Lululemon activewear and athleisure.
Best eco-friendly
Price: $$
Sizes: XXS–6XL
Colors: Black, Ivory, Midnight, Moss, Plum, Earth, Citrine, Glass, Blood Orange
Sustainability: All clothing is made from BPA-free recycled materials and eco-friendly dyes. Girlfriend Collective also offers a program to help recycle used clothing and provides packaging that is 100% recycled and recyclable.
Pockets: hidden back pocket
Made from recycled plastic bottles and spandex, these high rise leggings from Girlfriend Collective are a sustainable choice for eco-conscious consumers.
In fact, they're even recyclable through the company's ReGirlfriend program, which allows you to send in your old Girlfriend Collective gear in exchange for store credit.
They're made with moisture-wicking, four-way stretch fabric for a comfortable fit all day, whether you're sweating at the gym or simply lounging around the house.
They also include a small, hidden back pocket to keep your keys and are available in three different lengths, nine colors, and 11 sizes.
Best affordable
Price: $
Sizes: XS–XXL
Colors: Dark Olive, Black, Black (fleece lined), Black Leopard, Camo, Charcoal Grey, Grey Marble, Navy Blue, Stripe, Vintage Purple, Brown, Carbon Grey Marble, Ink Blue, Spacedye Black-Grey, White, Black and White Jacquard, Olive Green, Navy Blue (fleece lined)
Sustainability: no information provided
Pockets: hidden waistband pocket
Dragon Fit's compression leggings are not only budget-friendly but also incredibly sleek, stylish, and comfortable.
Thanks to their moisture-wicking, four-way stretch fabric, these pants are ideal for exercising as they stretch both lengthwise and widthwise.
Plus, with a variety of colors, lengths, and patterns to choose from, it's easy to find a pair that works for you.
Best for yoga
Price: $$$
Sizes: XXS–L
Colors: Black/Black Glossy, Anthracite/Anthracite Glossy, White/White Glossy, Gravel/Gravel Glossy
Sustainability: Alo Yoga facilities are certified by WRAP, a third-party organization that ensures that international social compliance standards are met. Note that the brand was issued a legal notice in 2022 by CEH, specifying that some leggings tested high for BPA.
Pockets: none
Available in four colors, these high waisted leggings from Alo Yoga are designed to minimize friction and keep your movements smooth.
Made from a combination of nylon and spandex, each pair has plenty of extra stretch so you can move comfortably through your yoga routine.
This product also features moisture-wicking and odor-resistant fabric, which may be particularly helpful for sweaty hot yoga sessions.
Best for basketball
Price: $$
Sizes: S–3XL
Colors: white, black, blue, red, pink, yellow
Sustainability: no information provided
Pockets: none
Single leg basketball tights have become popular among athletes and are often used to increase blood flow, improve range of motion, and provide extra support for certain muscles. They might also be a good choice if you have an injury or are wearing a knee brace.
These single leg basketball tights from Sleefs are made with non-woven material, an elastic waistband, and stretch fabrication to help you move easier, both on and off the basketball court.
They also feature UVA and UVB protection if you're playing outside and offer extra comfort whether you're training or relaxing.
Best for running
Price: $$
Sizes: S–XL
Colors: Black, Downpour Gray, Charged Cherry, Aurora Purple
Sustainability: Under Armour is in the process of transitioning to design, manufacturing, and distribution practices to decrease waste and reduce their environmental footprint by 2030. However, they were issued a legal notice from CEH after some of the brand's activewear shirts tested high for levels of BPA.
Pockets: side drop-in pocket
With quick-drying, lightweight and moisture-wicking fabric, Under Armour's Fly Fast 3.0 Leggings are a great option for runners.
Customers specifically appreciate the side drop-in pocket, which is a good size for keeping your phone or keys on hand.
Additionally, these compression leggings offer a reflective design for added safety when you're running at night.
Best for strength training
Price: $$$
Sizes: XS–2XL
Colors: Black, Forest Night, Sky Blue, True Navy
Sustainability: no information provided
Pockets: internal waistband slip-in pocket
Made with CW-X's EXO-WEB technology, these compression leggings are specifically designed to provide targeted support for your joints, core, and lower back.
They're also made with moisture-wicking materials to help keep sweat off your skin.
What's more, these pants include a double-reinforced waistband, an inner pocket for your keys, and reflective details to promote visibility in poorly lit areas.
Most comfortable
Price: $$
Sizes: XXS–4X
Colors: Black/White, Crew Navy/Black, Dark Grey Heather/Black, Indigo/White, Legacy Purple/Purple Tint, Orbit Violet/Ambient Blush, Teal, Legacy Green/Black, Wild Pink/White, Legacy Blue/Black, Noble Purple, Black, Black Stripes, Carbon/Real Magenta, Dark Grey Heather/Black, Glory Blue/White, Victory Crimson/Victory Blue
Sustainability: Adidas has set ambitious goals to reduce their carbon footprint and decrease greenhouse gas emissions from retailers, operations, and suppliers. They also aim to be carbon neutral by 2050.
Pockets: waistband pocket
Adidas's compression leggings are made with moisture-wicking fabric that absorbs water quickly to keep you cool, dry, and comfortable during your workout.
Each pair is high waisted and fitted to hold its shape, so it will stay in place even during intense training sessions.
Most seamless
Price: $$
Sizes: XS–3X
Colors: Green Camo, Olive Leopard, Port Navy, Heather Camo
Sustainability: no information provided
Pockets: none
For a seamless fit with plenty of coverage and comfort, consider these high waisted leggings from Spanx.
They include a double-layer waistband for extra sculpting and are even made without a center seam for a smoother fit and feel.
What's more, these Spanx compression leggings are made with soft and flexible material and can be purchased in a wide range of sizes.
Best for shapewear
Price: $$
Sizes: XXS–4X
Colors: Sand, Clay, Sienna, Bronze, Cocoa, Onyx
Sustainability: No specific information provided, but the company says: "We only work with suppliers and vendors who we believe in and share our commitment to sustainability, accountability, and transparency."
Pockets: none
These high waisted leggings from Skims are designed to provide targeted compression to help smooth, shape, and sculpt your body.
They're good for wearing under skirts, dresses, or pants and feature silicone along the top band to help them stay in place.
Additionally, they are available in sizes ranging from XXS–4X and a variety of neutral shades, such as Onyx, Sand, and Sienna.
Best high rise
Price: $
Sizes: XS–6XL
Colors: Black, Camo Black, Carbon Gray, Leopard Black, Olive Brown, Brown, Pink, Blue Camo, Blue Flowers, Camo, Galaxy Red, Purple, Rose, Tangled Black, Sport Heather Gray, Tangled White
Sustainability: no information provided
Pockets: side pockets (available only in certain colors)
If you're looking for a pair of high rise compression leggings designed to boost your athletic performance, check out these leggings from CompressionZ.
These high waist compression leggings are made from premium fabric with chafe-free stitching and four-way stretch material to maximize comfort and mobility during your workout.
They're also super lightweight and include a small pocket on the back with a zipper for easy storage.
Most stylish
Price: $
Sizes: XXS–XL
Colors: Black, Arctic Plum, Dark Carbon, Dark Green, Ink Gray, Light Grayish Blue, Lunar Rock, Olive Green, Taupe, Tie Dye Smoke Ink, True Navy, Crimson, Dark Grey Camoflauge, Magenta Purple, Melanite, Navy, Curtain Violet Ash, Double Ash, Grey Sage, Hibiscus Purple, Moonphase, Olive Camoflauge, Turquoise, Brick Rose, Chartreuse, Dark Russet, Petrol Blue, French Navy
Sustainability: no information provided
Pockets: side pockets
This slimming, sweat-wicking compression leggings are comfortable, supportive, and stylish, with many versatile colors and patterns to choose from.
They also feature a high waist with four-way stretch material and two side pockets to hold your phone, wallet, or keys.
Best of all, you don't have to choose between style and price, as they're one of the more affordable options.
Best with pockets
Price: $$
Sizes: XXS–XL
Colors: Darkest Night, Black-Charcoal, Nocturnal Navy, Magenta Heather, Lunar Teal Heather, Ultra Violet Heather, Green Grass Heather
Sustainability: Beyond Yoga uses waterless print techniques and eco-friendly fabrics and packaging materials. Some fabrics are also certified by Bluesign, which ensures that harmful chemicals are kept out of the manufacturing process. Still, keep in mind that Beyond Yoga was issued a legal notice from CEH after some of the brand's activewear shirts tested high for BPA.
Pockets: hip pockets
Designed with four-way stretch fabric and a double-layer waistband, these high rise compression leggings are a flattering option for any body type.
Each pair features pockets at the hip for keeping your phone and keys secured while you exercise.
Customers also appreciate that these leggings are made with Beyond Yoga's signature Spacedeye knit fabric, which is especially soft and sweat-wicking.
Best with extended sizes
Price: $
Sizes: XS–2XL
Colors: Brush Green, Dream Blue, Mauve, Camo Black, White Camo, Camo Dark Gray, Deep Purple, Black, Deep Navy, Lavender
Sustainability: no information provided
Pockets: large side pockets, small zipper side pockets
ODODOS's high waisted compression leggings are a favorite with customers, as the leggings are available in a variety of colors, with sizes ranging from XS–2XL.
What's more, each pair includes:
an elastic waistband
an adjustable drawstring
dual side pockets large enough to fit most smartphones
The leggings also feature four-way stretch, moisture-wicking, non-see-through fabric to optimize performance, comfort, and style.
Best for bulge
Price: $
Sizes: XS–5XL
Colors: Grey, White with White Stitch, Dark Blue, Grey Modal, Black, Black with Black Stitch, Grey with Grey Stitch
Sustainability: no information provided
Pockets: side pockets
These compression pants provide support right where you need it while also providing extra space in the areas you don't.
They're made with moisture-wicking, odor-resistant material and feature dual side pockets deep enough to hold your phone.
Plus, this product is available in several colors and a wide range of sizes, making it a great, flexible option.
We evaluated many of the top compression leggings on the market to find the best options available.
Some of the main factors we considered while compiling our list include:
Materials: We prioritized compression leggings made from high quality materials to maximize durability and comfort.
Style: The compression leggings on our list are available in many different colors, patterns, styles, and fits to help you find your perfect pair.
Features: We selected many compression leggings that offer extra features, such as side pockets, UV protection, or reflective details for added visibility.
Size range: Many of the brands featured on our list offer compression leggings in a wide selection of sizes to fit various body types.
Reviews: We chose compression leggings that customers or our hands-on reviewers rate highly.
Sustainability: Several of the brands we selected use sustainable practices to decrease waste and help minimize their environmental footprint.
Price: We chose compression leggings at various price points to find options to fit any budget.
There are several factors you'll want to consider when shopping for compression leggings, including:
Material type and quality: Be sure to check the type of material, as some offer specific benefits, such as four-way stretch, or are moisture-wicking or odor-resistant.
Length and fit: As compression leggings are available in a variety of lengths and styles, you'll want to think about the fit that's most comfortable for you.
Extra features: If you prefer keeping small items on hand during your workout, consider leggings with pockets. If style is important, look for products offering a variety of colors and patterns to choose from.
Customer reviews: Before purchasing a pair, read customer reviews to help determine the fit and feel, its durability, and whether it offers good value for the money.
Is it good to wear compression leggings all day?
You can wear compression leggings all day long if it is comfortable for you. However, be sure to check with a doctor first if you have any medical conditions that affect your circulation, such as diabetes or peripheral vascular disease.
Should I wear compression leggings on a long haul flight?
Many people prefer wearing compression socks or leggings while traveling to help promote circulation while sitting for long periods.
On the other hand, some people might find that wearing compression leggings on a long haul flight feels restrictive or uncomfortable, so it's important to listen to your body and determine what works best for you.
Do compression leggings really work?
Compression leggings can be a solid option to boost circulation and provide extra support. According to research from 2016, compression clothing might also increase endurance and reduce muscle pain and damage and inflammation.
Are compression leggings the same as yoga pants?
Though yoga pants and compression leggings are similar, there are some slight differences. For instance, yoga pants don't typically provide the same level of compression. Additionally, yoga pants are often thicker and may come in different styles, such as flared or bootcut varieties.
Compression leggings may enhance exercise performance and speed muscle recovery.
They're available in various styles, colors, and materials, so it's important to consider which features are most important for your workout.
This list is a great starting point when shopping around for a pair.