Sesame teletherapy offers psychiatry as well as individual and couples therapy. See how it stands out from competitors.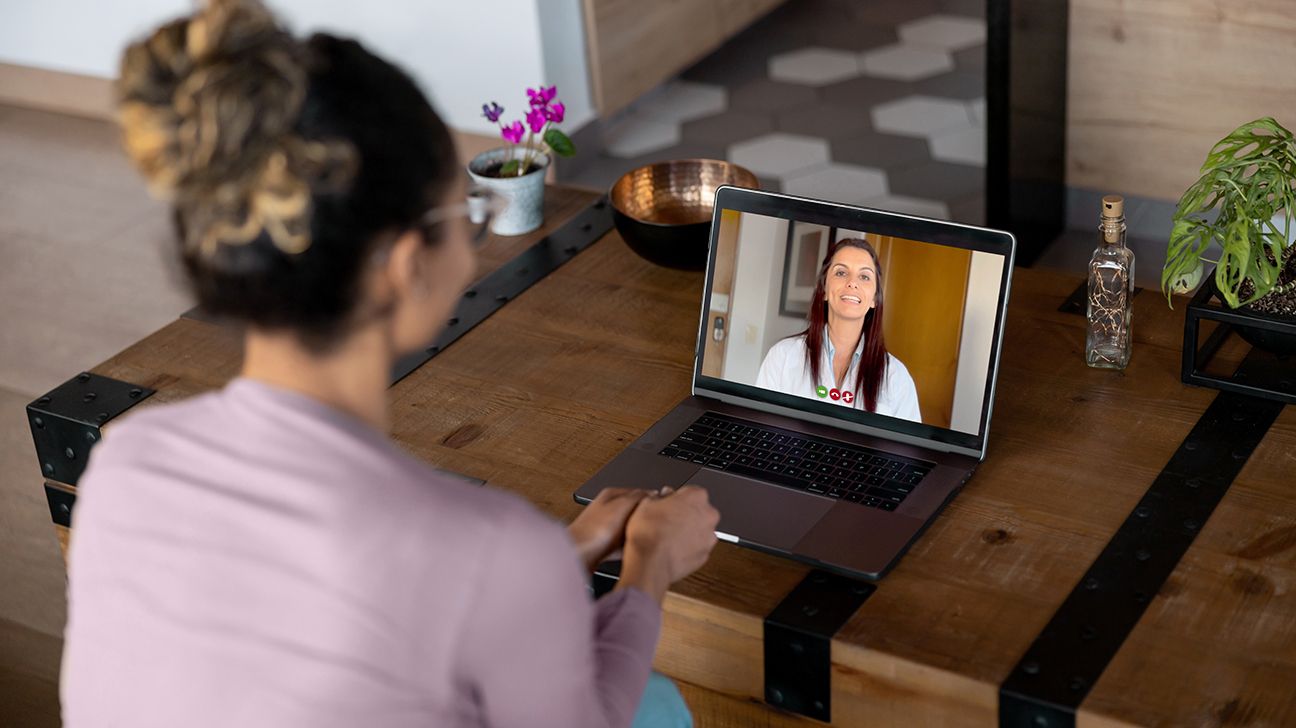 Sesame Care is an online telemedicine platform that offers access to various healthcare services, including mental health treatment. With a focus on transparent pricing, it allows users to book appointments directly with professionals, sometimes with same-day availability.
Sesame doesn't work with insurance providers. Rather, users pay a flat fee for each appointment and can submit Sesame's bills to their insurance for possible reimbursement.
Pros
Direct booking: You can schedule appointments easily and pay professionals directly.
Transparent pricing: The cost structure is clear, with no hidden fees or insurance hassles.
Quick appointments: In some cases, you can access mental health care on the same day.
Affordable medications: Low cost prescription refills are available for select drugs.
Multiple specialties: In addition to mental health care, the service offers various medical specialties.
In-person appointments: In-person appointments may be available, depending on your location.
Cons
Limited therapist options: Availability can vary by location.
Variable pricing: Session costs may vary by therapist and location.
No insurance accepted: The service doesn't bill your insurance directly — you must submit claims.
To gain a comprehensive understanding of Sesame Care, we used various methods:
We carefully read reviews from independent sources such as Trustpilot and the Better Business Bureau (BBB).
We explored discussions and comments about Sesame Care on user-led platforms such as Reddit.
We interacted with Sesame Care's customer service to find answers to common questions and gather important information.
We collected insights from Healthline staff members who have used Sesame Care and shared their personal experiences.
Sesame Care offers a wide range of healthcare services, including the following:
Urgent care
Sesame Care offers convenient access to urgent care services, ensuring that you can quickly connect with a healthcare professional to address non-emergency medical issues.
Whether you're experiencing a minor injury, an infection, or another common medical concern, Sesame allows you to book same-day appointments and receive timely care without insurance.
Prescriptions
Sesame's prescription service simplifies medication access by offering generic drugs for as little as $5. This cost effective service allows you to access the medications you need, providing a range of commonly prescribed drugs, including antidepressants, with the convenience of free delivery.
Mental health services
With Sesame, you can book appointments with mental health professionals, including:
therapists
psychologists
psychiatrists
Whether you're seeking individual therapy or couples counseling, Sesame can connect you with a mental health professional to address your unique needs.
Dermatology
Sesame provides access to board certified dermatologists, ensuring that you can receive expert care for skin-related concerns. Whether you have dermatology questions, need a skin condition diagnosis, or need treatment for skin concerns, Sesame's telehealth services offer easy-to-access options.
Women's health
Sesame offers consultations with healthcare professionals who specialize in women's health. Whether you're looking for well-woman exams, gynecological advice, or advice on specific women's health concerns, Sesame provides convenient access to the care you need.
Pediatrics
Sesame offers access to pediatric care, allowing parents to schedule appointments with experienced pediatricians. These professionals can address pediatric healthcare needs, including routine checkups and specific pediatric health concerns, making quality pediatric care accessible and affordable.
Sesame Care provides accessible and convenient healthcare services such as:
urgent care
mental health
dermatology
It's particularly well suited for people without health insurance, as it offers cost effective access to medical services without high insurance costs or deductibles.
Sesame's transparent pricing model is appealing to those who prefer direct payments, and its same-day appointment availability ensures swift access to care, especially for those who need immediate attention. Additionally, Sesame offers straightforward and affordable prescription options, with some medications available for as little as $5.
Sesame Care may not be the best fit for people with comprehensive health insurance plans that cover their medical needs, as those plans may offer broader coverage. In addition, people who prefer to use their insurance for healthcare services or prefer to use in-network health professionals might not fully benefit from Sesame Care's cash-pay model.
Furthermore, people who are looking for long-term therapy or psychiatric treatment with a specific therapist may find Sesame Care less suitable, as the platform primarily offers one-time, on-demand care.
Sesame Care is generally considered adequate for on-demand, affordable access to various healthcare services. Users appreciate the:
transparent pricing
immediate appointment availability
cost savings
However, the effectiveness of individual appointments may vary depending on the specific professional and their capabilities. Users should choose healthcare professionals carefully, remembering that Sesame primarily offers one-time, on-demand care rather than ongoing therapeutic relationships.
The cost of specific healthcare services on Sesame Care can vary widely from one healthcare professional to another, allowing you to choose one that aligns with your budget and preferences.
Here are example prices for various healthcare services based in Florida:
Online mental health consult: $36
Online psychiatry consult (new patient): $81
Prescription refill: $36
Virtual therapy session (new patient): $87
Psychiatry consultation (new patient): $275
Video couples therapy session: $172
The platform doesn't accept health insurance, but it provides bills you can submit to your insurance company for possible reimbursement. Additionally, Sesame offers prescriptions for $5 for a 30-day supply.
Does Sesame Care offer subscriptions?
Sesame Care offers a subscription service called Sesame Plus. With a Sesame Plus membership, you can save on the costs of your healthcare services. It costs $10.99 per month or $99 per year and provides discounted rates for various appointments. It's a cost effective option for those who plan to use Sesame Care regularly.
Does Sesame Care accept insurance?
Sesame Care doesn't accept health insurance. Instead, it operates on a direct-to-consumer model, which means you pay for healthcare services directly.
Can you change or cancel your Sesame Care subscription?
Yes, you can change or cancel your Sesame Care subscription. Sesame Plus members can cancel their subscriptions anytime by emailing customer support. If you decide to cancel, you can do so up to 48 hours before your subscription is set to renew.
Sesame Care might be right for you if you don't have health insurance or if you have a high deductible insurance plan. It offers straightforward, cost effective access to healthcare services with quick appointments and immediate access to various specialists.
However, if you have specific healthcare professional preferences or strongly prefer to use health insurance, Sesame may not be the right choice for you since it has a limited selection of professionals and does not accept insurance.
Keep in mind
Sesame Care is not a substitute for emergency services.

In the event of a mental health emergency — if you're thinking about harming yourself or someone else — call 911 or call the National Suicide & Crisis Lifeline at 988.
Sesame Care
Betterhelp
Brightside
Accepts insurance
no
no
yes
Therapy cost
varies by professional

$80–$100 per week (billed monthly)
$225 per month
Psychiatry cost
varies by psychiatrist
—
included in monthly fee
Rx delivery?
yes
no
yes
Session type
• in-person
• virtual
virtual

virtual
Available in all 50 U.S. states?
yes
yes (international)
not specified
BBB rating
A+
A
not listed
App reviews
insufficient data
• 4.8/5 stars on iOS
• 4.6/5 stars on Android
not specified
Payment options
• credit cards
• HSA, FSA

• credit cards
• PayPal
• credit cards
• insurance
Telehealth features
• video
• in-person
• medication management
• video
• messaging
• document sharing
• video
• medication management
Mobile app
yes
yes
yes
Sesame Care generally receives positive customer reviews, with users often appreciating the platform's transparent pricing and immediate access to healthcare services. The platform's simplicity and direct access to doctors are frequently mentioned as strong points. On Trustpilot, Sesame Care has received 4.3 out of 5 stars (based on 1,171 reviews).
However, there are reports of occasional issues such as no-show therapists, and availability can vary depending on your location. Users with access to a wide selection of therapists tend to have a more positive experience. Sesame Care's responsive customer service appears to be a positive aspect when addressing such concerns.
Getting started with Sesame Care is a straightforward process.
Create an account
To start, you'll need to create a Sesame Care account. This typically involves providing some basic personal information, such as your name, email address, and location. You can do this on the company's website or mobile app.
Browse services
Once you have an account, you can browse the available range of healthcare services, such as mental health consultations and prescription refills.
Choose a healthcare professional
After selecting the service you need, you can choose from the available professionals. Sesame Care offers a list of qualified healthcare professionals, and you can view their profiles to see their credentials, services, and pricing.
Book an appointment
Once you've chosen a healthcare professional, you can schedule an appointment. This typically involves selecting a convenient date and time for your virtual or in-person visit.
Complete payment
Sesame Care operates on a cash-pay model, which means you'll know the cost up front and pay for the service directly through the platform. This pricing transparency is one of Sesame Care's key features.
Is Sesame Care better than in-person therapy?
While Sesame Care provides the convenience of virtual healthcare services, not all healthcare services can be fully delivered online. For instance, certain types of emergency care, physical evaluations, and diagnostic tests require in-person visits.
Still, Sesame Care can be a convenient choice if you live in a remote area or don't have access to many medical facilities. It can also be a more cost effective option, especially if you don't have good health insurance coverage.
Does Sesame Care take insurance?
No, Sesame Care does not accept insurance. Instead, you pay for medical services directly.
Is Sesame Care private and secure?
Sesame Care takes privacy and security seriously. The service uses secure and encrypted communication methods to protect your personal and medical information during virtual consultations.
However, as with any online service, it's advisable to use a secure and private internet connection when accessing your Sesame Care account to further enhance your information's security.
Is Sesame Care legit?
Sesame Care is a legitimate and established telehealth platform. It has received positive reviews from users and gained a reputation for offering cost effective and convenient healthcare options. In addition, it's a BBB-accredited business, which adds to its credibility.
Is Sesame Care free?
Sesame Care is not a free service. It provides access to healthcare services from various medical professionals, and users are required to pay for the services they receive. However, Sesame Care offers transparent pricing, and users are informed of the fees associated with the services they choose before booking an appointment.
How is Sesame care so cheap?
Sesame Care maintains affordability through a direct-to-consumer model that eliminates insurance billing and offers transparent pricing. Operating primarily online and fostering a competitive market keeps costs low and provides users with accessible, cost effective healthcare services.
Sesame Care is an online healthcare marketplace that aims to simplify and democratize access to medical services. It offers a wide range of healthcare options, from mental health consultations to prescription refills, all with transparent and affordable pricing.
The platform doesn't accept insurance, which helps keep the prices lower and is beneficial for people with high deductible insurance plans or those seeking cost effective healthcare.
Overall, Sesame Care makes accessing healthcare easy and affordable by offering transparent, direct-to-consumer services without insurance involvement.
If you're interested in trying Sesame Care, you can get started here.