We include products we think are useful for our readers. If you buy through links on this page, we may earn a small commission. Here's our process.
Healthline only shows you brands and products that we stand behind.
Our team thoroughly researches and evaluates the recommendations we make on our site. To establish that the product manufacturers addressed safety and efficacy standards, we:
Evaluate ingredients and composition: Do they have the potential to cause harm?
Fact-check all health claims: Do they align with the current body of scientific evidence?
Assess the brand: Does it operate with integrity and adhere to industry best practices?
We do the research so you can find trusted products for your health and wellness.
At-hormone tests can help clue you into signs of a possible imbalance. Our medical experts chose Everlywell, myLAB Box, and two others as the best options for your fertility, menopause, and other hormone health needs.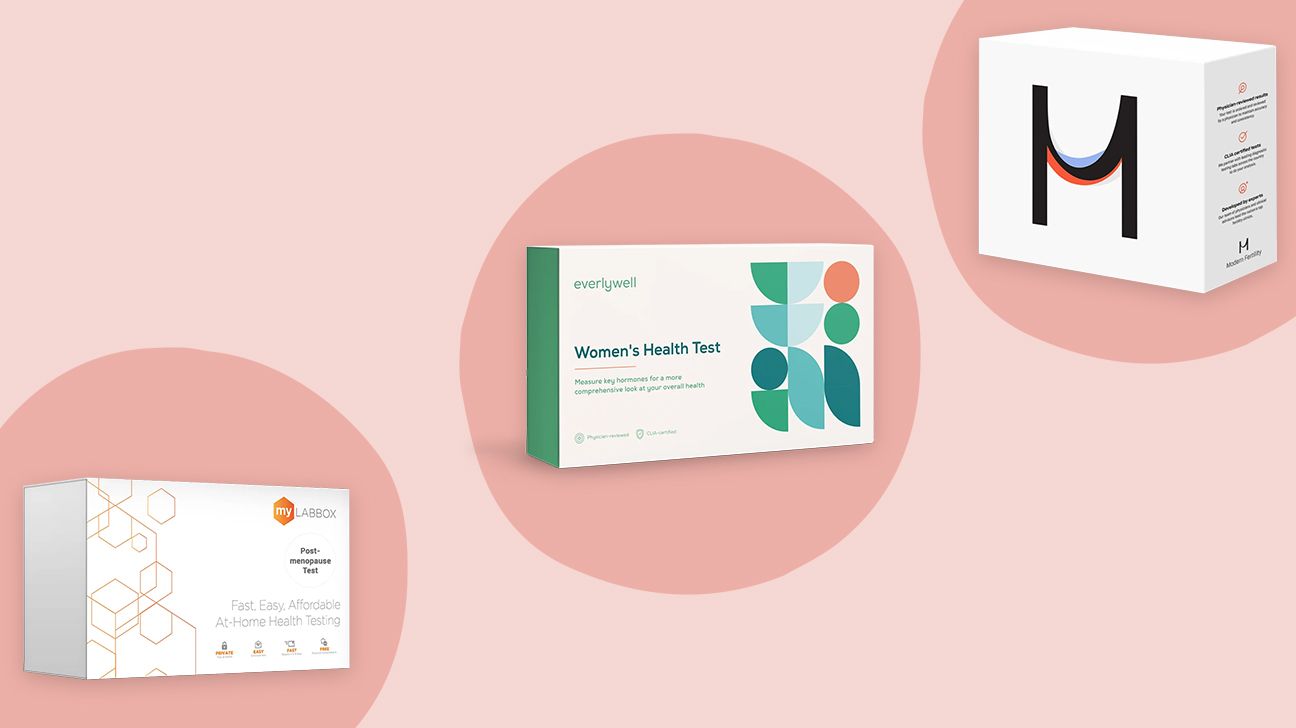 Feeling out of sorts? It might be time to check your hormones. Hormones are molecules produced in the endocrine system that deliver messages throughout the body to regulate fertility, growth, and metabolism.
Hormone tests can assess your fertility, thyroid function, and testosterone. The best test for you depends on which specific hormones you want to measure.
Hormonal abnormalities can contribute to chronic fatigue, weight loss or gain, infertility, and other effects on the body.
Read on to learn about the best hormone tests on the market and what they can teach you about your body.
A note on at-home tests
Most at-home tests are not FDA approved. Some don't test as accurately or as widely for certain antibodies, chemicals, or other variations as those done at a doctor's office. Though at-home tests may provide a more pain-free way of testing, the results can vary and may not be easy to understand at first.
Undergoing a test at a doctor's office can help you get a more accurate read on your results. Your doctor also understands you and your health better than at at-home test and can provide more detailed recommendations and next steps.
Healthline's vetting process ensures that the brands and products we recommend are effective, safe, and trustworthy. This article also went through medical review to make sure the content is accurate.
Before trying an at-home test, be sure to talk with your doctor about any symptoms you're experiencing. If you do move forward with an at-home test, share the results with your doctor so they can help define any next steps. Do not start or stop any medication or supplements without the advice of your doctor.
Brand
Test name
Price*
Collection type
Tests for
Everlywell
Women's Health Test
$249

finger prick blood sample, saliva sample
estradiol, progesterone, LH, FSH, DHEA, cortisol, TSH, free T3, free T4, free testosterone, and TPO

LetsGetChecked
Thyroid Test, Thyroid Antibody Test
$99–$119
finger prick blood sample
TSH, fT4, fT3
MyLAB Box
Perimenopause Test, Postmenopause Test
$99
finger prick blood sample, saliva sample
FSH, E2, progesterone
Modern Fertility
Hormone Test
$179
finger prick blood sample
AMH, TSH, FSH, E2, fT4, PRL, LH
(depending on birth control use)
*Prices accurate as of October 2023
When researching at-home hormone tests, we read online reviews to determine the best tests on the market. We also ensured that people who work for these services are licensed, each test is analyzed in a certified lab, and that the brands have CLIA and CAP certifications.
In addition, we considered the available research that supports each test, the company's reputation, their marketing processes, their clinical relevance, and their methodology.
We made sure the companies do not make any claims without scientific support, and we took into account any legal action taken against a company, if at all.
We review products and services periodically to make sure they continue to meet standards according to our vetting process.
At-home hormone tests can analyze levels of key hormones that affect stress, sleep, weight, mood, and other factors that are important to overall health.
Because the COVID-19 pandemic forced many people to stay home, at-home testing companies saw a huge boom. According to Axios, the demand for 75% of Everlywell's tests doubled in 2020, and LetsGetChecked tests saw an 880% increase from 2019.
While the COVID-19 pandemic increased people's desire to test remotely, the convenience of at-home tests can also save people time on commuting to a doctor's office.
Fertility
Infertility is a common concern among people looking to conceive. According to the Centers for Disease Control and Prevention (CDC), about 19% of women ages 15 to 49 years in the United States have difficulty getting pregnant, and 1 in 4 women will experience a miscarriage
Even though infertility can be caused by several different factors, including male factors, it's important to test female fertility by checking several key hormones.
Fertility tests for women focus on testing the following:
Each hormone has an important purpose in the reproductive system, and not all tests happen at once. Your doctor will order the tests that will best help them understand your ovarian reserve and assess your fertility status.
AMH is a hormone made by the cells in the follicles, sacs in the ovaries that contain and release eggs, and is a good predictor of your ovarian reserve or egg count.
FSH is a hormone made by your pituitary gland and it promotes the development of follicles in your ovary. Estradiol is a hormone produced mainly by the ovaries.
LH is the hormone that surges just before ovulation and triggers the release of the egg from the ovary.
Testing for thyroid health is also important because thyroid hormones are linked to your menstrual cycle and are also important during pregnancy. Low levels of TSH and untreated hyperthyroidism or hypothyroidism can interfere with ovulation, affecting fertility. If you have a thyroid condition, your TSH and fT4 levels can be adjusted with medication.
Menopause
Similar to fertility tests, menopause tests check your FSH level. Menopause is the ending of your menses cycle for 12 months, and when your egg supply is nearly diminished. A menopause test can indicate increased FSH levels.
According to the Food and Drug Administration (FDA), testing isn't a surefire way to know you're experiencing menopause or perimenopause.
The American Society for Reproductive Medicine says that "blood levels of FSH vary from woman to woman from day to day in the same woman." Therefore, FSH is not routinely indicated to diagnose menopause or predict when it will occur.
Thyroid
Though the thyroid gland is small, it is fierce.
The butterfly-shaped gland produces hormones that regulate the body's metabolic rate. Your thyroid can affect your heart, muscle and digestive function, brain development, mental health, and fertility.
At-home and in-office tests can check the three main thyroid hormones, but usually, only TSH may be needed at first:
TSH
triiodothyronine (T3) or free-triiodothyronine (fT3)
thyroxine (T4) or fT4
About 5% of people ages 12 and older in the United States experience hypothyroidism, a condition where the body doesn't produce enough thyroid hormone. Low thyroid hormone can slow down many organs within the body.
Symptoms of hypothyroidism include:
lethargy
depression
weight gain
low libido
hair loss
slowed heart rate
constipation
Your body can also produce too much thyroid hormone, resulting in hyperthyroidism.
Symptoms of hyperthyroidism include:
restlessness
nervousness
inability to concentrate
difficulty sleeping
irregular heartbeat
weight loss
nausea
Testosterone
Testosterone is a hormone that is commonly associated with sex drive and high libido in men. But it also plays a vital role in maintaining bone density, muscle mass, libido, fat distribution, and fertility. It's important to note that women also produce testosterone but in much smaller amounts than men.
Low testosterone can cause a series of issues, from erectile dysfunction to depression in men. Men with symptoms of low testosterone can take an at-home test to measure testosterone levels.
If you're interested in undergoing one of these tests, be sure to discuss the results with your healthcare professional. They can help ensure your testosterone levels are appropriate for your age.
Hormones serve as chemical messengers, carrying signals to different areas of your body and affecting vital functions like metabolism and growth. These chemicals are produced by the endocrine system and contain information that helps instruct different organs and tissues throughout your body on how to function.
Hormonal abnormalities can lead to:
If you're experiencing one or more of these symptoms, speak with a doctor, who can perform a comprehensive exam. At-home tests may be an option if you want to get an idea of what is going on in your body before speaking with a doctor.
The simplicity of at-home hormone tests makes them an easy, effective option. After ordering your test, a box will arrive with thorough instructions to collect testing samples.
Depending on the test selected, you'll be asked to take a urine sample, saliva sample, or a blood sample.
Once you finish your test, you'll ship your results to a lab for review. Results are typically provided online between 2 and 5 business days after the samples reach the lab.
Hormones can influence your mood, immune system, brain function, reproductive system, bone density, and energy levels. Hormones are key players in the body's performance. Hormonal imbalances can affect your health in several ways.
Testing your hormones can help provide a full picture of your health, including what could be contributing to low energy or weight gain. Before picking a hormone test, be sure to consider whether you are looking for insight into your fertility, menopause, or testosterone levels. Follow up with your doctor to discuss the results.
Some conditions or complications can develop because of a hormone imbalance. If you're suddenly losing or gaining weight without trying, have joint pains, severe fatigue, or abdominal pain that doesn't go away, schedule an appointment to speak with a doctor.
Consider seeing a doctor if you're trying to get pregnant and are having difficulty, or if you're experiencing other reproductive issues.
Are at-home hormone tests trustworthy?
It's important to find a company that uses a certified lab. Dr. Chris Airey is a medical director at Optimale, a men's health company providing testosterone replacement therapy in the UK. Dr. Airey sat with us and answered some questions about at-home tests, especially about their accuracy. "If results can't be independently confirmed by multiple labs, there's a chance you're being persuaded to purchase a solution to a nonexistent problem," Dr. Airey explains.
"When looking for an accurate at-home testing kit, make sure there are options to keep and share your results, as well as options for medical professional support. That can help ensure your results are accurate and being used for something other than a business gimmick," he adds.
Are at-home hormone tests accurate?
Overall, at-home hormone tests are pretty accurate, but human error should be factored in, along with the type of test you're taking, the type of sample you're giving, and the timing of collecting the sample.
When collecting blood samples, not following the instructions can result in inaccurate or inconclusive test results. Saliva and urine samples can also be inconclusive if not done correctly.
"To avoid user error, work with a company that provides instructions with impeccable detail and, ideally, physician support," Airey recommends.
Do at-home tests work better than in-person tests?
While at-home tests can be effective, in-office tests can cut out the potential for poor sample collection. Having a test ordered by a doctor ensures that the right things are being tested so the results come out conclusive.
Even so, at-home tests may be a suitable starting point for people with demanding schedules.
How can I check my hormone levels at home?
Most kits allow you to check your hormone levels at home by sending you a kit with a small lancet. This device pricks a small hole in your finger, allowing you to collect a small drop of blood for testing. Some kits may also use saliva or urine samples.
How do I know if I have a hormonal imbalance?
You might suspect that you have a hormonal imbalance if you're unable to get pregnant, your weight fluctuates rapidly, you have unwanted hair growth, you're easily tired, or you have other issues with your metabolism.
Are at-home hormone tests covered by insurance?
Not all hormone tests are covered by insurance, but many are HSA or FSA eligible.
Think of your hormones as tiny messengers sending vital instructions throughout the body. If your hormones can't deliver their message, your body functions can weaken.
At-home hormone tests can pinpoint which of your hormones might be negatively affecting your body, so your doctor can provide a treatment plan to help regulate your system.
While at-home hormone tests are growing in popularity, they might not be as reliable as a lab-collected test. Regardless, at-home hormone tests are a great starting point to get the health information you need.
Jillian Goltzman is a freelance journalist covering culture, social impact, wellness, and lifestyle. She's been published in various outlets, including Cosmopolitan, Glamour, and Fodor's Travel Guide. Outside of writing, Jillian is a public speaker who loves discussing the power of social media — something she spends too much time on. She enjoys reading, her houseplants, and cuddling with her corgi. Find her work on her website, blog, Twitter, and Instagram.