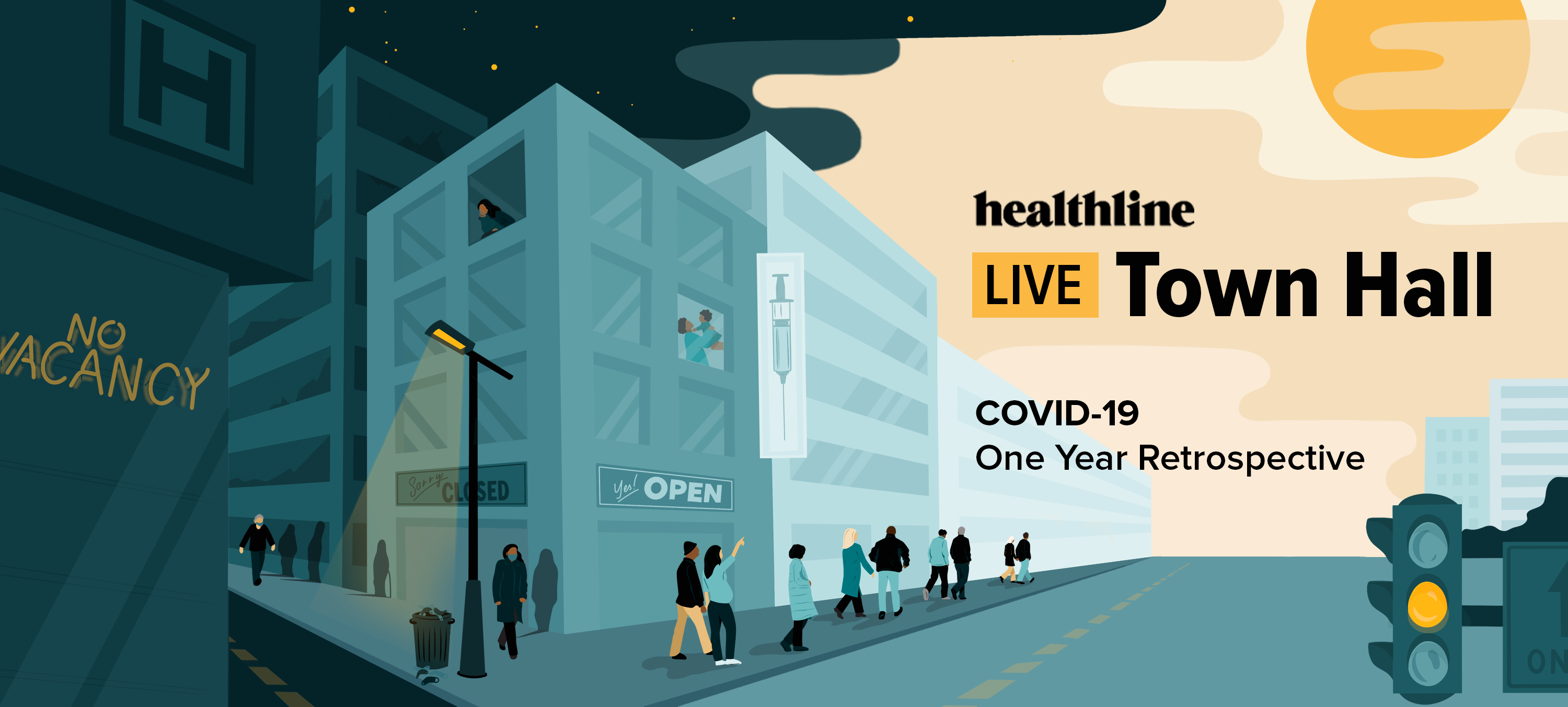 Illustration by Alyssa Kiefer
Aired on Thursday, March 11, 2021
Press play to watch discussions with Lesley Stahl, Brian Stokes Mitchell, D.L. Hughley, Alyssa Milano, Paula Green-Smith and Philip Hamilton. For video with closed captioning, please register and view here on Bright Talk.
---
One year since the World Health Organization named COVID-19 a pandemic we have renewed hope, stronger communities and plans for mass vaccinations. But COVID-19 has altered our lives forever. On the pandemic's first anniversary, Healthline Media hosts a Live Town Hall featuring celebrities, journalists and experts who have contracted and survived the virus, and reported on it on the national stage. Join us for a discussion of heartache and hope, and how our resiliency will result in a stronger, healthier world.
Special Guests
Lesley Stahl, Correspondent, CBS 60 Minutes
Lesley Stahl has worked at CBS News since 1972 when she covered the Watergate scandal, during the Nixon Administration. She was the CBS White House Correspondent during the Carter, Reagan and much of the George H. W. Bush years. From 1972-91 she also moderated Face the Nation on Sunday mornings. She has been at 60 Minutes since 1991. She has authored two books: Reporting Live and Becoming Grandma. She's married to author and screenwriter Aaron Latham. They have a daughter and two granddaughters. Ms. Stahl developed COVID-19 in Spring 2020.
D.L. Hughley, Comedian and Author
D.L. Hughley is an astute and politically savvy standup comedian, author, and host of multiple network shows, including the "The D.L. Hughley Show" which is syndicated in over 60 cities in the U.S. Harper Collins recently released D.L.'s fourth book Surrender, White People. His two previous satirical titles Black Man, White House: An Oral History of the Obama Years and How Not to Get Shot…And Other Advice From White People, became New York Times bestsellers. D.L. also created and starred in the satirical documentary special for Comedy Central D.L. Hughley: The Endangered List, which was honored with the prestigious George Foster Peabody Award at the 72nd Annual Peabody Awards. D.L. developed COVID-19 in Summer 2020.
Brian Stokes Mitchell, Tony Award-Winning Actor
Tony Award-winner Brian Stokes Mitchell has been dubbed "the last leading man" by The New York Times. His career spans more than 40 years of television, film, Broadway, recordings and concerts. A passionate champion of the arts, Mr. Mitchell is the chairman of The Actors Fund, serves on the Board of Americans for The Arts and is a founding member of Black Theatre United. Mr. Mitchell developed COVID-19 in March last year and later thrilled New Yorkers with his nightly acapella rendition of "The Impossible Dream" from his Upper West Side apartment window.
Alyssa Milano, Actor and Activist
Alyssa Milano is an actor, producer, host, activist, entrepreneur, humanitarian and New York Times best-selling author. In addition to starring in more than 20 films and numerous TV shows, Ms. Milano hosts a weekly podcast "Sorry Not Sorry" that tackles social, political and cultural issues. As an activist, Ms. Milano has advanced #MeToo that sparked a viral movement of women fighting against sexual harassment and assault, and she has been involved in TimesUp since its inception. For 15 years she has been a UNICEF National Ambassador, receiving its Spirit of Compassion Award. Her novel Hope: Project Middle School is a New York Times bestseller and the first in a multi-part series. Ms. Milano developed COVID-19 in Spring 2020.
Paula Green-Smith and Philip Hamilton
Paula Green-Smith and Philip Hamilton are Detroit public health professionals who live the healthy lifestyles promoted in the chronic disease prevention programs they deliver through Urban Health Resource, a partner organization of the Black Women's Health Imperative (BWHI). Ms. Green-Smith also serves as BWHI's Chief Training Officer. Together, the couple developed COVID-19 and have made sharing their experience part of their mission to inform, educate, and increase awareness to improve the health of their community.
Healthline Moderators
Erin Petersen, Healthline.com Editor in Chief
Erin Petersen oversees Healthline.com's team of 200+ writers and editors who produce articles and videos for America's #1 most visited digital health and wellness brand. Erin is based in the San Francisco Bay Area.
Dr. Elaine Hanh Le, Healthline Media Chief Medical Officer
Dr. E. Hanh Le leads Healthline Media's Medical Affairs internal team of 10 and external network of 100+ doctors, clinicians and specialists who ensure Healthline Media's content is evidence-based and medically approved. Hanh is based in the San Francisco Bay Area.
Host
Steve Swasey, Healthline Media Vice President of Communications
Steve Swasey oversees external communications for Healthline Media, the #1 digital health publisher whose brands include Healthline.com, MedicalNewsToday.com, Greatist.com and PsychCentral.com. Steve is based in the San Francisco Bay Area.
Each month Healthline Media publishes more than 1,000 evidence-based and medically approved articles and videos. Read our coronavirus coverage here.