This is Black Health Matters, a series shedding light on the health realities of Black people in America. Akilah Cadet, DHSc, MPH, in partnership with Healthline, aims to educate about inequities to inspire a world where everyone can attain their full health potential, regardless of the color of their skin.
---
Black people, once freed from being enslaved, remained gracious with money.
They've worked the same jobs as white people for less pay. They've had to accept higher interest rates for personal loans and mortgages. They've been denied opportunities for homeownership.
The list goes on and on.
Justice happens when Black people can reclaim the economic opportunities that have been taken away or set them back due to systemic racism and oppression.
Justice happens when Black people can build economic stability.
Historically, Black people have been and continue to be viewed as lesser than.
When Black people are in a position of economic justice and equality, it will feel like a form of rebellion for white people because the systems and institutions — which are suffused with white supremacy — have oppressed us for so long.
Economic stability means access to money and regular income to support your needs. It's a basic and essential building block of health.
Historically, Black people have been systematically deprived of economic stability and the basic dignity that goes with it.
Understanding the vicious cycle
Economic stability involves having access to resources to:
pay for unexpected expenses
buy healthy food
live in a safe neighborhood
pay for medical bills
afford college tuition
buy a home
save money to build generational wealth
The factors below undermine Black families' ability to meet those needs and support their well-being.
Lack of generational wealth
Black families, communities, and individuals are severely disadvantaged when it comes to affording economic necessities in America.
On average, a white family in America has a net worth of $171,000. A Black family's average net worth is $17,150.
Only 1 in 50 Black families qualify as millionaires, compared to 1 in 7 white families.
Economic stability isn't possible without financial wealth — and neither is health.
Fewer safety nets
In general, Black families are more likely than white families to have part-time income or be unemployed. This means they're less likely to have access to retirement funds, savings, and health insurance.
According to the 2017 census, 10.6 percent of Black people in America were uninsured compared to 6.3 percent of white people.
Without health insurance, Black individuals are less likely to receive preventive care. They're more likely to report that they're unable to see a doctor because of cost.
This means that Black people are more likely to have preexisting conditions that are untreated due to the social determinants of health. They're also more likely to be hit hard financially by health issues.
Nutrition as a luxury, not a necessity
Nutrition is not a given for most Black people. Black people are more likely to live in a food desert where fresh, healthy food is scarce.
This means that even when Black individuals have received education about nutrition, it can still be logistically impossible for them to make healthy choices.
This has implications that reach farther than food.
Barriers to health
In the case of COVID-19, new research from Tulane University shows that BMI is a risk factor in Black patients when it comes to admission to intensive care units (ICUs).
Black people are being hit harder by COVID-19 because they don't have access to the nutrition and preventive care required to maintain healthy immunity and help them bounce back from sickness.
Take a moment to think about what this means for surviving family members. Medical bills and funeral expenses may set them back financially, and this is all on top of their grief.
Not only do families lose a loved one, but they lose income necessary for health and well-being.
This further compounds the economic fragility Black families face, as any wealth and safety nets that do exist get eroded.
Unemployment
The Labor Department reported that as of April 2020, nearly 50 percent of Black adults are unemployed. This means no access to a living wage, retirement income, savings, or healthcare.
When the pandemic began, most Black people found themselves in roles that risked more exposure to COVID-19, including the service industry.
Depression rates are often higher among service industry employees due to the unpredictable nature of the role. Ironically, these individuals are less likely to have access to mental health treatment, especially if they're Black.
Many Black people working in frontline jobs can't stay safe from COVID-19. Hourly workers have less flexibility to take time off from their jobs to attend health appointments, manage chronic conditions, or care for loved ones.
With the threat of unemployment looming, many Black people don't have the luxury of working from home or the opportunity to find another job where their health can be protected.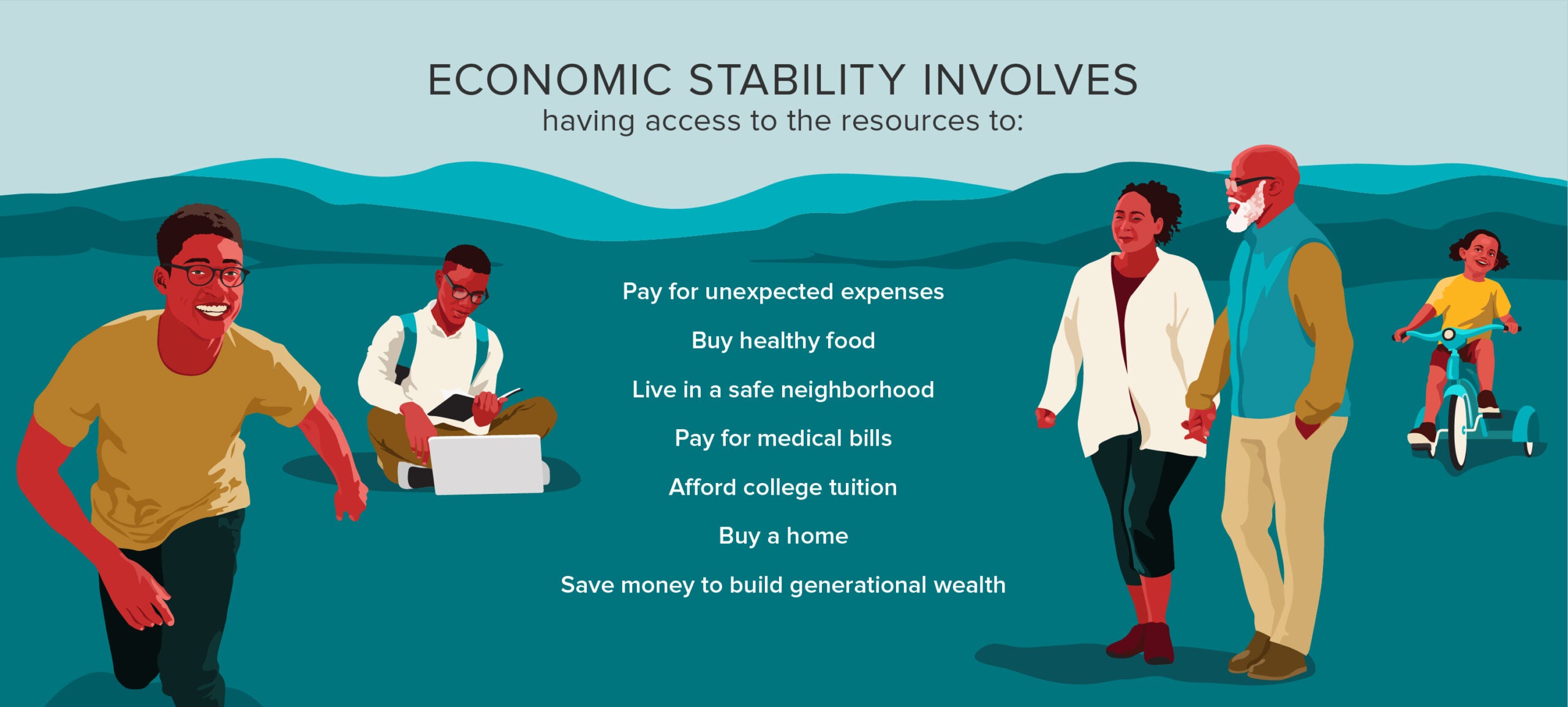 Illustrations by Ruth Basagoitia
The vicious cycle, simplified
These factors are just a part of the grave inequity that's literally costing Black people their lives:
Black people lack access to healthy food, safe neighborhoods, and adequate housing.
They experience higher levels of stress due to racism and discrimination.
They're more likely to have preexisting conditions due to lack of access to healthy food combined with chronic stress.
They're less likely to have access to healthcare to treat those conditions.
They're more likely to be part-time employees or unemployed.
They're less likely to have generational wealth, savings, retirement funds, livable wages, and safety nets to hold them up in times of need.
For some, it took a pandemic to reveal the tenuous state of health and wealth for Black people in America. But this is nothing new to us.
A history of subjugation
Understanding the economic inequities that Black people face in America requires an understanding of history.
Starting with slavery, systemic racism has paved the way for economic stability to stay just out of arm's reach.
Emancipation begins
During the era of slavery, Black people in America had no freedom, let alone economic stability. The Emancipation Proclamation, signed by President Lincoln in January 1863, freed some enslaved Black people, but not all.
Some slave owners knew about the impending freedom for their "property" and sent the enslaved to Texas, where slaves weren't free until June 1865 — commonly known as Juneteenth.
This was the second time Black people were held back from economic stability, but not the last.
Slavery wasn't fully abolished until the passing of the 13th Amendment. This very amendment would lead to the current criminal justice system we have now, but that's another article.
Sharecropping, the new slavery
In 1865, Union Army General William Tecumesh Sherman wrote an order for 4 million formerly enslaved people to each receive 40 acres of land and a mule.
Abandoned plantations in South Carolina and Georgia were divided and distributed.
Andrew Johnson promptly confiscated this land when he became president after the assassination of Abraham Lincoln. He evicted Black landowners and gave the land back to white people.
This was the start of sharecropping, a new system of bondage.
Sharecropping meant that formerly enslaved farmers had to work on and harvest land owned by a white person. The landowner would get an unfair share of the harvest, resulting in limited economic stability for Black people.
This was essentially another version of slavery that lasted until the end of the Great Depression in 1933.
In addition, the Freedmen's Bureau started a Freedmen's Bank in 1865 to offer a place for former slaves to keep their earnings. The bank was extravagant with their expenses and constantly lost money.
It closed in 1873, with 61,144 Black depositors collectively losing almost 3 million dollars.
Jim Crow and colorism
During the Jim Crow era, colorism — or better treatment and privileges afforded to people with lighter skin — cropped up.
Black people with lighter skin received job opportunities that were off-limits to Black people with darker skin. Black people looking for jobs would advertise they were light-skinned in order to entice white employers.
Lighter-skinned Black people got domestic jobs that paid well, leaving Black people with darker skin working more physically demanding jobs with lower wages.
This started an upper/middle class made up of Black people with lighter skin. Lighter skin meant better jobs, education, more opportunities, and more wealth.
The brown paper bag test was implemented by Black social circles, churches, and historically Black colleges and universities. It required that Black people who wanted to join be the color of a brown paper bag or lighter.
Darker-skinned Black people weren't given access to these spaces, and a further divide in financial wealth and opportunity grew in the Black community.
Today
As we've seen above, economic inequality is still rampant.
Black people are stuck in the vicious cycle of underemployment, lack of healthcare, and lack of support. COVID-19 has made this cycle worse.
Nina Robinson, director of the Runway Project, an organization solely focused on economic equity for Black businesses, shared her view on economic justice.
"In a moment in time, we are only seeing this wealth gap widen as the COVID-19 pandemic disproportionately impacts Black and brown communities; economic justice is an underlying issue that is inextricably linked to police violence, health systems, education, environmental, and criminal justice," she says.
Talking reparations
Titi Shodiya from Dissect podcast summarized it best.
"Building wealth in the Black community can function as a political strategy for empowerment and self-determination," she says on the podcast.
This can happen in part through reparations. "Reparations" is the idea of returning lost funds to the descendants of the enslaved.
With constant police brutality and the murder of Black people, the press has increasingly been talking about what this might look like, how it might happen, and who should be held responsible.
Theoretically, reparations could eliminate the Black-white wealth gap.
In the book "From Here to Equality: Reparations for Black Americans in the Twenty-First Century," authors William Darity and Kristen Mullen calculate that eligible Black households are entitled to $800,000 each.
That's a total of about 12 trillion dollars.
It's clearly time to start having the conversation. Reparations would allow for true economic equality for Black people.
Robinson posed the question: "How can we love and protect Black people and future generations without an economic system that allows them to pursue their dreams?"
COVID-19 stimulus checks are an example of how the government can support Black wealth. The distribution of stimulus checks shows that opportunities existed in the past to provide the same kind of infrastructure for Black people.
Ta-Nehisi Coates, author and correspondent for The Atlantic, makes a compelling case for reparations.
"Perhaps no number can fully capture the multi-century plunder of Black people in America," Coates writes.
History shows us that when these opportunities arise, they aren't taken advantage of.
What can you do?
Learn more
The United Shades of America by W. Kamau Bell is a great overview of the importance of reparations for the Black community to build economic equality and stability.
In addition, educate yourself about the economic divide between Black and white people in America.
Build wealth
If you're Black, invest and save money. If you're an ally or accomplice for Black lives, you can make contributions to help Black individuals build their wealth.
Financial institutions can assist Black people with building wealth through equitable opportunities for home buying, investing, savings, and loans. This allows for a safety net for unexpected medical and life expenses.
Support these organizations that advocate for Black economic stability through diverse initiatives:
Prosperity Now helps make it possible for millions of people, especially people of color, to achieve financial security through programs and policies that foster opportunity. They give people the tools they need to build wealth and a better future.
Black Girl Ventures provides access to community and capital for Black and Brown woman-identifying founders. They fund and scale tech-enabled, revenue-generating businesses while igniting civic engagement that leads to economic advancement through entrepreneurship.
100 Black Men of America is the country's top African American-led mentoring organization. They offer a proven blueprint for mentoring and developing young people into future leaders and giving them opportunities they may not have thought were possible.
National Black MBA Association develops partnerships that create intellectual and economic wealth in the Black community. They focus on education, employment, leadership, and awarding scholarships to youth and minority students.
National Urban League works for economic empowerment, educational opportunities, and civil rights for the underserved in America through education, housing, entrepreneurship, health, and justice initiatives.
Blacks in Technology is committed to establishing world-class standards of technological excellence. They serve members through community, media, and mentorship programs, offering resources and guidance to Black people in tech.
United Negro College Fund works to build a robust and nationally-recognized pipeline of underrepresented students who, because of UNCF support, become highly-qualified college graduates. They invest in institutions and run support programs for students to succeed.
The Black Upstart offers an intense, culturally relevant curriculum to teach aspiring Black entrepreneurs how to start a successful and profitable business. Students learn how to craft a business model, create a prototype, and validate their ideas.
Opportunity Hub is committed to a startup and venture ecosystem where everyone, everywhere is equitably included with scalable access. They offer technology education, entrepreneurial support programs, and investment opportunities as a path to multi-generational wealth.
The Runway Project serves as a model city for economic equity. They create a pathway specifically designed to support Black businesses from early to expansion stages.
Speak up
History has shown that America doesn't value economic stability, power, and opportunity for Black people. It doesn't have to stay that way.
Have these conversations with your friends, your family, your co-workers, and even your work superiors. When you see talk about reparations in the press, call or write in to share your support.
Use your voice to change history.
Money is love
Economic stability matters. It matters for health, livelihood, and peace of mind.
As we start to close the economic gaps that exist for Black families, we will see healing begin not only for the Black community, but for the country as a whole.
Health is wealth, wealth is health, and Black people deserve both.
---
Akilah Cadet, MPH, works with tech companies, nonprofits, retail, and small businesses to assure diversity, equity, and inclusion strategies that support Black Indigenous People of Color (BIPOC), women, and the marginalized communities in the workplace. As a Black woman, she uses her personal and professional experiences to inspire her anti-racism work through coaching, strategy, facilitation, and organizational change. She's proud to live in Oakland, CA, has a rare heart condition, and is a proud Beyoncé advocate. Follow her here.