We include products we think are useful for our readers. If you buy through links on this page, we may earn a small commission. Here's our process.
Healthline only shows you brands and products that we stand behind.
Our team thoroughly researches and evaluates the recommendations we make on our site. To establish that the product manufacturers addressed safety and efficacy standards, we:
Evaluate ingredients and composition: Do they have the potential to cause harm?
Fact-check all health claims: Do they align with the current body of scientific evidence?
Assess the brand: Does it operate with integrity and adhere to industry best practices?
We do the research so you can find trusted products for your health and wellness.
Do hair-thinning shampoos really work? While thinning hair can be caused by a combination of factors like your health, habits, or genetics, some ingredients can help strengthen your hair.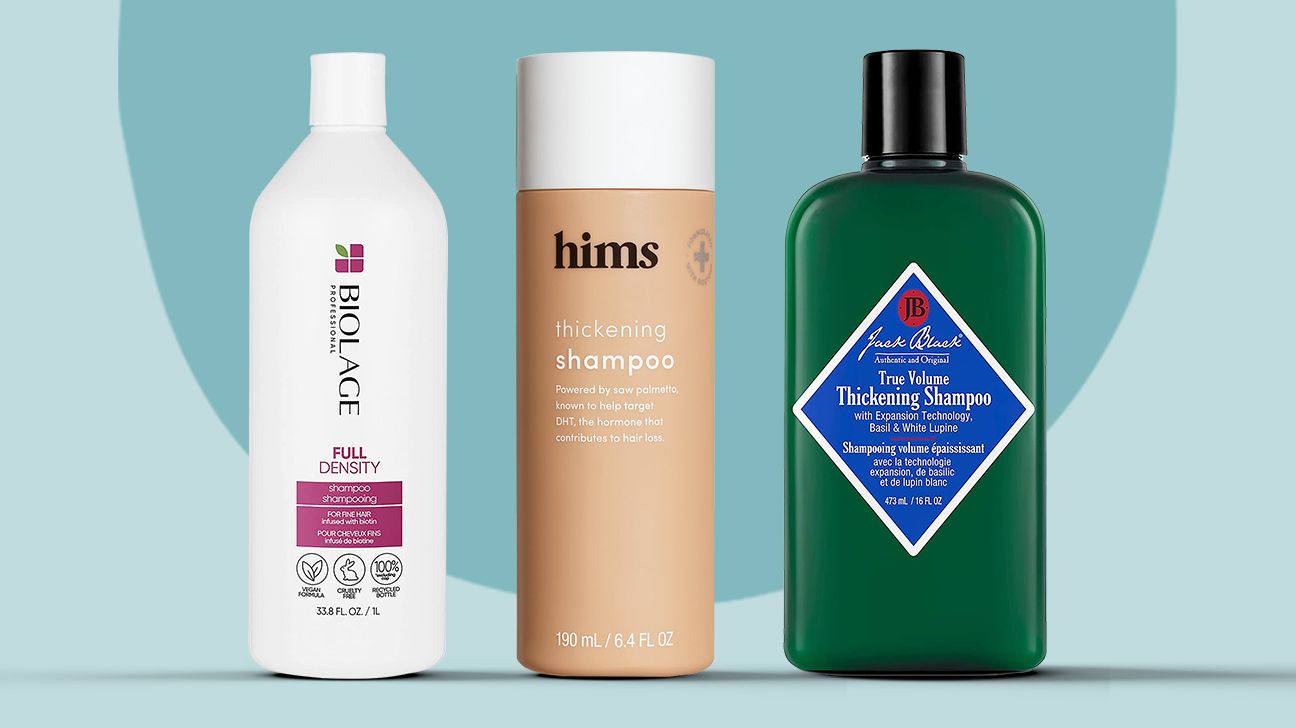 Thinning hair and hair loss can occur for a variety of reasons. Because thinning hair has many causes, the type of shampoo that works for you may not work for someone else.
Determining the underlying cause, as well as having a trial-and-error approach to the types of shampoos and products you use, can make a difference.
Some shampoos on this list contain ingredients shown to be beneficial for reducing hair loss. Others provide a cosmetic fix by thickening or adding volume to existing hair.
We looked at scientific data and studies to determine which shampoo ingredients are the most effective. We also looked at factors like customer reviews to produce this list.
Pricing guide
$ = under $15
$$ = $15–$30
$$$ = over $30
If you're experiencing hair thinning, you'll want to choose a shampoo that has active ingredients to help the problem at hand.
To select the best shampoos for thinning hair, we considered many factors, including:
Brand reputation: We chose brands you can trust and vetted each product via our brand and content integrity standards. Read more about our product selection process here.
User reviews: We looked for products that earned good reports from buyers.
Formulation and active ingredients: Wherever possible, we chose shampoos with natural ingredients that are proven to help thicken and strengthen hair.
Price: Finally, we did our best to include options for every budget.
| | Price | Key ingredients | Highlights |
| --- | --- | --- | --- |
| Keeps Thickening Shampoo | $$ | saw palmetto, biotin, caffeine, green tea | scientifically sound ingredients address specific hair-thinning needs |
| Nutrafol Root Purifier | $$$ | sodium cocoyl sarcosinate | has been tested in clinical trials performed by the brand |
| Hims Hair Thickening Shampoo | $$ | palmetto, niacinamide | subscription plan available |
| Hers Triple Threat Shampoo | $$ | cocamidopropyl betaine, lauric acid, decyl glucoside | strengthens and moisturizes hair |
| Happy Head Thickening Shampoo | $$ | argan oil, biotin, collagen, and saw palmetto | thickens and strengthens |
| Plantur 39 Phyto-Caffeine Shampoo | $$ | caffeine, zinc, niacin | specifically made for the hair and scalp during menopause |
| Herbal Essences BioRenew Argan Oil Shampoo | $ | sodium lauryl sulfate, glycol distearate, argania spinosa | affordable option for UV damage |
| Lush Flyaway Hair Shampoo Bar | $ | sodium coco-sulfate, hand-harvested sea salt (sodium chloride), seawater | good for oily hair |
| The Yellow Bird Peppermint Shampoo Bar | $ | organic palm oil, organic sunflower oil, organic coconut oil | helps with thin hair and itchiness |
| Jack Black True Volume Thickening Shampoo | $$ | creatine, wheat protein, white lupine protein | heightens fullness in hair with daily use |
| Renpure Originals Biotin & Collagen Thickening Shampoo | $ | vitamin B7, biotin, collagen, keratin | nourishing and safe formula |
| Briogeo Blossom & Bloom Ginseng + Biotin Volumizing Shampoo | $$ | ginger, ginseng, white lemon, witch hazel, biotin, maltodextrin | follicle-stimulating ingredients |
| BIOLAGE Full Density Thickening Shampoo | $$$ | biotin, zinc PCA, gluco-omega | removes impurities to make your hair more lightweight |
Hair thinning refers to a gradual process where hair gets sparse in certain areas. It's different from hair loss, which is defined by hair breakage from the scalp or when hair falls out from the root.
Hair loss can lead to baldness, whereas hair thinning doesn't necessarily do so.
Genetics, medical conditions, and life circumstances (or a combination of all three) can cause hair thinning. Some of these include:
There are also lifestyle habits that can cause hair thinning. These include:
using harsh products on your hair, like gel and hair spray
overtreating your hair with relaxers and perms, chemical hair color, or heat styling tools
wearing tight hairstyles, like ponytails and up-dos
Beneficial shampoo ingredients for thinning hair include:
Histidine: This amino acid absorbs excess copper from hair, shielding it from UVA and UVB damage.
Phyto-caffeine: Caffeine has been found to suppress excess testosterone in the hair root. Testosterone can suppress hair growth on the head in men and women.
Niacin (vitamin B3): This vitamin promotes hair fullness. It also stimulates circulation and blood flow in the scalp.
Biotin (vitamin H): Biotin is a water-soluble vitamin that's part of the B vitamin family. It's important to have biotin in your diet for hair growth. Some shampoos also contain this ingredient, which may promote hair fullness and reduce breakage.
Essential oils: A number of essential oils have been shown to thicken hair or make it healthier and less prone to breakage. They include peppermint, lavender, lemongrass, rosemary, and thyme.
Minoxidil: The Food and Drug Administration (FDA) has approved this ingredient for the treatment of hair loss when used as a 2% topical solution for women and 5% for men. Some shampoos also contain minoxidil as an active ingredient.
Can hair grow back after thinning?
It's possible for some people to grow back hair after thinning, but it can vary from person to person and is based on a number of different factors.
For example, if the cause of your hair loss is genetic or the result of scarring it may not be possible to regrow hair.
But many people have found success with hair-thickening over-the-counter products or with prescription medications like minoxidil and finasteride.
If you're experiencing hair loss, consider talking with your doctor or a hair loss specialist who can accurately diagnose what could be causing your hair loss and what treatment options may be best for you.
What other shampoo ingredients should I look for if I have hair loss?
Hair loss — meaning hair that falls out from the scalp — can occur as the result of genetics, diet, illness, stress, medications, and more. Addressing the underlying cause of thinning hair often reduces hair loss over time.
Once you've addressed the underlying cause, a good shampoo for you may include ingredients, like:
histidine
peppermint
phyto-caffeine
What shampoo ingredients should I use for hair breakage?
You may also notice that your hair appears to break off more easily and seems to be thinner and weaker than it was in the past.
Hair breakage may be the result of styling habits over time, like using heat to style your hair. Using harsh shampoos, overwashing, and not conditioning your hair can also cause it to break and thin. Modifying these habits can help restore your hair.
Shampoo ingredients that may strengthen hair and give it the look of fullness include:
ginseng
biotin
collagen
aloe vera
Can diet help with hair loss?
Since diet can impact hair growth, eating enough iron and protein may also be beneficial.
There are several vitamins and nutrients that are beneficial for hair growth. Too much of others, like vitamins A and E, may actually worsen hair loss.
Always consult a healthcare professional before adding supplements to your diet.
What other treatments are available for thinning hair?
There are many other treatments for thinning hair, in addition to shampoo.
Scalp massage, either with your fingers or a handheld device, can stimulate hair follicles and encourage growth. Laser therapy, used in-office by a dermatologist or with an at-home device, can help regrow hair as well. But these treatments don't work for everyone, and they can take months to see results.
Platelet rich plasma (PRP) injections, which are put into the scalp to create a healthier environment for hair growth, are also an option.
Another way to address thinning hair is by making sure your body is sufficient in vitamins, especially iron, vitamin D, folic acid, and zinc.
While vitamins can't reverse hair loss, taking a daily multivitamin that includes the aforementioned nutrients can help hair grow thick and strong. (A blood test can determine if you're low in nutrients.)
Additional supplements, like omega-3 and omega-6 fatty acids and biotin, can also have a positive effect on scalp and hair health.
Thinning hair and hair loss can be caused by a wide range of conditions, including stress, aging, genetics, and illness. Styling habits can also cause hair to become thin and breakable.
There are a number of active ingredients that can help reduce hair thinning and also promote the look of fullness.
It's important to understand and address the underlying cause of your thinning hair.