We include products we think are useful for our readers. If you buy through links on this page, we may earn a small commission Here's our process.
Healthline only shows you brands and products that we stand behind.
Our team thoroughly researches and evaluates the recommendations we make on our site. To establish that the product manufacturers addressed safety and efficacy standards, we:
Evaluate ingredients and composition: Do they have the potential to cause harm?
Fact-check all health claims: Do they align with the current body of scientific evidence?
Assess the brand: Does it operate with integrity and adhere to industry best practices?
We do the research so you can find trusted products for your health and wellness.
If you or a loved one wants to age gracefully in place, technology and newer inventions can provide the security and support needed. See our product picks for every room and reason.
According to the Centers for Disease Control and Prevention (CDC), 1 in 4 people 65 years old in the United States will live into their 90s. If current trends continue, the Pew Research Center estimates that 27% of folks age 60 and older will live alone.
Yet most homes are not designed with the needs of older adults in mind, so living independently and aging in place — alone or with a partner — takes planning. Simple modifications can often be enough to empower active older people to live and thrive safely in their own homes.
Making sure you or your loved one stays safe and connected, even when living alone, doesn't need to be expensive. From bed rails to kitchen tools and shower seats, there are plenty of products available to help you make adjustments for a safer and easier living situation.
A note on price
The safety products on this list represent several categories that range in average prices. However, to make budgeting easier, we've indicated costs as follows:
$ = under $50
$$ = $50–$100
$$$ = over $100
Best doorbell camera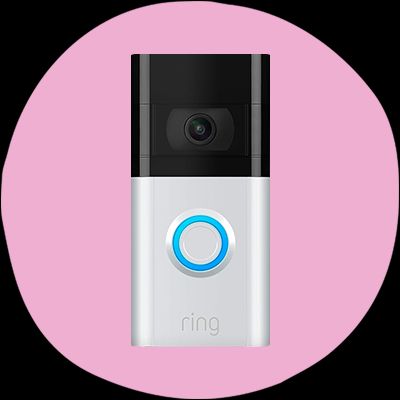 Price: $$$
Dimensions: 2.44 inches (in) x 5.06 in 1.06 in 6.20 centimeters (cm) x 12.85 cm x 2.69 cm
Colors available:
Pros
can be hard-wired or battery-powered to work with any home
features include motion detection, two-way audio, and night vision
Cons
setup may be intimidating for some older adults (or anyone!)
requires a smartphone for setup and use
can be vandalized and disabled
It's no secret that older adults are often targeted for at-home theft and other crimes. When it comes to useful products for people who live alone, items that enhance security are at the top of the list.
The Ring Video Doorbell is an easy-to-use tech product that lets you see who is at your door, whether you're home or not.
It includes two-way audio, so you can communicate with anyone at your door, whether they ring your bell or not. It also has automatic night vision, so you can see them clearly in the dark.
It can be synced to work with your:
locks
lights
house alarms
Alexa
You can use the Ring Video Doorbell with Android or iPhone.
The kit includes installation tools such as a drill bit, Philips screwdriver, and a level. You may need a power drill to install this device.
Best for reaching things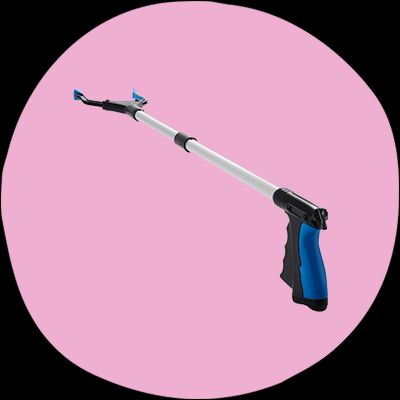 Price: $
Dimensions: extends to 31 in (78.74 cm)
Colors available:
Pros
90° rotation allows for vertical and horizontal item grabbing
good for indoor and outdoor use
Cons
people with limited hand mobility or strength may find the handle challenging to grip
Older adults aging at home can enjoy heightened independence by using a grabber tool and avoid falls while reaching for something.
Falls at home can cause serious injury or death. According to the CDC, seniors fall over 36 million times a year. Some falls at home can be mitigated by eliminating the need to use:
ladders
stepstools
unsafe climbing devices, like chairs
This budget-friendly grabber tool eliminates the need to climb or use ladders to reach objects on high shelves.
It can also grab fallen items from the ground, like eyeglasses, books, or the remote control, eliminating the need to bend or strain back muscles.
The grip part of the jaw is non-slip and rubberized, so it will hold onto the things you grab. The ergonomic, soft-grip handle is easy to squeeze for most people. Those with hand tremors or conditions like arthritis may find it challenging to use, however.
Best for connection to the outside world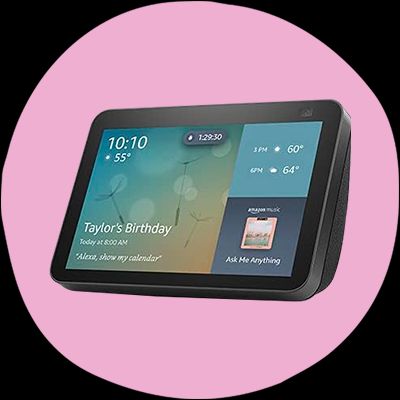 Price: $$$
Dimensions: 5.35 in x 7.89 in x 3.90 in (13.59 cm x 20.04 cm x 9.91 cm)
Colors available:
Pros
HD touchscreen features adaptive color
13 MP camera auto-frames you in a centered position
video calling is voice-activated through Alexa
Cons
may be too "techy" for some older adults
screen may be too small for people with low vision to use comfortably
Loneliness can beset anyone of any age, but in these post-pandemic times, one in three older adults still report feeling isolated. No device takes the place of a good friend's company, but the Amazon Echo Show 8 can help provide a connection to others.
It features easy-to-use, voice-activated video calling to view multiple camera live feeds simultaneously. You can also use Alexa to play games, access the web, and turn on your favorite streaming service or TV shows. When nostalgia hits, use your device to scroll through photos.
Who doesn't need help staying organized? This innovative product keeps track of your appointments and to-do list, so you won't forget a thing. It also lets you view your front door for safety.
One-year limited warranty and servicing are included.
Best shower grab bar
Price: $
Dimensions: 9.5 in x 7 in x 19.5 in
(24.13 cm x 17.78 cm x 49.53 cm)
Colors available: white
Getting in and out of the bathtub can become challenging as people age. A grab bar enables folks to enter and exit the bathtub with a larger modicum of safety, even if they use a wheelchair.
This safety rail and shower grab bar is very easy to install. It can be used on standard tubs and walk-in tubs. At 4 pounds (lbs), it's light enough to be handled for installation by most people. However, individuals with reduced upper body strength may need to ask a relative or friend to install it.
Pros
easy to install
can be used by people weighing up to 250 lbs
tool free installation
handle is multi-layered with Microban antimicrobial protection to protect against mold, mildew, odor, and stain-causing bacteria
Cons
can't be used on curved, textured, or angled tubs
can loosen over time and require adjustments
no returns
Best bathtub mat
Price: $
Dimensions: 35 in x 16 in
Colors available: 14 colors, including clear, black, gray, pink, and green
Adding a bathtub or shower mat that grips the floor's surface is an easy safety fix to strongly consider, even in tubs with textured bottoms.
The machine-washable Gorilla Grip Bathtub Shower Mat is meant to be used in the tub, not outside it. It's made from soft plastic that's comfortable to stand or lie upon. Hundreds of suction cups ensure a nonslip surface. It also reduces mildew and mold by supporting good drainage and airflow.
Runner-ups in this category include the SlipX Essential Round Shower Mat and the Tike Smart Extra Long Bath Mat. Both of these are good choices for creating a slip-resistant surface in a shower. This is critical, as a high proportion of fall injuries (e.g., hip fractures) occur in the bathroom.
Pros
contains hundreds of suction cups and drainage holes
BPA free
strong gripping action
Cons
can't be used on tile surfaces
Best shower seat
Price: $
Dimensions: 22.2 in length x 6.9 in width x 17.9 in height
Material: plastic
Colors available: white
Shower seats enable older people who can't stand on their feet comfortably to sit while bathing. A sturdy shower seat can significantly reduce chances of falling while bathing.
This option has a full back and arms for sturdier support. The seat is nonslip and has drainage holes for added comfort and safety. It can accommodate folks who weigh up to 350 lbs.
Pros
has a back and armrests
powerful suction cups
adjustable seat height
Cons
takes up room in the bathtub
may be cumbersome to move back and forth for older people living in mixed households with several others
Best toilet seat riser
Price: $$
Dimensions: 19.25 in x 13.75 in (elongated), 22 in x 17.25 in (standard)
Material: plastic
Colors available: white
Toilet seat risers add height to existing toilet seats. This makes sitting and standing easier for individuals with reduced mobility or body strength.
The Vive Health Toilet Seat Riser adds 3.5 inches of height to your existing toilet seat. It has a compact width, making it a good choice for small spaces. Users say it's very sturdy and easy to clean.
People who weigh up to 300 lbs can use this toilet seat riser.
Installation is tool-free.
Pros
can be used on an elongated or standard toilet bowl
fits into small spaces
nonslip grip base
padded handles
Best bidet
Price: $$$
Dimensions: 20.6 in x 17.95 in
Material: plastic
Colors available: white
Cleaning oneself after toileting requires twisting, bending, and assuming positions that can be challenging for older folks and people with disabilities. For those with balance or strength issues, accidents can easily occur while using the toilet.
A bidet eliminates the need to clean up manually after toileting. This helps ensure safety as well as optimal hygiene.
This bidet is operated via remote control to further reduce the need to twist the body toward a control panel. It has multiple settings for water pressure, temperature, and oscillation. The nozzle can be adjusted for front or back cleaning. It also has an automatic dryer, so there's no need for toilet paper.
Pros
available in elongated or round shape
adjustable water temperature and pressure
soft-closing lid
Cons
corded, requires access to electrical outlet
help with installation may be required for some people
Best can opener
Price: $
Dimensions: 3 in x 2.1 in x 7.4 in
Material: plastic
Colors available: red
Preparing food requires hand dexterity and strength. It can be challenging for older adults or folks with arthritis to open cans with manually operated can openers that require turning a handle and constant pressure.
This electric can opener by Bartelli smoothes out sharp edges on both the inside of the can and the can lid. This reduces the possibility of getting cuts. It also requires no hand pressure to operate. You attach the can opener to the top of cans of any size and turn it on by pressing a button.
Pros
smooths out sharp edges on the can and can lid
works on pull-tab cans
Cons
requires manual shutoff
may not work on dented cans
Best jar opener
Price: $
Package Dimensions: 10.98in x 4.92 in x 1.22 in (27.89 cm x 12.5 cm x 3.10 cm)
Colors available:
Pros
budget-friendly
enables people with reduced hand strength to open most-sized jars and bottles
Cons
may not work on jumbo-sized items
only comes in one color combination
Jars and cans with pop-top lids are tightly sealed for freshness and safety. But if you have muscle weakness, arthritis, or neuropathy in your hands, they can be impossible to open.
This highly functional, three-piece set includes multifaceted tools that will let you easily open almost any sized jar, pop-top can, or bottle. Each tool supports a different type of hand motion or positioning:
The 4-in-1 jar opener has an ergonomic handle with a no-slip grip. It lets you open jars of all sizes, from large to bottle-cap-sized, by squeezing and turning the handle.
The non-slip gripper pad lets you manually open any size jar with hand-on-top positioning.
The vacuum-release tool lets you easily open pop-top cans with rings by gently flicking your wrist in an up-down motion.
Made from non-rust stainless steel and plastic. Dishwasher safe.
Best automatic stove shutoff device
Price: $$$
Dimensions: 7.5 in x 3.7 in x 2.5 in
(19.05 cm x 9.4 cm x 6.35 cm)
Material: electrical conductor materials
Colors available: black
Anyone can forget they've left something cooking on the stove. The FireAvert's internal smoke alarm system syncs with your home's smoke detector. When your smoke detector goes off, FireAvert will automatically cut off the power to your stove.
This product is easy to install without tools. Three-pronged and four-pronged versions are available.
Pros
protects against kitchen fires
syncs to smoke and gas leak detectors
easy to install
Cons
works with only electrical stoves
won't work in extremely humid or very dusty environments
Best bed rail
Price: $$$
Dimensions: 26 in x 22 in
(66.04 cm x 55.88 cm)
Material: alloy steel
Colors available: black
Bed rails can help assist you in and out of bed or keep you from falling out if you're prone to tossing and turning.
This brand features a convenient pouch for keeping items like eyeglasses and books in close reach and for freeing up space on the nightstand. People who weigh up to 300 lbs can use this bed rail.
Pros
compatible with twin- to California King-size mattresses
adjustable to several bed lengths
Cons
can be heavy to lift and install
Best high tech medical alert system
Price: $$$, monthly
Dimensions: multiple device packages, dimensions vary by device
Colors available: white
This system features a voice-activated smart hub device that connects you to a five-star emergency response center within seconds. It includes built-in:
temperature
motion
air quality sensors
You can set up automatic fall detection in one room — such as the bathroom — that doesn't require the use of a worn device.
For outdoor protection, a 4G LTE mobile on-the-go smartwatch and pendant come in the package.
Caregiver tools are available through an app.
Pros
24/7 emergency response monitoring indoors and outside
includes automatic fall detection, two motion sensors with voice recognition
caregiver tools
Cons
one-time hardware cost required
set up may be challenging for people who aren't tech-savvy
Best plug-in and play medical alert system
Price: $, monthly
Dimensions: multiple device packages, dimensions vary by device
Colors available: white and black
Bay Alarm Medical is an established company with an excellent track record for quick response times and reliable service.
The SOS Home unit has a plug-in base station with a large help button. The system also includes a wearable help button that you can wear around the neck or wrist. The help button will operate within a range of 1,000 feet from the base unit.
Automatic fall detection is available but is sold separately.
Pros
can connect through a landline or cellular 4G LTE service
wearable help button is 100% waterproof and can be worn in the shower
Cons
doesn't protect on the go
unit is for in-home and yard use only
Best locked pill dispenser
Price: $$$
Dimensions: 10 in x 10 in x 3 in
(25.4 cm x 25.4 cm x 7.62 cm)
Colors available: white
Taking the wrong medication dose or forgetting to take a needed medication can have serious consequences. This device comes with a locked lid and key.
Each compartment can hold up to 24 aspirin-sized pills. It can be programmed to remind you to take medication up to six times daily with a light-up alarm and friendly voice reminders.
Taking the wrong medication dose or forgetting to take a needed medication can have serious consequences. This device comes with a locked lid and key.
Each compartment can hold up to 24 aspirin-sized pills. It can be programmed to remind you to take medication up to six times a day with a light-up alarm and friendly voice reminders.
When the alarm sounds for the next medication dose, the turnstile for the lid will shift to the next dose and unlock. You can simply take, flip, and palm the pills. When you set the device back down, the lid will lock in place, ready to shift and unlock for the following dose.
Pros
eliminates the possibility of forgetting a dose or to take a second dose
holds 28 days' worth of medication
Cons
may be expensive for some people
it requires AA batteries
Best pill dispenser for caregivers
Price: $$$
Colors available: black
This pill dispenser is programmable and has an easy-to-use touch screen. Alert sounds are customized and include chimes and familiar voices. When a scheduled dose is dispensed, the device will take a picture so remote caregivers can see the dosage amount later. Caregivers also receive notifications about missed doses and low medication supplies.
The MedaCube can also dispense as-needed medication by answering prompts on the touch screen.
This device is simple to use but may be too high-tech for some older people or for folks who get confused or flustered easily.
Pros
customizable
comes assembled
easy-to-use touch screen
Cons
expensive
may not be a fit for people who get easily confused
Best treadmill
Price: $$$
Dimensions: 58 in x 29 in x 53 in
(147.32 cm x 73.66 cm x 134.62 cm)
Material: alloy steel
Colors available: gray
Treadmills can be dangerous, especially if they're accidentally set to a high speed. This low step-up treadmill has a maximum speed of 5 miles per hour, alleviating that concern. It also has an emergency stop clip. You can shop some of our other top picks for walking treadmills here.
Pros
easy-to-use console
multi-grip padded handrails
emergency stop clip
low running deck
floor stabilizers
What products do seniors need the most?
That very much depends on the person in question. For many older adults, a medical alert system with fall protection is the most needed product. Other practical products may be helpful, like:
toilet seat risers
safety rails
walking treadmills
What are some innovative products for seniors?
Today's generation of older adults is more active than in decades past. Innovative products, including fitness trackers and at-home gym equipment, are worth considering. Hearing aids that sync up to smartphones and enable media streaming are also game-changers for many older people.
What products are trending for older folks?
Products geared toward older adults are as varied as folks can be. If you're looking for gift ideas or simply want to treat yourself to something new, consider a trending product for seniors. These include e-readers, like Kindles, with adjustable font sizes and backlighting.
A new recliner can breathe life into any living room. If you can't bring yourself to part with your favorite chair, but are having trouble getting out of a reclining position, consider adding a recliner riser to the chair you already have.
Urinary incontinence affects almost half of women ages 50-80 and about 35% of men. This common condition does not have to slow your stride. Products that hide odor and wetness include disposable undies, specially adapted swimwear, and incontinence management systems.
Aging in place at home is a priority for many older adults. There are products available for each room of the home that makes this reality possible for many older folks. Even so, "smart" products don't replace a caregiver or neighbor.
If you or your loved one wishes to age in place, you can take steps to maintain social connection and keep a solid repository of good products.