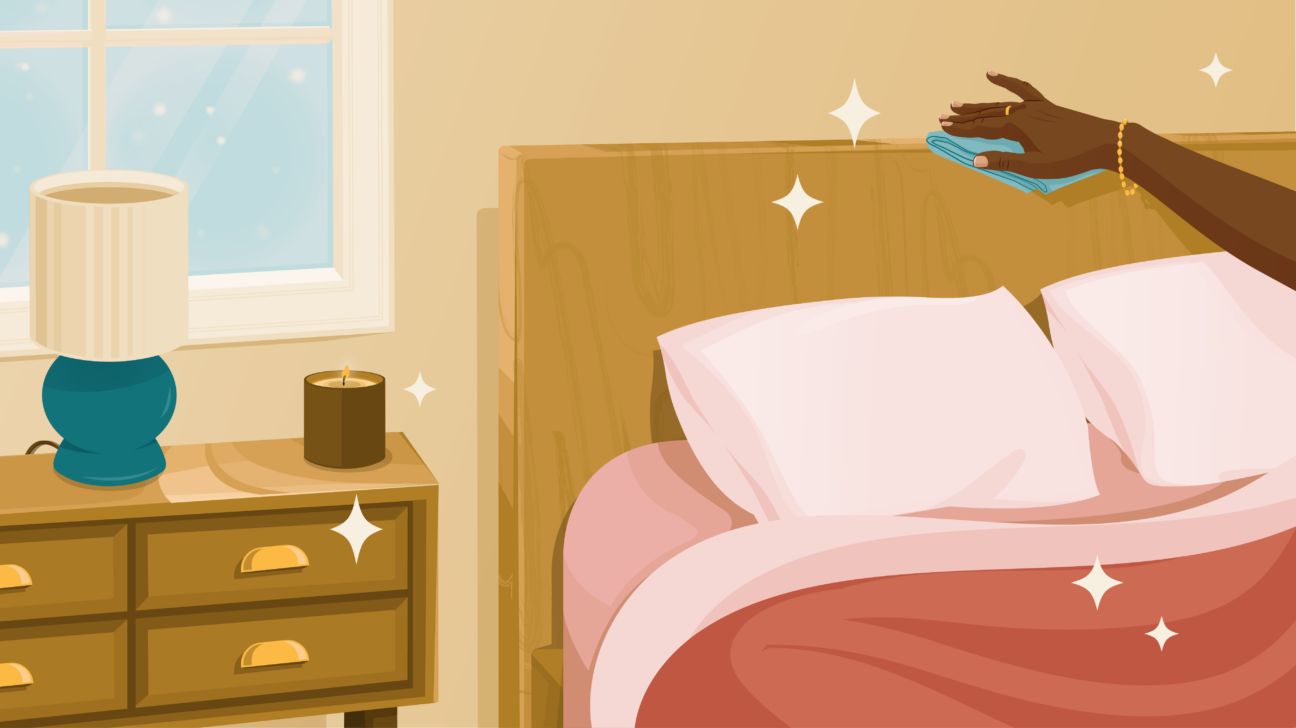 Learn some tricks of the cleaning trade to help you prep for guests and gatherings this winter.
The winter holidays are a "high traffic time of the year," says Michael Silva-Nash, vice president of operations at Molly Maid.
This means lot can happen at once during the holiday season, and you might not have much time to clean.
"You gotta get things done. It's cold outside … Fido is probably spending more time inside than usual," says Silva-Nash, who has been working with Molly Maid for 18 years.
In partnership with Clorox®, we've gathered these expert-sourced cleaning tips to keep you and your guests happy and healthy during the festive season.
Have you ever felt annoyed at dust collecting in the nooks and crannies of your holiday decor throughout the season? Here's a trick to help prevent it.
Before you decorate your home, run a used dryer sheet over baseboards, woodwork, and ornaments.
It adds a slight static charge, helping those surfaces repel dust so you'll need to dust less often during the holiday season.
This busy area can quickly turn messy with all the mud and slush that comes indoors during the winter.
Silva-Nash recommends finding an inexpensive rug to cover your entryway floor for the holiday season.
He also recommends creating a designated place in the entryway for guests to hang up their coats, like hooks on the wall or a portable coat rack.
"This limits the area that will require cleanup later," he explains.
Make it part of your routine to refresh your bathroom regularly, Silva-Nash recommends. You may want to:
Flush the toilet once a day: Even if it's a bathroom you barely use, this will prevent a pink ring of mold from forming.
Put in clean, fresh towels on a regular basis: Damp hand towels and bath towels are a breeding ground for mildew and bacteria. Wash them or swap them out regularly, including right before guests arrive.
Fill up on toilet paper: Have your bathroom or guest bathroom stocked up before the holiday rush.
Put out a couple of new magazines: Refresh your bathroom magazine rack to help guests feel welcome.
Clorox® Disinfecting Bleach is a concentrated cleaner formulated to disinfect and kill 99.9% of germs and bacteria, including the COVID-19 virus*.
*Kills SARS-CoV-2 on hard, nonporous surfaces. Use as directed for other germs.
Dust can collect indoors in the winter. Here's how to minimize it.
Right before guests arrive, opt for spot cleaning over full vacuuming
"I love a good vacuum, but whatever air is coming in has to go out somewhere," he explains. "And depending on the quality of your vacuum or how full it is, you may be making a larger mess because you're cycling air in the home."
A lint roller works well in this situation. A quick lint roll on your lampshades, couch, and other fabric surfaces helps clean focal points in your home.
Empty the vacuum canister outdoors
When you vacuum, dump the full vacuum canister outdoors — not into the garbage inside your house — since opening it up releases lots of dust into the air.
Wash or wipe out the vacuum canister on a regular basis, ideally with a hose outdoors rather than in an indoor sink, if you can.
Don't forget the ceiling fan
You'll want to keep the air flowing in your home during winter to maintain air quality, but ceiling fans collect dust over the year.
To clean yours, make sure the fan is turned off. Take a pillowcase and gently pull it over each fan blade to collect the dust. Then, wipe the blades clean with a wet rag.
You can dump the dust out of the pillowcase outdoors, then launder it.
Here's how to keep your guests feeling welcome and comfortable and your home clean and tidy during holiday parties.
Welcome guests with scent
"People always remember scent," Silva-Nash says. "At Molly Maid, if we clean a house, but it doesn't smell good … it doesn't matter how clean the house is, the homeowner's going to walk in and be like, 'Oh my gosh…'"
Scent can genuinely change how someone feels when they enter your home, he says.
Consider using an essential oil diffuser, scented candles, or even a room spray to create a pleasant aroma.
Red wine spill? Just add salt
If a substance like red wine spills on the carpet, Silva-Nash recommends sprinkling salt on the spill. This helps prevent the carpet's fibers from absorbing the stain. Then, go back to the party.
Later, you can blot it out (never rub it in) and use the proper carpet cleaning products you know will work on your carpet without damaging it.
Prep your fridge
Before a party, lay a clingy, disposable food film on the shelves of your fridge.
You won't need to worry if there's a spill while you're pulling things in and out during the party. After the party, you can remove the film and toss it in the trash instead of having to do a deep clean.
Silva-Nash recommends using a plain cling film rather than one with a festive holiday print to avoid any dye transferring onto your shelves.
Spill-proof your trash can
You and your guests may toss wet food items into the trash during a party.
Line the bottom of your bin with newspaper before the party to catch any spills, then throw it out afterward. It helps prevent odors and sticky messes.
Cleaning surfaces to prevent cold and flu
Before and after your get-together, Silva-Nash suggests disinfecting the high touch points in your home, including:
door knobs
light switch plates
remote controls
areas around the kitchen, like handles and countertops
And make sure you carefully read the instructions on each cleaning product, he advises.
For example, some disinfecting wipes only disinfect thoroughly if the surface remains wet for several minutes.
Use bread to clean up broken ornaments or glass
Here's a quirky party trick: Dab a slice of bread over shards of broken glass to capture them. It'll save you from picking them up by hand or potentially damaging your vacuum cleaner.
It can be tricky to do a full-house deep clean in the rush of the holiday season.
Luckily, these home cleaning hacks can help you quickly create a clean, welcoming environment in your home, so you can relax and enjoy time with your guests.