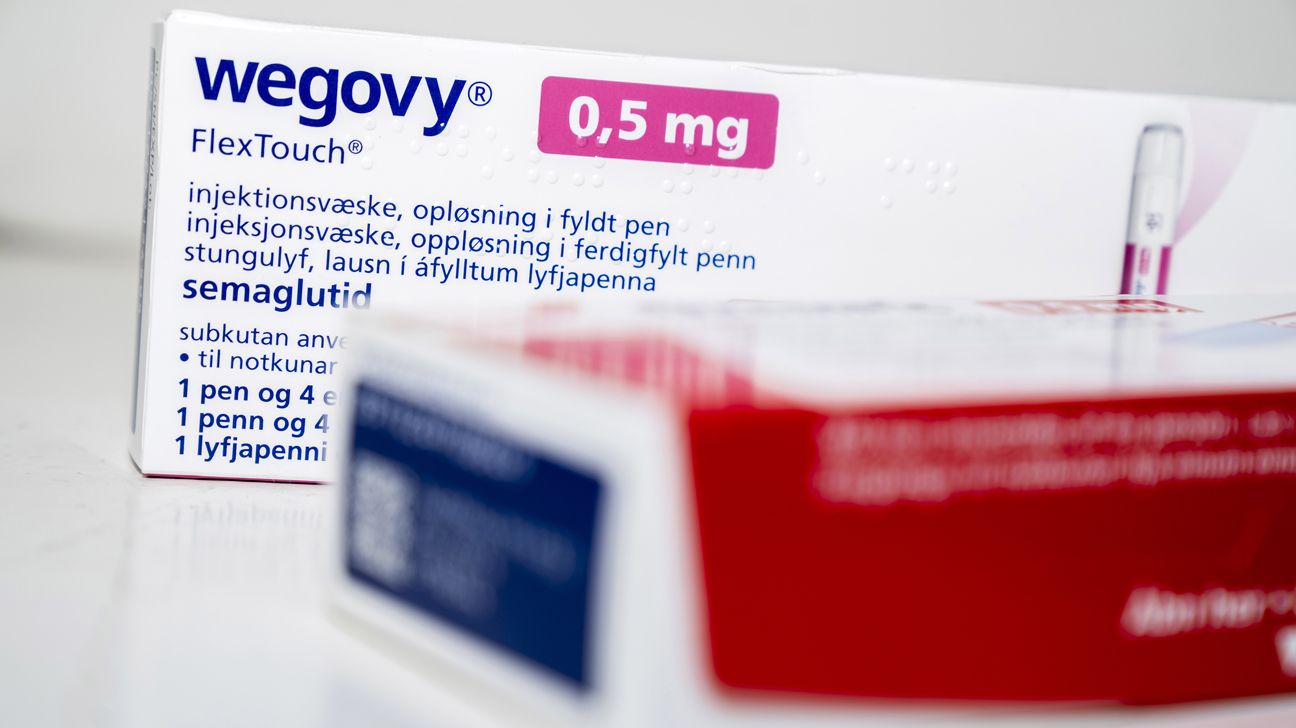 The drug semaglutide, sold as Wegovy and Ozempic, reduced symptoms of heart failure in obese patients in a first-of-its-kind clinical trial.
Semaglutide is currently prescribed for Type 2 diabetes and as an anti-obesity drug
Scientists are investigating more future applications for the drug beyond its current usage.
The obesity drug semaglutide was successful in improving symptoms and quality of life in obesity and heart disease patients, according to a new clinical trial.
Injectable semaglutide, sold under the brand names Ozempic and Wegovy, was originally developed as a diabetes medication but has found massive popularity as a weight-loss drug.
Now, researchers believe that the drug can also be used as an additional treatment in patients with heart failure with preserved ejection fraction (HFpEF), the most common form of heart failure.
The findings were published on August 25 in the journal NEJM.
Semaglutide is a glucagon-like peptide-1 (GLP-1) receptor agonist, which aids in weight loss by mimicking the GLP-1 hormone in the body to create additional insulin and sending signals to the brain indicating fullness.
The study was funded by Novo Nordisk, the makers of Wegovy.
It followed 529 patients over 52 weeks. Patients in the study received either a 2.4-milligram weekly dose of semaglutide, the same standard dosage as Wegovy prescribed for weight loss, or a placebo.
Those who received semaglutide showed a 16.6 point improvement on a scale used to assess heart failure symptoms, known as the Kansas City Cardiomyopathy Questionnaire, compared with just 8.7 points in the placebo group.
The semaglutide group also showed improvements in quality of life compared to placebo; namely, they lost more weight, had less shortness of breath, less swelling, and less difficulty with physical activity.
Importantly, the study also found a radical decrease in the number of hospitalizations in the semaglutide group. Throughout the trial, there were a total of 13 heart failure-related medical events that required hospitalization. Only one of those occurred in the semaglutide group, while 12 occurred in the placebo group.
"It's really a proof of concept that targeting obesity in patients that have this type of heart failure and obesity can result in very large improvements in heart failure-related symptoms, physical limitations, and quality of life," Dr. Mikhail Kosiborod, a cardiologist, vice president of research at Saint Luke's Health System, and lead author of the study, told Healthline.
Dr. Mariell Jessup, chief science and medical officer of the American Heart Association reviewed the study on behalf of the AHA and told Healthline, "The possibility of this new therapy for HFpEF is very intriguing, especially given the relatively few adverse events in the trial compared to placebo."
The AHA does not currently have guidelines for heart failure and semaglutide because the science is so new. The organization last published its heart failure guidelines in 2022 and will wait until the next revision before including data on semaglutide.
Jessup and the AHA remain wary of the findings until there is more evidence.
"Most of the studies with semaglutide have certainly shown the powerful effect on weight loss. Many questions remain about the long-term use of this class of drugs, the sustainability of the advantageous effects if the drug is stopped, and the long-term adverse effects," she told Healthline.
She also worries that accessibility is another issue.
As the drugs have skyrocketed in popularity, pharmaceutical companies and physicians are still discovering the different ways these drugs can affect health.
Novo Nordisk announced earlier this month the results of a trial in which patients taking a 2.4 milligram weekly injection of semaglutide saw a 20% decrease in major adverse cardiovascular events, such as heart attack and stroke, over a period of five years compared to a placebo. Scientists are also now investigating how the drug could be used to curb other addictive behaviors like smoking and drinking alcohol.
Kosiborod is optimistic about the future of the drug too, but is wary of the label "wonder drug."
"We as physicians and scientists need to be driven by the data. I think what we can say is that it clearly has benefits well above and beyond weight loss," he told Healthline.
Heart failure is when the heart is when the heart is unable to pump enough blood for the entire body.
HFpEF refers to one variety of heart failure in which the heart is too stiff to fill properly.
While heart failure and obesity are separate health issues, they frequently occur together. A review in JAMAearlier this year found that people with overweight and obese BMI had a much higher risk of HFpEF.
Kosiborod believes the findings of the trial should reshape the discussion around obesity and heart failure.
"I don't think that the clinical community were putting two and two together and realizing that obesity is not just a coexisting condition, but rather a direct root cause in the development progression of heart failure, and needs to be directly targeted," he said.
The popularity of semaglutide has led to a drug shortage in the United States, so much so that those who use it to treat diabetes are sometimes unable to find it and must switch to other drugs.
Novo Nordisk has reportedly had to throttle shipments to the U.S. and is struggling to keep up with demand.
Cost is also a factor for people who take the drug. A month-long supply of the drug is about $1,300 without insurance, according to online suppliers.
In a recent clinical trial, semaglutide (Wegovy) improved symptoms of heart failure, quality of life, weight loss, and other factors in patients with obesity and with heart failure.
Researchers argue that targeting obesity should be considered when treating heart disease.
Despite the results, the AHA says more data is needed to prove long-term efficacy.