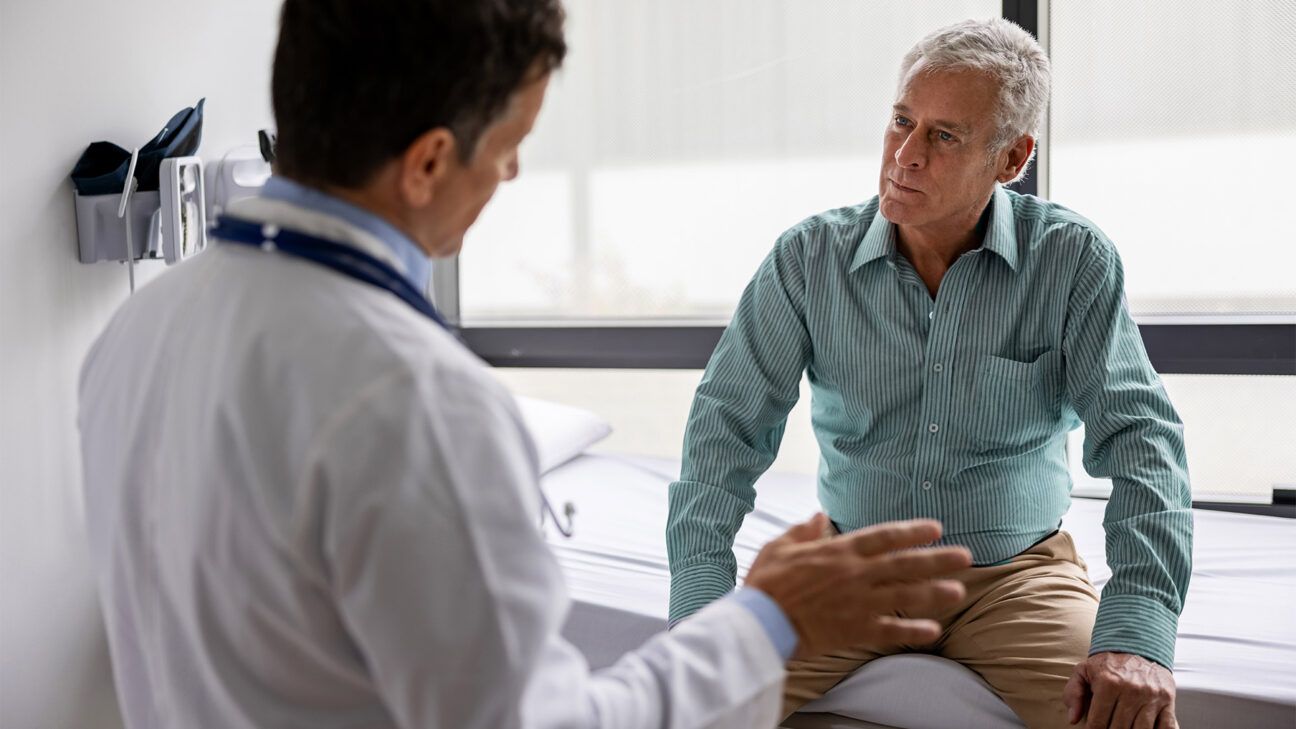 A new study from UCLA researchers indicates that PSA levels with prostate cancer recurrence may not correlate with survival rates.
PSA remains a useful tool in detecting prostate cancer and evaluating its risk.
It's important to talk with your doctor about therapy after initial treatment for prostate cancer.
Not all cancer treatments and testing are the same in how they improve a patient's long-term survival — especially with prostate cancer.
A research team from the University of California Los Angeles (UCLA) has determined that using PSA level recurrence to determine overall survival may not be the best indicator of feeling better or living longer.
The study was published in the Journal of Clinical Oncology on August 28.
The continued detection of PSA, or prostate-specific antigen, levels after treatment of prostate cancer may not have a great impact on understanding a person's overall survivability despite it being a tool used in early prostate cancer detection.
PSA, or prostate-specific antigen, is a protein that is made by both normal and malignant cells in the prostate.
Biochemical recurrence is the idea that after prostate cancer treatment, some cancer cells survive and can cause increases in PSA.
This rise in PSA can indicate that the cancer has either not gone away entirely or has reemerged — despite a patient not having any symptoms.
"In other words, a patient is found to have a PSA blood level that suggests that their prostate cancer has returned, but on imaging and scans, there is no evidence of any cancer anywhere in the body — this generally happens when the amount of cancer is too small for our current imaging to detect," said Dr. Ruchi Talwar, Urologic Oncology Fellow at the Vanderbilt University Medical Center in Nashville, TN. Talwar was not part of the study.
The UCLA research team analyzed data from 11 trials including 10,741 patients. The researchers looked at biochemical recurrence in these prostate cancer patients to understand if there was a correlation between this reoccurrence, treating this recurrence, and overall survivability.
While recurrence, in theory, seems to be a promising marker to understand if cancer has come back, evidence is lacking to show that this is useful in predicting the overall survivability of patients with prostate cancer.
The study authors note that biochemical recurrence should not be considered a primary endpoint when creating therapies for prostate cancer.
Rather, when creating therapies, "metastasis-free survival remains an appropriate endpoint for prospective trials related to radiation therapy in localized disease," according to the study.
Talwar explains, "PSA blood tests are one tool that doctors can use to screen for prostate cancer."
Prostate-specific antigen is a protein that is produced by the prostate gland. Even in a healthy prostate, a PSA level is detectable. However, in cases when PSA rise, it gives clinicians cause for concern that there may be cancer or there may be multiplying cells within the prostate.
If a person is diagnosed with prostate cancer, some men will undergo radiation or even surgery to treat this condition.
"PSA [as] a biomarker of treatment response is actually incredibly useful and is one of the best markers in oncology — especially since all reoccurrences are associated with a rise in PSA," said Dr. Amar Kishan, associate professor of radiation oncology at the David Geffen School of Medicine at UCLA and senior author of the study.
Traditionally after therapy for prostate cancer, PSA levels decrease dramatically to hopefully undetectable levels.
"After treatment, PSA blood tests are used to monitor for prostate cancer[ recurrence], which means return of active cancer after treatment, and in some specific situations, PSA blood [tests]are used to determine if extra treatment is required, such as radiation treatment soon after surgery," Talwar explained to Healthline.
In routine follow-up, the next step would be to undergo imaging studies. But, it is not always visible on imaging and the rise in PSA can be one of the first markers of recurrence.
Two primary therapies used after biochemical recurrence are salvage radiation therapy and androgen deprivation therapy.
Salvage radiation therapy is a treatment that has the goal of localized control to prevent and delay metastasis through radiation therapy.
Androgen deprivation therapy or hormonal injections can be used decrease the PSA level.
However, it is not known if those shots help people live longer. Additionally, they can cause side effects like thinning their bones and even increase the risk of diabetes.
Talwar explains that "PSA surveillance can be an important tool" but it is certainly not perfect. She advises and recommends further research in this space to help further understand its utilization.
Kishan relates that not all recurrences are lethal.
He says that using the information from his study can help not only design clinical trials but also understand endpoints and what it may mean for survivability.
Many of the studies that surround biochemical recurrence relate to survivability. However, quality of life is another metric that should be examined, but most studies have not looked at this end point.
A new study from a research team from the University of California Los Angeles has determined that using PSA level recurrence to determine overall survival may not be the best indicator of feeling better or living longer.
Dr. Rajiv Bahl, MBA, MS, is an emergency medicine physician, board member of the Florida College of Emergency Physicians, and health writer. You can find him at RajivBahlMD.