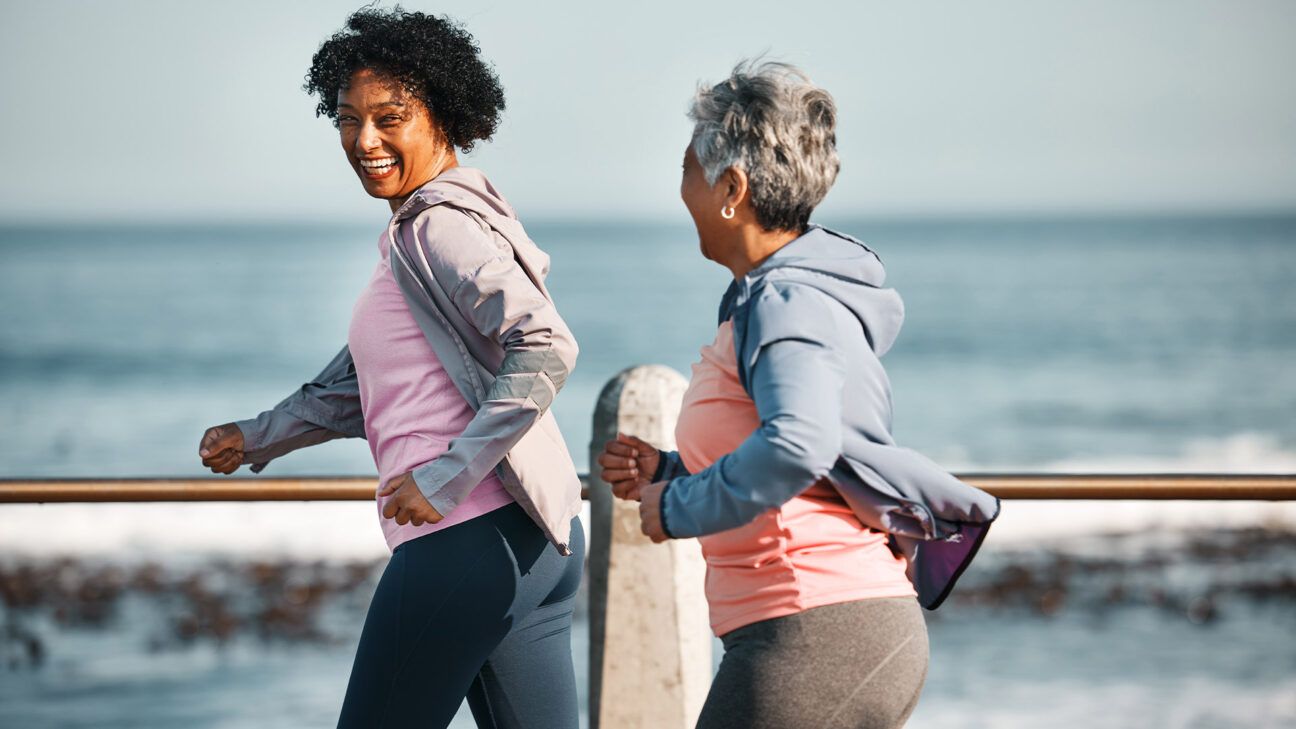 A new study finds that cardiorespiratory (heart and lung) fitness decreased risk for 9 different kinds of cancer.
Some cancer risk was reduced by up to 40% compared to low fitness levels.
Surprisingly, two forms of cancer (skin and prostate) were found to have a slightly increased risk in more fit individuals.
Physical fitness, specifically of the cardiorespiratory system, may decrease the risk of nine different forms of cancer by up to 40%.
The affected cancers include: head and neck, stomach, pancreas, liver, colon, rectum, esophagus, kidney, and lung.
Exercise and physical activity are known to help lower overall cancer risk, however less is known about cardiorespiratory fitness and its relationship to individualized or "site specific" forms of cancer. A new research study, published today in the British Journal of Sports Medicine is now shedding more light on how having a healthy heart and lungs can protect against specific forms of cancer.
The study unambiguously concludes that higher levels of cardiovascular fitness are protective against nine different forms of cancer.
"We found that higher cardiorespiratory fitness at age 18 was associated with a lower risk of being diagnosed with nine out of the 18 site-specific cancers we included in our study. The associations between fitness and cancer seemed to be most apparent in gastrointestinal cancers," Dr. Aron Onerup, PhD, a postdoctoral researcher in the Department of Pediatrics at the University of Gothenburg, and lead author of the study, told Healthline.
Dr. Erika Rees-Punia, PhD, Senior Principal Scientist, Population Science Department at the American Cancer Society, speaking on behalf of the ACS, told Healthline, "This is a large study that provides more evidence for a link between cardiorespiratory fitness and cancer risk."
"The results of this study aligned with what we know about physical activity, cardiorespiratory fitness, genetics, and cancer," she said.
Dr. Rees-Punia was not involved in the study.
Dr. Onerup and his team undertook a massive observational study, using a Swedish databank to comb through health and fitness data for more than one million male military conscripts.
They then tracked cancer outcomes over the next three decades, with an average observation period of 33 years.
This study included males who underwent military conscription from 1968 to 2005.
Only males with severe chronic conditions, functional disabilities, and imprisoned individuals were barred from conscription, limiting the cohort to healthy young men.
Conscripts underwent standard physical assessments, including blood pressure, BMI, height and weight, and physical strength.
The conscription process also included a "maximal aerobic workload" test, essentially a form of VO2 max test that uses a bicycle to determine cardiorespiratory fitness.
A VO2 max test measures how much oxygen your body is able to use during peak performance, and is generally considered the best indicator of cardiorespiratory fitness. The higher your VO2 max, the more oxygen your body can consume, and the better your athletic performance.
Using a V02 max test is one of the main strengths of this study, Dr. Malene Lindholm, PhD, an instructor of medicine at the Stanford University Department of Medicine's Cardiovascular Institute who was not affiliated with the study, told Healthline.
"They have an actual measurement of cardiorespiratory fitness. A lot of studies before have mainly looked at self-reported physical activity… and usually, that's not as reliable as an actual measurement of cardiorespiratory fitness," Lindholm said, alluding to a well-known research study published in JAMA in 2016.
That study utilized a cohort of 1.44 million people and found that increased physical activity was associated with lower risk for 13 forms of cancer. A limitation of the study was that it relied on self-reported physical activity assessments.
In the new study, researchers used individual performance on this VO2 test to establish criteria for three levels of cardiorespiratory fitness: low, moderate, and high.
Fitness levels were good indicators of change among several lifestyle factors. Higher fitness levels were associated with lower levels of obesity, higher levels of parental education, lower levels of smoking and substance abuse, and higher cognitive ability.
Moreover, higher cardiorespiratory fitness was, almost without exception, more protective against site-specific cancers.
Within the final cohort of more than one million men, 84,117 (about 7%) developed one of the 18 monitored cancers over, on average, 33 years of observation. Compared to men with the lowest level of cardiorespiratory fitness, men with the highest fitness levels were associated with lower risk of head and neck, stomach, pancreas, liver, colon, rectum, esophagus, kidney, and lung cancer.
Higher fitness levels decreased rectal cancer risk by 5%, followed by pancreatic cancer 12%. Meanwhile esophageal cancer (39%), liver cancer (40%), and lung cancer (42%), showed the greatest association with fitness and decreased cancer risk.
"This study highlights that fitness is also on the list of lifestyle risk factors that could change the risk of developing cancers, as has been shown previously for other diseases. Our results also show that, as for other diseases, the association seems to be linear, meaning that every positive change in fitness is associated with some risk reduction. Hence, even small additions count," said Dr. Onerup.
Surprisingly, researchers observed that two forms of cancer, skin cancer and prostate cancer, were actually found to have a slightly increased risk associated with higher cardiorespiratory fitness. The study doesn't give concrete answers to why this is the case. However, in the case of skin cancer, Dr. Onerup speculates that it may be as simple as individuals who are more physically fit may spend more time in the sun.
Even with these findings, the conclusion is clear: improving your fitness will likely reduce your risk for certain cancers.
Dr. Rees-Punia reiterates the physical activity guidelines of the American Cancer Society as a good place to start working on your fitness level and lowering your cancer risk.
Adults should get 150-300 minutes per week of moderate intensity physical activity or 75 minutes per week of vigorous intensity activity. Children and teens should get at least one hour of moderate or vigorous intensity activity each day. Both adults and children should limit sedentary behavior like watching TV and playing video games.
Researchers looked at health data from over one million men and found that the better your heart and lung health are, the lower your cancer risk for 9 forms of cancer.
Men with higher fitness levels had a reduced risk of up to 40% for certain cancers compared to men with lower fitness levels.
The American Cancer Society recommends 150-300 minutes of moderate intensity exercise for adults each week.