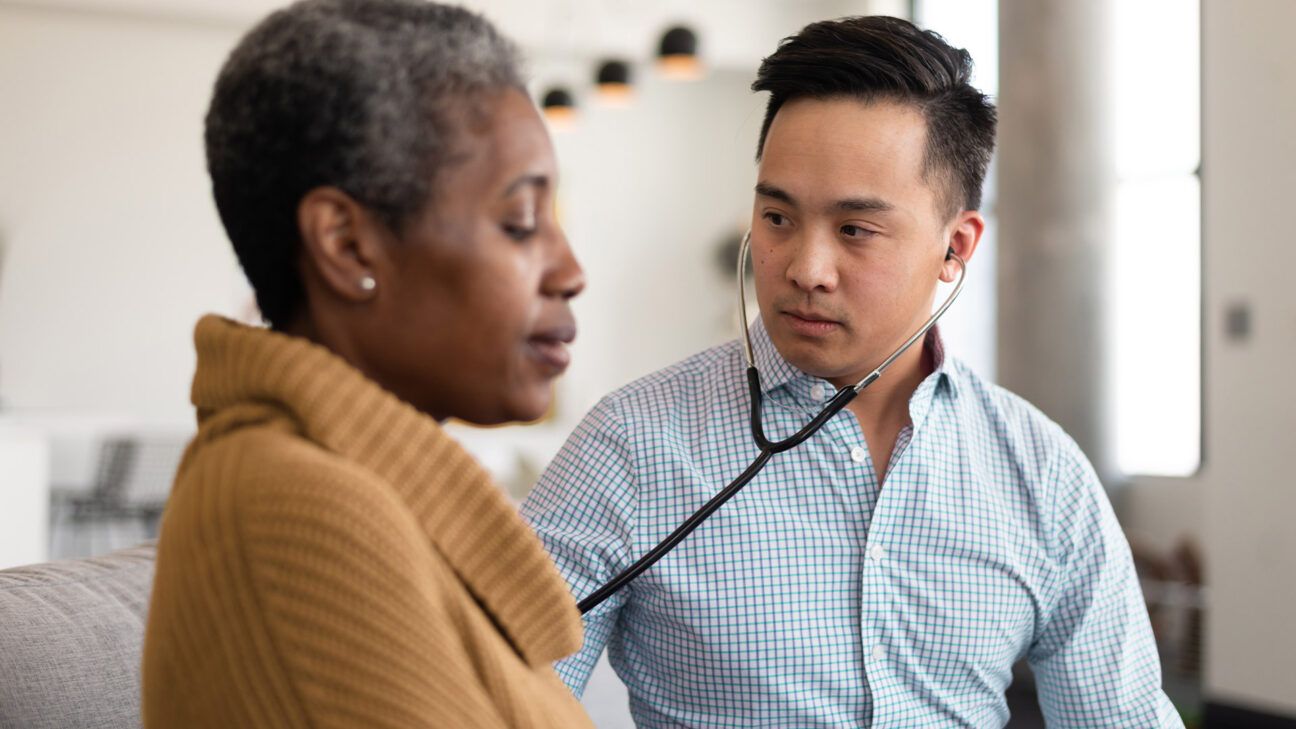 New research suggests a link between chronic pain during the first year after a heart attack and long-term survival.
The findings show that pain was a greater indicator of risk of death after a heart attack than smoking.
Greater levels of pain were associated with a greater increase in mortality risk.
Whether or not a person experiences pain in the first year after a heart attack may be a stronger indicator of long-term survival than smoking. That's according to a new study published in the Journal of the American Heart Association.
Specifically, study participants who said they had extreme pain after a heart attack were more than twice as likely to die during the study period than those who reported no pain.
Researchers collected data from over 18,000 patients under age 75 who reported a myocardial infarction (MI) event between 2004 to 2013.
The patients studied demonstrated potential cardiovascular risk factors at the time of hospital discharge from SWEDEHEART (Swedish Web System for Enhancement and Development of Evidence-Based Care in Heart Disease Evaluated According to Recommended Therapies).
Pain levels were recorded one year after hospital discharge and data was collected on all-cause mortality up to 8.5 years after the 1-year visit.
Dr. Gregg C. Fonarow, American Heart Association expert volunteer and interim chief of UCLA's Division of Cardiology, director of the Ahmanson-UCLA Cardiomyopathy Center, and co-director of UCLA's Preventative Cardiology Program said close to 1 in 2 of the individuals in this study reported moderate or extreme pain.
"Those individuals reporting pain whether moderate or extreme at 1 year were at higher risk for subsequent mortality," he said. "Those individuals with pain have greater cardiovascular risk factor burden, more comorbid conditions, and are less physically active, all of which can contribute to the increased risk of mortality."
"In addition, chronic use of nonsteroidal anti-inflammatory medications or opioids for pain control may also contribute to an increase in risk," he said.
In this study, there was no information on socioeconomic factors or on the types, doses, and frequency of pain medication use.
"It is important to note this is an observational study and factors beyond those evaluated and adjusted for may contribute to the associations observed," he said.
"This is definitely a novel finding," said Dr. Ernst von Schwarz, PhD, a clinical and academic cardiologist clinical professor of medicine at UCLA and author of "The Secrets of Immortality."
"Similar to our own study published a few years ago that demonstrated that a large proportion of people with heart failure actually have pain syndromes, which was not known as a common symptom so far," he said, "this study demonstrates that pain after a heart attack might be an independent risk factor for mortality."
"Few things are as deadly as smoking, but this is one of them — and we have to pay attention to our bodies," said Dr. Suzanne Steinbaum, a preventive cardiologist in New York and Bayer Aspirin partner.
"Having chronic pain is not just a symptom of a problem, it is a disease in and of itself, requiring treatment and attention," she added.
"This study demonstrates that having chronic pain can increase your risk of dying after having a heart attack so paying attention and addressing your pain is essential."
"At this point, it is hard to say what the mechanism of pain is on increased risk of death, but one can surmise that if there is continued pain a year after a heart attack, then there may be continued myocardial (heart) injury going on," noted Dr. Marc Gibber, a cardiothoracic surgeon at Baptist Health South Florida.
"This may point to the fact that the heart disease has not been adequately treated."
"There are a lot of confounders in this study that can be contributing to these results," said Dr. Michael Broukhim, interventional cardiologist at Providence Saint John's Health Center in Santa Monica, California.
"For example, the patients with moderate or extreme pain may have had underlying conditions which could have led to worsened outcomes," he explained.
Experts say many risk factors for heart disease are shared with those with chronic pain. The CDC reports some 47% of U.S. adults have at least one risk factor for heart disease.
Common risk factors for heart disease include:
"Patients who experience pain may be more sedentary and may not be able to exercise," said Broukhim.
"Exercise is an important facet of one's recovery from a heart attack, and there are significant benefits to exercise that patients with pain potentially cannot experience due to their limitations from moderate to severe pain," he said.
"They may also experience significant anxiety or depression that limit their ability to be treated," he said.
"Also, patients with moderate to severe pain may turn to unhealthy habits such as smoking or eating excessively to cope with pain," he said.
"Additionally, given the opioid crisis, it is unclear if some of those patients with severe pain had overdosed on pain medications," said Broukhim.
"Untreated pain in any case, is bad for the heart," said von Schwarz. He explains pain can be cardiac-related (i.e., it can come from the heart) or it can be unrelated.
"Heart-related pain can be a symptom of lack of oxygen in the heart caused by blockages of arteries independent of the culprit blockage that caused the initial heart attack," he said.
"Therefore, pain could signify a more diffuse multi-vessel disease that involves many blood vessels in the heart. Such a more advanced disease can lead to higher mortality," he added.
"On the other hand, pain (no matter what the cause) is stressful for the person and increases heart rate, blood pressure, and — if chronic or recurrent — elevates their cortisol levels (stress hormones), which in turn leads to higher oxygen demands for the heart and can worsen any underlying heart disease," he said.
Experts add that no matter the level of pain or cause of pain after a heart attack, it's essential to remember a heart attack could happen again, and to follow up with appointments and consider next steps for heart health.
"I think it's important for people that have had heart attacks to remember that even if the original heart attack was addressed and fixed, it still could happen again, either in the same muscle, in the heart, or another muscle of the heart and therefore any new symptoms should be addressed and not brushed over," said Gibber.
"Everyone who [has] suffered from a heart attack or had any cardiovascular event should be checked on a regular basis by [a] primary care physician, but also should see at least one cardiologist for a routine evaluation yearly," von Schwarz told Healthline.
"If there is recurrent pain or chronic chest pain in particular, then there is always a reason that requires diagnostic testing to identify its cause and appropriate therapy," he said.
"A cardiac rehabilitation program after a myocardial infarction can monitor a patient's progress in recovery from a heart attack, but can also evaluate if a patient is having pain and potentially identify further evaluation of that patient's pain," added Bourkhim.
He also suggests regularly following up with a primary care physician and/or a pain medicine specialist if experiencing moderate or severe pain to evaluate the potential causes and to develop an effective treatment plan.
Steinbaum added that taking aspirin regularly as directed by your doctor can help lower your risk of another heart attack. "For those who have already had a heart attack or a stroke, aspirin is essential. It's important to discuss your risks and the best preventive plan with your healthcare provider," she said.
According to the American Heart Association, aspirin is part of a well-established treatment plan for people with a history of heart attack or stroke.
New research from the American Heart Association suggests experiencing pain in the first year after a heart attack for any reason has a significant impact on long-term survival.
Pain may be associated with the heart or comorbid conditions that contribute to a person's heart health and risk factors for heart disease and future cardiovascular events.
Working with your healthcare team is the recommended route for managing and treating pain and improving outcomes after a heart attack.