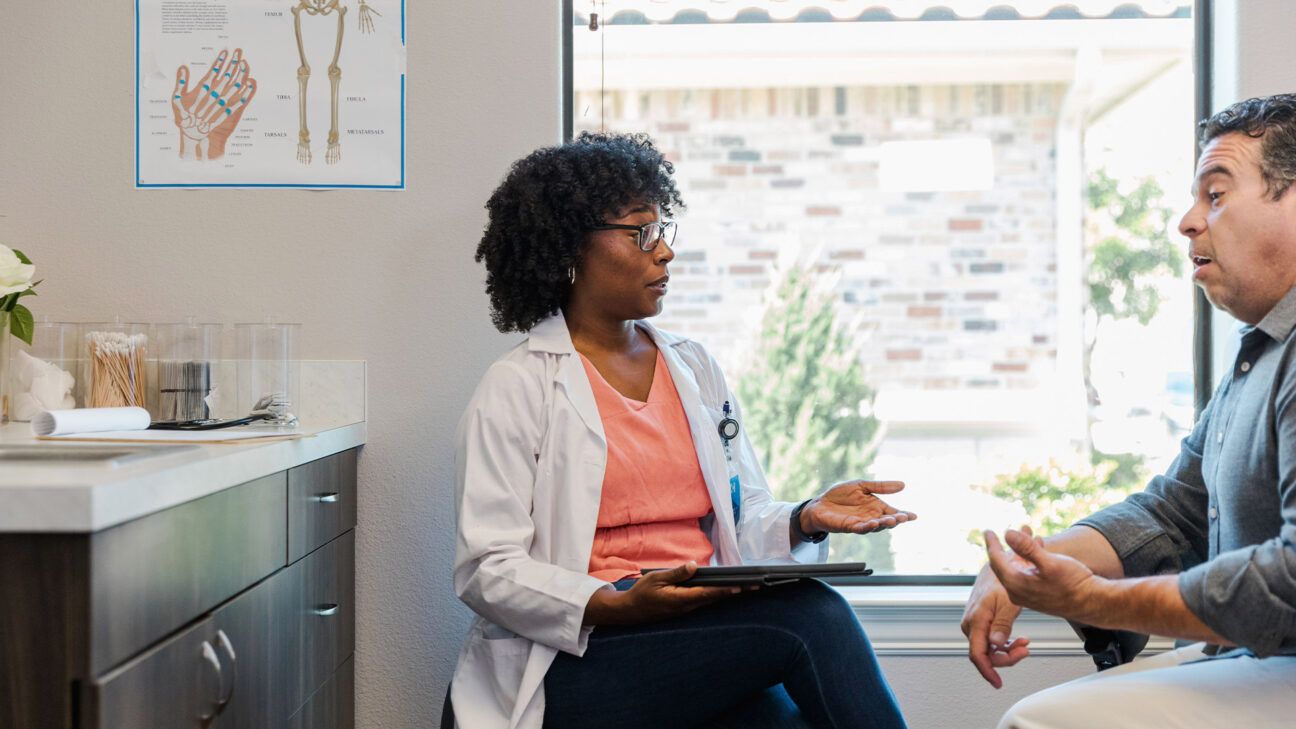 The FDA has approved a new biosimilar drug for inflammatory disease, based on the popular Stelara (ustekinumab).
Biosimilar drugs are biologically similar, but not identical to existing biologics.
The FDA has championed the approval as part of their commitment to increase access and lower cost for medications.
The U.S. Food and Drug Administration has approved Wezlana, the first-ever biosimilar of blockbuster psoriasis drug Stelara (ustekinumab).
The agency made the announcement this month, following a series of successful clinical trials by pharmaceutical company Amgen. The announcement also comes on the heels of a settlement and lengthy legal battle between Amgen and Johnson & Johnson (J&J), the manufacturer and patent owner of Stelara.
Like Stelara, Wezlana is approved to treat a variety of rheumatoid conditions, including plaque psoriasis, Crohn's disease, psoriatic arthritis, and ulcerative colitis.
"Biosimilar medications offer additional safe and effective treatment options that have the potential to increase access for people requiring treatment for inflammatory diseases," Dr. Nikolay Nikolov, Director of the Office of Immunology and Inflammation in the FDA's Center for Drug Evaluation and Research, said in the FDA's announcement.
"Today's approval could have a meaningful impact for patients managing their disease," he said.
The agency also granted Wezlana an interchangeability designation, allowing the drug to be substituted for the original product without having to consult the prescriber, a practice known as "pharmacy-level substitution."
All biosimilars are rigorously reviewed by the FDA before final approval and must demonstrate that they are just as safe and effective as the original biologic.
In a statement, Health and Human Services Secretary Xavier Becerra, praised the FDA's approval of the drug, calling it "a welcome step forward to approve a biosimilar for a drug taken by tens of thousands of Americans."
The FDA's approval followed a period of tense back-and-forth between Johnson & Johnson and Amgen. One year ago, J&J sued Amgen over Wezlana, claiming that the drug constituted infringement on its patents. J&J had good reason to try and protect their claim as well. Stelara was a massive success for the company. Introduced in 2009, Stelara has been the company's top-performing drug since 2019; that year the drug closed almost $10 billion in sales.
But J&J's patents are starting to expire this year, which created an opening for Amgen. It is widely believed that with the release of Wezlana, Amgen will take a bite out of Stelara's market share to the tune of billions of dollars.
Despite appearing at loggerheads, the two companies reached a settlement earlier this year. Amgen disclosed that it would delay the release of Wezlana until, "no later than January 1, 2025." Other terms of the settlement remain confidential.
In a statement sent to Healthline, an Amgen spokesperson said biosimilars are important for cost savings.
"Inflammatory diseases are incredibly complex and impact individual patients differently," an Amgen spokesperson said in a statement. "Amgen is committed to providing these patients and their physicians with additional treatment options to help address their unmet needs. Biosimilars are important for a greater degree of flexibility of choice, as well as the potential for meaningful cost savings to healthcare system."
Biosimilars are a class of drug that mimic or "reference" other drugs, similar to how generic drugs are stand-ins for popular name-brand medications. However, some important distinctions exist between biosimilars and standard generic drugs.
Firstly, biosimilars only apply to biological drugs, a class of drugs that, unlike those synthesized with chemicals, are derived from biological products such as cell cultures. Vaccines are perhaps the most widespread form of biologic available today, but they are also widely used to treat inflammatory conditions.
Unlike generics, which simply copy the chemical "recipe" of existing drugs, biosimilars require specialized processes in biotechnology to create a drug that is similar enough to be used as a safe and effective replacement for a reference drug.
"To be called a biosimilar, the drug has to be tested to work the same and to treat patients with the same outcomes. Many examples of these are available to patients now. It's also important to note that biosimilars go through a very stringent review process before receiving final approval from the U.S. Food and Drug Administration (FDA)," Dr. Marcus Snow, rheumatologist with the University of Nebraska Medical Center and chair of the American College of Rheumatology's Committee on Rheumatologic Care, told Healthline.
Unlike generics, biosimilars are never identical to their reference drug. Biosimilars also differ from generics due to their molecular size, which affects how the drugs can be taken by a patient. Synthesized chemical drugs are considered "small molecule" drugs, and can be taken orally. On the other hand, biologics are "large molecule," drugs that must be injected or given through an infusion.
Due to their biological nature and the complexity of the manufacturing, biosimilars typically cost more time and money to produce. Snow called the production of biosimilars a "detailed and difficult process."
But, they also have the potential to provide additional treatment options at a lower cost to patients.
"Biosimilars are important to patients because they offer hope that these very expensive medications may come down in price in the future due to competition," said Snow.
The FDA has approved Wezlana, a biosimilar of Stelara, to treat a variety of rheumatic conditions, including psoriatic arthritis, Crohn's disease, and plaque psoriasis.
Wezlana's manufacturer, Amgen, has been locked in a legal battle with Johnson & Johnson, the manufacturer of Stelara, over patent infringement.
The two companies recently settled privately. Following the FDA approval, Wezlana is likely to appear on the market in the next year.