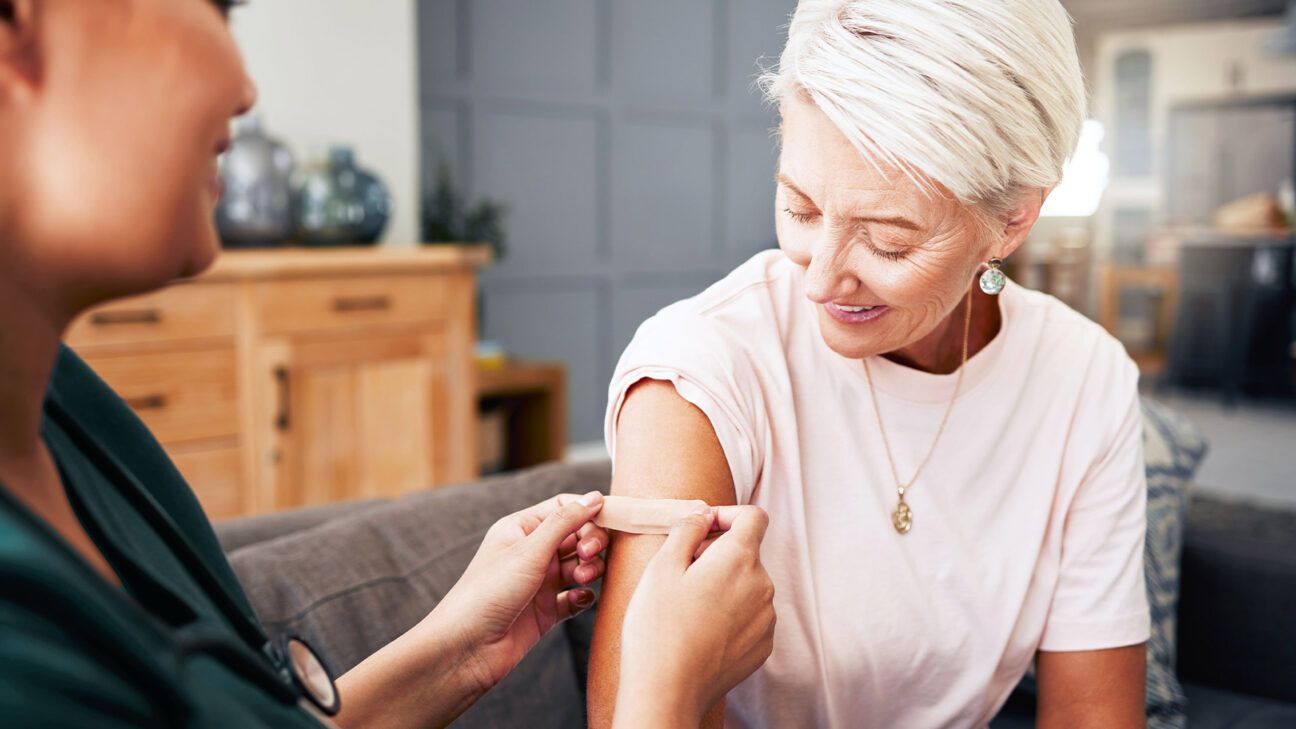 The Food and Drug Administration approved COVID-19 vaccines that target the Omicron XBB.1.5 variant.
Pfizer, Moderna and Novavax said data show their updated vaccines also work against newer variants.
The CDC recommended that everyone 6 months and older get an updated COVID-19 vaccine.
The Food and Drug Administration (FDA) on Sept. 11 approved updated COVID-19 vaccines from Pfizer-BioNTech and Moderna.
The new vaccines, which include a component corresponding to the Omicron variant XBB.1.5, are "formulated to more closely target currently circulating variants," the FDA said in a release.
A decision from the CDC came later in the day, as director Dr. Mandy Cohen signed off on those recommendations for the new booster shot.
"We have more tools than ever to prevent the worst outcomes from COVID-19," Cohen said in an email release.
The approval of the updated COVID-19 vaccines comes as COVID-19 hospitalizations in the U.S. have risen since early July, reaching over 18,000 for the week ending Sept. 2, according to CDC data. However, this number remains lower than last winter's peak of more than 44,000 new hospitalizations in one week.
For individuals seeking protection amidst rising COVID cases, the CDC says the new COVID shots will be available at pharmacies, health clinics, and other vaccination sites later in the week.
The FDA's release states that the updated COVID-19 vaccines are approved for people 12 years and older.
The shot is also authorized by the FDA for emergency use for children ages 6 months through 11 years.
But on Sept. 12, an advisory panel for the Centers for Disease Control and Prevention voted 13-1 to recommend updated COVID-19 vaccines for everyone in the United States 6 months and older.
According to the CDC, you're eligible for the new COVID shot regardless of whether you received any prior vaccines or boosters against COVID-19.
The updated vaccines should be available before the respiratory season is in full swing, when the coronavirus, seasonal flu virus, and respiratory syncytial virus (RSV) are circulating simultaneously.
In separate statements, Pfizer CEO Albert Bourla and Moderna CEO Stéphane Bancel encouraged Americans to receive the updated COVID-19 vaccine during the same appointment as their annual flu vaccine.
Dr. S. Wesley Long, medical director of the diagnostic microbiology laboratory at Houston Methodist in Houston, recommends that everyone eligible, especially those who are at high risk of complications from COVID-19, get an updated COVID-19 vaccine.
Those who have had COVID-19 recently may consider delaying vaccination by up to three months, the CDC said last year. Its recommendations for the updated vaccines could differ slightly.
"If it's unclear, talk to your doctor about your individual situation, and determine what the best timing is," Long told Healthline.
For parents, Dr. Zachary Hoy, a pediatric infectious disease specialist and medical director at Pediatrix Medical Group in Nashville, Tennessee, suggests they talk with their child's pediatrician about the risks and benefits of the vaccine and their child's risk of COVID-19.
"In pediatrics, this new vaccine can be helpful for those at risk of severe disease, such as kids with compromised immune systems, including those with cancer or on chemotherapy-type medications," he told Healthline.
An RSV vaccine is also available to Americans 60 years of age and older. Monoclonal antibody products are available to protect infants and young children from severe RSV.
The FDA has approved an RSV vaccine for pregnant people, protecting the infant from birth through 6 months of age. The CDC has not yet recommended this vaccine.
The bivalent COVID-19 vaccines released last year are no longer authorized in the U.S., the FDA said in its release.
The increase in COVID-19 cases and hospitalizations is fueled, in part, by Omicron subvariants such as EG.5 (Eris) and BA.2.86 (Pirola).
According to the CDC, the Eris subvariant, which is closely related to XBB 1.5, accounts for an estimated 21.5% of all cases as of Sept. 2. Meanwhile, CDC data shows that XBB.1.5 cases have decreased in the U.S.
The new COVID-19 booster should offer protection against circulating subvariants like Eris and Pirola since they are closely related to XBB.1.5.
Additionally, Novavax has developed a COVID-19 vaccine that targets XBB.1.5, but the FDA is still reviewing its application, the company said in a release.
The Novavax candidate is a protein subunit vaccine, which contains pieces of the virus that causes COVID-19. These pieces, the spike protein, train the immune system to respond quickly to the virus without causing COVID-19.
This technology has been used for years, including in the hepatitis B vaccine and whooping cough vaccines.
In contrast, Pfizer-BioNTech's and Moderna's vaccines contain messenger RNA, which is converted in the body into the spike protein to prime the immune system.
Moderna said clinical data show that in addition to working against XBB.1.5, its updated vaccine generates an immune response against Eris and another dominant variant in the U.S.
Pfizer and Novavax both said laboratory data show its vaccine is likely to work against Eris and other circulating strains, in addition to XBB.1.5.
Barring the emergence of a significantly different variant, the updated vaccines should provide protection during this fall and winter.
"Although the updated vaccines were designed against XBB.1.5, most of the strains circulating are pretty closely related to that," said Long, "so the vaccines should protect against those strains."
Long said the recent rise in cases and hospitalizations may also be due to a decrease in immune protection resulting from prior vaccination or infection.
"For anyone who got boosted or were infected last season, at this point — six to nine months later — their antibody levels have dropped and immunity waned," he said.
For those people, the updated vaccines can provide a boost in immune protection against the coronavirus.
"They'll be less likely to develop a symptomatic infection," said Long, "and will also be very well protected against severe disease and hospitalization."
With the end of the COVID-19 public health emergency earlier this year, the federal government is no longer making the vaccines free to all Americans.
However, many people will still have access to these vaccines at no cost.
Medicare or Medicaid are providing them for free. And people with commercial insurance plans through the government or an employer will also get them at no cost under the terms of the Affordable Care Act.
For those who are uninsured or underinsured, the federal government's Bridge Access Program will aim to make COVID-19 vaccines available to them for free.
Children from low-income families can get free vaccines through the CDC's Vaccines for Children program.
However, it's unclear how many Americans will get vaccinated this year.
Only around 18% of Americans eligible for Pfizer-BioNTech's or Moderna's bivalent vaccine received one, as of May 2023, according to the CDC. The rate was better among those 65 years and older — around 43%.
With FDA approval of updated COVID-19 vaccines, Americans could soon have access to vaccines that target the currently circulating coronavirus variants.
A CDC advisory committee voted to recommend the updated COVID-19 vaccines for all Americans 6 months of age and older.
Vaccines will remain free to many people, including those on Medicare, Medicaid and commercial insurance. People who are uninsured and children from low-income families may be able to get vaccines at no cost through government programs.