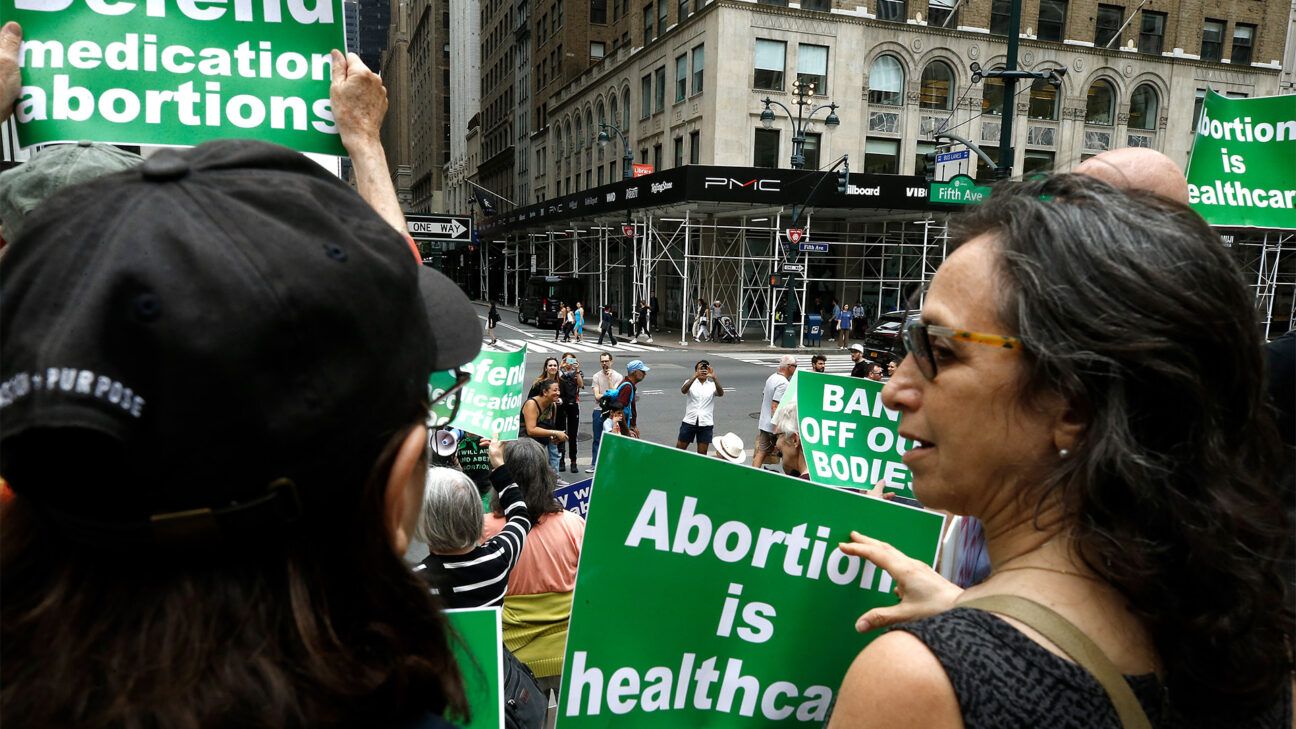 On August 16, a U.S. appeals court ruled to impose restrictions on the abortion pill mifepristone.
The court's decision came following a 2022 lawsuit filed by an anti-abortion group to remove the pill from the market.
The appeals court claims that the Food and Drug Administration's approval process for mifepristone is inadequate.
Access to mifepristone will remain the same until the U.S. Supreme Court reviews the ruling.
The U.S. Court of Appeals for the 5th Circuit ruled on Wednesday to restrict access to mifepristone, a commonly prescribed pill for medical abortions.
The mifepristone ruling would ban prescriptions via telemedicine and block shipments of the medication by mail.
The three-judge panel's 93-page ruling comes after a 2022 lawsuit was filed by the anti-abortion group The Alliance of Hippocratic Medicine, which aimed to remove mifepristone from the market entirely.
Restricting access to mifepristone, an evidence-based safe treatment for medical abortion, would create barriers in states where abortions are now illegal or highly restricted since the U.S. Supreme Court's ruling overturned Roe v. Wade last year.
But the decision will not immediately take effect until the Supreme Court reviews the case, which may happen during the upcoming October-to-June term, Reuters reports.
"The most important thing to know from this ruling is that it does not change anything right now," Dr. Sarah W. Prager, a professor in the Department of Obstetrics and Gynecology at the University of Washington School of Medicine, told Healthline.
"If, ultimately, mifepristone is disallowed from being prescribed normally or mailed, it will have significant negative impacts on the ability for people to access abortion."
Mifepristone was approved by the Food and Drug Administration (FDA) for medical abortion use in September 2000.
The oral pill is a synthetic steroid that blocks the pregnancy hormone progesterone.
When used in conjunction with misoprostol, mifepristone is considered a safe and effective way to end a pregnancy through 10 weeks gestation.
The drug has been extensively reviewed, studied, and evaluated for safety.
While some anti-abortion activists have claimed that adverse effects associated with mifepristone have led to hospitalizations, the overall mortality rate associated with medical abortions is incredibly low. A 2022 FDA report found that an estimated 5.6 million people have used mifepristone to end their pregnancy since it's 2000 approval.
In the study, 28 deaths were reported in these cases, but that included all deaths after people took the drug including deaths related to homicide and drug intoxication. At least 10 of the 28 deaths were linked to homicide, suicide, or drug intoxication.
"Mifepristone is incredibly safe and effective as part of the standard regimen for medication abortion," Prager said.
"We have several decades of data from dozens, if not hundreds, of studies, including thousands of pregnant people demonstrating the safety and efficacy of mifepristone and misoprostol for use in medication abortion."
Mifepristone's availability remains unchanged until the U.S. Supreme Court reviews the case.
If the 6–3 Conservative majority rules to restrict access to the medication, Prager explained that complications could arise for people seeking alternative ways to induce medical abortion.
"Misoprostol alone can also be used effectively for medication abortion, though typically more doses will be required, and the efficacy is not quite as good," she said.
"Additionally, without mifepristone, people typically have more side effects. The real significance of making mifepristone unavailable is to make a medication abortion less effective, more painful, less predictable, and harder for pregnant people."
If medication abortion is no longer available by telehealth prescription or mail order, more people may have to receive procedure abortions, which will "clog up clinics and push gestational ages higher," Prager said.
Others may not be able to "access abortion at all and be forced to continue pregnancies that are unwanted and/or dangerous to their health," she added.
The New Orleans-based 5th Circuit's ruling upholds an April 2023 decision by a federal judge in Texas that invalidated the FDA's approval of mifepristone. Judge Matthew J. Kacsmaryk was appointed by former President Trump.
The new ruling claims that the "FDA overlooked important safety risks in approving mifepristone and amending its restrictions… Medical Organizations and Doctors contend that FDA overlooked important safety risks in approving mifepristone and amending its restrictions. They assert that FDA's actions were unlawful under the Administrative Procedure Act," the 5th Circuit judges wrote.
The anti-abortion group Alliance Defending Freedom, which has been outspoken about its opinion on the FDA's approval of mifepristone, praised the 5th Circuit Court of Appeals on Wednesday.
"The 5th Circuit rightly required the FDA to do its job and restore crucial safeguards for women and girls, including ending illegal mail-order abortions.​," the group said in a release.
"This is a significant victory for the doctors and medical associations we represent and, more importantly, the health and safety of women."
While the new ruling overrides the authority of the FDA, it does not affect the FDA's approval of mifepristone or the generic version of the drug.
The U.S. 5th Circuit Appeals Court ruled on August 16 to restrict access to mifepristone, a commonly prescribed pill used to induce medical abortion.
Until the Supreme Court reviews the decision later this year, the availability of mifepristone remains unchanged.
If the Court upholds the 5th Circuit ruling, mifepristone would no longer be available via telehealth prescription or mail in states where abortion is banned or restricted.
"People who do not want to be pregnant will go to great lengths to achieve that, and closing off safe and effective means of achieving an abortion makes things more dangerous for pregnant people," Prager said.
"The outcome of any and all restrictions to abortion is to make pregnancy less safe and to create a situation that worsens health for pregnant people."