Diet Diva
Get advice on healthy eating, nutrition, and weight loss from expert dietitian Tara Gidus.
See all posts

»
Great Summer Fruit: Watermelon!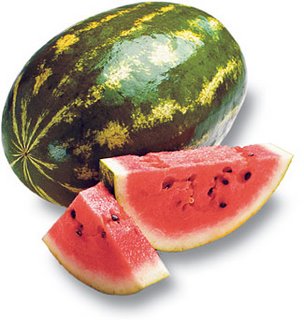 Who doesn't love watermelon? I think my two year old would eat it until his stomach would explode if I let him (let's not try that).
In the heat of July, I am thinking
watermelon
is about the most perfect food to eat right now. It is actually 92% water (thus the name) so it hydrates and tastes great. And it has great nutritional benefits.
Two cups of cubed watermelon:
80 calories
0 fat
25% Vitamin A
30% Vitamin C
6% Vitamin B6
8% Potassium
8% Magnesium
4% Phosphorus
In addition, watermelon has two added bonuses:
Lycopene
and
Citrulline
Lycopene is a phytochemical and antioxidant in the carotenoid family. Lycopene is responsible for the red color in watermelon. Basically lycopene acts as a very effective antioxidant, protecting cells against oxidative damage.
Citrulline is a less commonly known compound that has been shown to improve blood flow and help maintain healthy arteries. So it is quite good for the heart. In fact,
click here
to read more about the
link of watermelon and citrulline to heart health
.
For more ideas on how to eat watermelon, check out
www.watermelon.org
. You will actually be shocked at how many different and
creative ways there are to eat watermelon
! Enjoy!