Diet Diva
Get advice on healthy eating, nutrition, and weight loss from expert dietitian Tara Gidus.
See all posts

»
Earth Day: Go Green
Earth Day
is already in it's 40th year! It is so great that we have a day commemorated to celebration our beautiful and precious planet.
What can you do to eat well to protect the earth?
Get some good tips in my two favorite "green" books:
Go Green Get Lean
by
Kate Geagan, RD
This book is an awesome resource with actionable tips for how to reduce your carbon footprint with your food choices.
Big Green Cookbook
by
Jackie Newgent, RD
Tasty recipes--all of which take less than 20 minutes to prepare! The
book contains hundreds of clever, environmentally friendly cooking tips along with the recipes.
Environmentally friendly cookware:
ScanPan is eco-friendly cookware that cooks like stainless steel but is nonstick. It is made from 100% recycled aluminum and is 100% PFOA free (common toxin found in nonstick pans). You can find them at
Sur La Table
stores or on
Amazon
or
scanpancookware.com
Reduce consumption of meat:
Switching from meat to vegetarian 1 day per week saves the equivalent of driving 1,160 m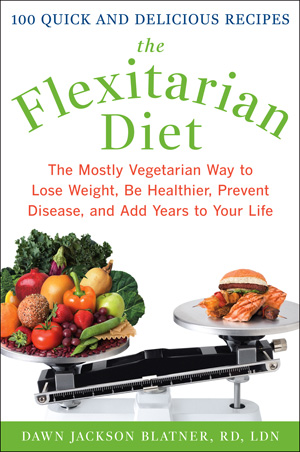 iles per year. If every American did that, 1.7 billion gallons of gasoline would be saved (stats courtesy of Go Green Get Lean). Become a
flexitarian
if you aren't ready to go vegetarian.
Support companies with "green" practices:
Healthy Choice All Natural
line has no preservatives, artificial colors or flavors. The tr
ays they use are made with post-consumer recycled plastic. Con Agra will eliminate about 8 Million pounds of plastic from going into landfills by using these recycled trays (equivalent to 128 Million water bottles).
Commit to reduce your own waste:
Use a glass for water when at work or home instead of water bottles. Purchase a reusable water bottle when on the go.
Jackie Newgent
, RD, author of
Big Green Cookbook
, told me that she limits herself to 2 plastic water bottl
es per year. She saves her purchase of them for emergency situations when she really needs water and has no other option. Imagine if we all made the same pledge to ourselves...the money we would save and waste we would prevent!
Check out my segment from this morning's episode of
The Daily Buzz
:
http://www.youtube.com/get_player


CMP.ly/0