Diet Diva
Get advice on healthy eating, nutrition, and weight loss from expert dietitian Tara Gidus.
See all posts

»
How Much Sugar Do You Eat?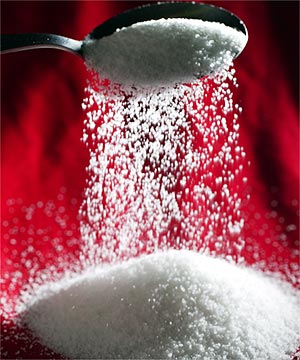 I was reading a very interesting
study in this month's issue of the Journal of the American Dietetic Association
the other day. The study was on sugar consumption and looked at different populations in the US and compared on average how much sugar they ate.
The first statistic that shocked me was that the average intake of
added sugar
is 17% of our daily calories per day. This is added sugar, meaning it doesn't count the sugar found naturally in fruit and milk, but rather just the sugars added to the foods we consume. 17% of our calories?!?!? That is a lot, in my opinion. It is not a secret that I have a sweet tooth especially when it comes to chocolate, but the sweets do not add up to almost 20% of my calories for the day!
The study broke down race/ethnicity, education, and income to see how these factors influenced how much sugar they ate. Check out some of the findings:
As education level and family income increased, sugar intake was lower
Asian Americans then Hispanics had the lowest intakes
Black men were highest among men
Trying to identify added sugars? Look for these terms:
brown sugar
corn sweetener
corn syrup
dextrose
fructose
fruit juice concentrates
glucose
high-fructose corn syrup
honey
invert sugar
lactose
maltose
malt syrup
molasses
raw sugar
sucrose
sugar
syrup
Common foods with added sugars:
regular soft drinks
candy
cakes
cookies
pies
fruit drinks, such as fruitades and fruit punch
milk-based desserts and products, such as ice cream, sweetened yogurt and sweetened milk
grain products such as sweet rolls and cinnamon toast