Diet Diva
Get advice on healthy eating, nutrition, and weight loss from expert dietitian Tara Gidus.
See all posts

»
3 New Products to Try: Fiber One Bars, Godiva Coffee, and Yoplait Greek Yogurt
I am always on the hunt for new foods on supermarket shelves and I have 3 new products I have tried and want to share with you!
Fiber One 90 calorie bars
I was a b
ig fan of Fiber One bars when they first came out. They were one of my go-to bars for a snack, but then I got burnt out on them. I thought they were too sweet and sticky. I do love that they had 9 grams of fiber and only 130-150 calories. I saw these new Fiber One 90 calorie bars and wanted to give them another try. To my surprise they are different than the Fiber One original bars. They are lighter in texture and not overly sweet. Since they are a slightly smaller bar, they only have 5 grams of fiber, but that is fine. I think this is a good amount for a snack bar. The new 90 calorie bars come in chocolate or chocolate and peanut butter.
Godiva Coffee
If
you are a Diet Dish reader, you know that I am an avid, practicing chocoholic. So when I saw that Godiva came out with coffee, I just had to give it a try. They definitely know how to make chocolate, but can they compete in an already crowded coffee market? I have to say they succeeded in taste. They have several varieties, and my favorite the chocolate truffle is outstanding. Flavored coffees can help reduce calories because you get the flavor from the bean and don't need as much sugar or flavored syrup to get a delectable treat. I do wish they had more flavors in decaf, though.
Yoplait Greek Yogurt
Yoplait has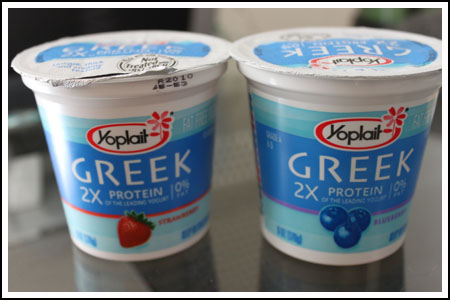 now gotten in on the Greek yogurt trend and answered with a Greek yogurt that has 12 grams of protein, which is twice as much as other regular yogurts. They have 130 calories and the taste and texture are right on. It is sweetened with sugar and berry puree and has just the right sweetness for me. I don't see it on their website yet, but hopefully it has nationwide distribution and you will be able to try it.