Diet Diva
Get advice on healthy eating, nutrition, and weight loss from expert dietitian Tara Gidus.
See all posts

»
Family Dinner Night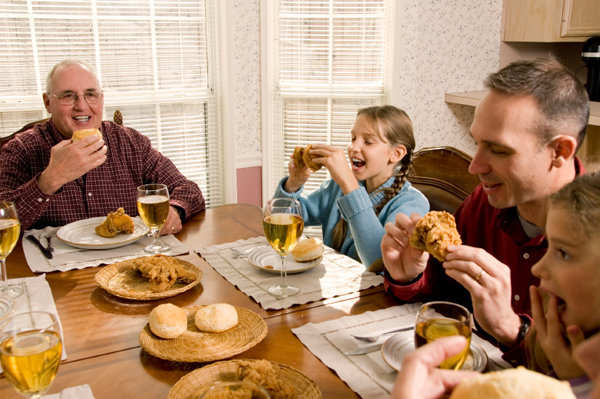 Remember the days when we used to sit down together every night for dinner together as a family? I grew up this way. Not eating together wasn't an option or even a thought. Mom made dinner and called us when it was ready. It was as simple as that. My, how times have changed.
Less than one-third of American families eat dinner together most nights. When we do sit down together, more than half of families say the TV is on during dinner. What kind of message are we sending when we have the TV on during the only time of the day that we actually sit down together? To me it says that you aren't important enough to give my full attention to.
When families eat together, the children are less likely to:


Smoke


Drink


Do drugs


Suffer from depression


Develop eating disorders


Consider suicide
They are more likely to:


Do well in school


Delay having sex


Eat their vegetables


Learn big words


Know which fork to use


Report less tension among family members


Think their parents are proud of them
Even though this blog is about diet and nutrition, what you eat at these family dinners is not even as important when thinking about the emotional benefits to the children, not to mention the parents.
Martha Farrell Erickson from the Children, Youth and Family Consortium at the University of Minnesota offers the following tips:
Make dinner a special family time. Turn off the TV, take the phone
off the hook, dim the lights, light candles, and have a relaxing time
together. Or, if you prefer, engage young children in a creative theme
dinner like a picnic on the living room floor. Use your imagination
and choose the approach that suits your family best.

Focus on positives. Don't use mealtime as a time to criticize,
complain, or argue. Treat each other with respect and affection. Let
the little things ride; who cares if junior is wiggly at the table or little sis
dribbles milk? Save the discussions of homework and messy bedrooms for
another time.

Decide together how you can make high-quality family time a
habit. Are there one or two days a week that you all can commit to for
a fun family dinner? What do you need to clear from your schedule to
make that happen? And when dinnertime doesn't work, how about a snack
and a family boardgame at bedtime?